For Coal Miners, Back to Black Lungs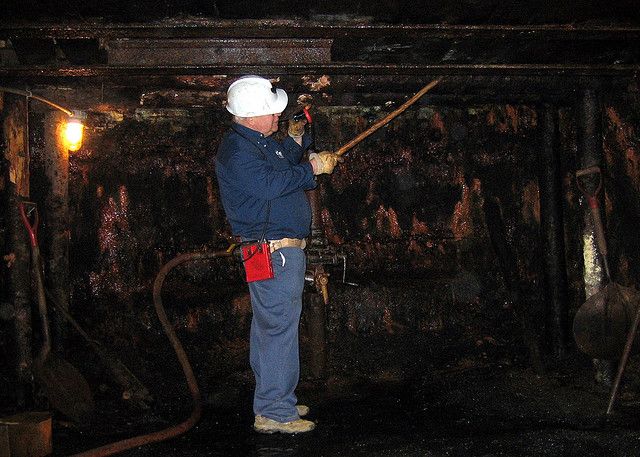 Coal Country is going back to black. The condition, known as black lung, is the bane of older miners. Dust from dirty mines gets into miners' lungs, slowly degrading the delicate tissue over time and leading to chronic coughing, shortness of breath and, in severe cases, even death. Though Congress promised back in 1969 that mines would clean up their act, the miners' bane seems to have returned to Appalachia's coal mines.
iWatch News reports the full investigative story:
From 1968 through 2007, black lung caused or contributed to roughly 75,000 deaths in the United States, according to government data. In the decades following passage of the 1969 law, rates of the disease dropped significantly. Then, in the late 1990s, this trend reversed

The system for monitoring dust levels is tailor-made for cheating, and mining companies haven't been shy about doing so. Meanwhile, regulators often have neglected to enforce even these porous rules. Again and again, attempts at reform have failed.
Moreover, the disease's severity seems to be increasing. And younger and younger miners are displaying symptoms.
Though levels of disease are still below what they were before 1970, medical experts and miners' advocates are alarmed.
Miners who display symptoms of black lung on X-rays are entitled to transfer to a safer job that still pays the same rate, but only about 30 percent of the 3,000 miners qualified for to this transfer have used it since 1980.
Researchers are investigating the reasons for black lung's resurgence, including why the old methods for cleaning the air failed, why the disease suddenly seems so much more potent and why some miners may be reluctant to get tested or act on their test results.
More from Smithsonian.com:
New Guidelines for Mountaintop Coal Mining