Flooding in the UK Causing Travel Nightmares
Last week, the seawall holding up part of a key railway line went down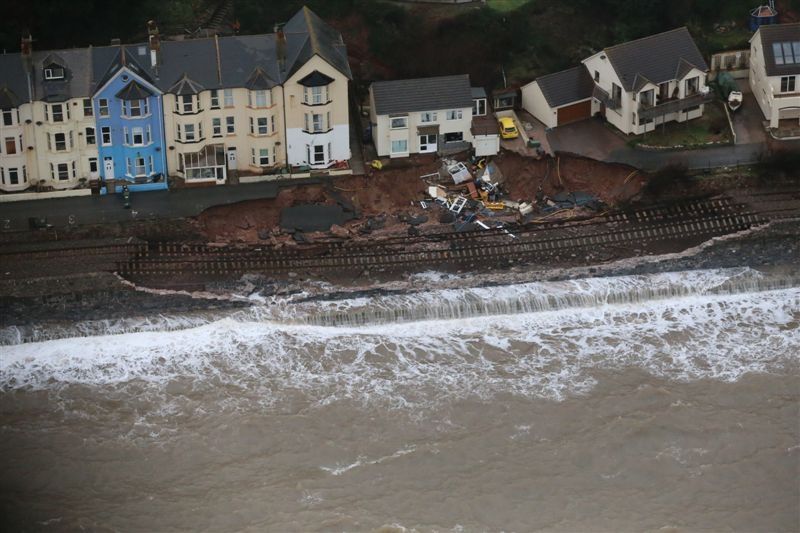 A particularly wet winter is tearing up infrastructure along the British Coast. Last week, the seawall holding up part of a key railway line succumbed to the forces of the waves and rain, leaving the tracks hanging in midair and snarling train travel between the southwest coast of England and the rest of the U.K. 
The BBC reports:
Transport infrastructure expert John Disney of Nottingham Business School said Dawlish was "an accident waiting to happen".

"It was entirely predictable that at some time the sea was going to win the 'Battle of Dawlish' and sweep away Brunel's coastline railway," he said. "It is amazing that it has lasted until 2014 [...]."  
Engineers are already at work trying to repair the seawall, but the long-term solution may involve constructing a new track. The alternate route currently under consideration would exist inland, away from the ravages of storms. Flooding and landslides (sometimes called landslips) have disrupted other portions of the U.K. rail lines, and engineers have been rushing to fix problems as they've arisen. The BBC reported that Network Rail was currently concerned about anywhere from 400-500 different railway sites. 
As bad as that is, the horrid weather hasn't just affected travel. It's also damaged homes and businesses, forcing residents living near rivers to evacuate.  With waters still rising and more rain expected this week, the U.K. is in for a long, wet haul. The Met Office, which predicts climate and weather in the U.K. suggests, too, that this could be the new norm. The BBC:
Dame Julia Slingo said the variable UK climate meant there was "no definitive answer" to what caused the storms.

"But all the evidence suggests there is a link to climate change," she added.

"There is no evidence to counter the basic premise that a warmer world will lead to more intense daily and hourly rain events."