See the Earliest-Known Photograph of a U.S. President at the National Portrait Gallery in 2018
The museum recently acquired the 1843 daguerreotype of John Quincy Adams at the Sotheby's photographs auction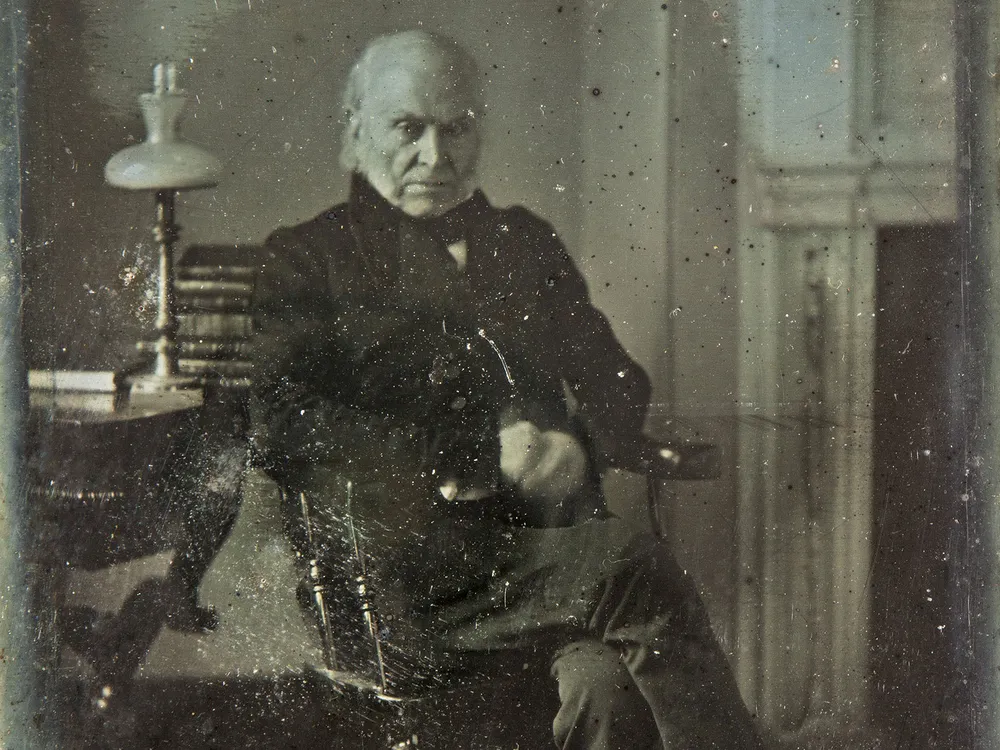 Update, October 11, 2017: The Smithsonian's National Portrait Gallery has acquired the March 1843 daguerreotype of President John Quincy Adams for its permanent collection. The earliest-known photograph of a United States president will go on public view in 2018 when it's featured in the museum's "America's Presidents" exhibition. Read the story about when the photograph first surfaced below:
A lucky someone will soon have the chance to own a 174-year-old piece of American history: the oldest-known original photograph of a U.S. president has surfaced and is set to go on sale this fall, reports Jennifer Schuessler of the New York Times.
"An invaluable document, this daguerreotype [crystallizes] a remarkable moment in the history of photography and American politics," the auction house Sotheby's announced in a statement detailing the auction, which is planned for October 5.
Taken in March 1843 in Washington, D.C., the daguerreotype beats out another surviving photograph from just a few months later, when Adams sat for a portrait in New York that he later deemed "hideous," reports Schuessler. That image is now held by the Smithsonian's National Portrait Gallery.
Adams was more than a decade removed from his presidency when he sat for this photo, already deep into his second act serving as a Massachusetts congressman. In these tense years leading up to the Civil War, Adams used his post and his prestige to wage a largely solitary fight against the institution of slavery on the floor of the House of Representatives, despite many efforts to silence him.
It was to one of his friends and allies in Congress, Vermont Representative Horace Everett that Adams gave his March 1843 photograph to, calling Everett his "kinsman" on a note in his own handwriting on the paper backing. The photograph, showing Adams looking sternly at the camera in wooden chair, passed through Everett's family for generations, reports Schuessler. In the 1990s, a great-great-grandson of Everett came across the image, and only after some internet sleuthing, did he realize the significance of the family heirloom.
Photography as a medium had only arisen just a few years prior to Adams' portrait. The 75-year-old statesman's daguerreotype, a process that exposed images on silver-coated plates, was on the cutting edge of technology for its day, similar to how President Barack Obama had a portrait of himself 3D-printed from a scan of his head in 2014.
While this may be the oldest-surviving photograph of a U.S. president, it was not the first photo ever taken of a commander-in-chief, notes George Dvorsky of Gizmodo. That honor goes to President William Henry Harrison, who had a photo taken at the beginning of his very brief term in office before his untimely death in 1841. But only an 1850 copy of that daguerreotype exists today, which is held in the collections of the Metropolitan Museum of Art.
It's estimated that Adams' photograph will sell for $150,000 to $250,000, reports Schuessler. It will be auctioned alongside other notable images from the 19th and 20th century, including a signed print of photographer Robert Frank'​s shot of a segregated New Orleans trolley, which he used as the cover for his stark 1958 book, The Americans.