Farhad Moshiri, Dubbed 'the Middle East's Andy Warhol,' Gets First Major U.S. Exhibition
A selection of the pop artist's significant works will be displayed, fittingly, at the Andy Warhol Museum in Pittsburgh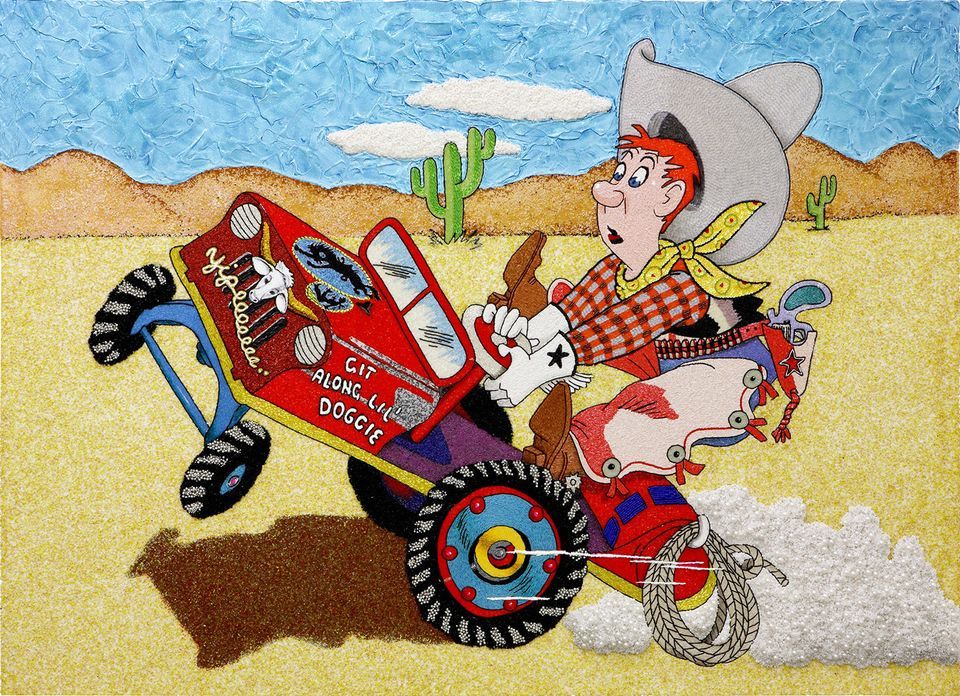 The work of Farhad Moshiri is often sparkly, glittery and unabashedly tacky. Inspired by the pop art movement, the Iranian artist has deployed sequins, crystals, beads, keychains and postcards to create vibrant, winking images that explore the quotidian preferences of American and Iranian culture. And so it seems fitting that Moshiri's first major solo exhibition in the United States will take place in an institution devoted to the king of pop art: the Andy Warhol Museum in Pittsburgh.
As Gareth Harris reports for the Art Newspaper, "Farhad Moshiri: Go West" will showcase 33 of the artist's significant works, many of which are being shown in the United States for the first time. The exhibition will reflect the diversity of Moshiri's oeuvre, showcasing his embroideries, paintings and sculptures.
Born in 1963 in the city of Shiraz, Moshiri and his family relocated to California in the wake of the Iranian Revolution, according to a 2010 profile by Negar Azimi for The National. Moshiri graduated from the California Institute of the Arts and in 1991, he decided to move back to Iran. He rose to prominence on the Iranian contemporary art scene in the early 2000s, after he premiered a series of large oil paintings of antique ceramics, with Farsi calligraphy superimposed on their cracked surfaces.
"For Moshiri, the use of calligraphy references the pop calligraphy movement of the 1960s, which flourished under Empress Farah Pahlavi," Elaine W. Ng writes in ArtAsiaPacific magazine.  
In his later work, Moshiri turned to hyperbolic depictions of pop culture subjects, which he deliberately and playfully renders with a variety of mediums. For a series of paintings inspired by elaborate baked goods in Tehran, he squeezed paint out of a piping bag. "Mobile Talker" (2007) shows a woman chatting on a cell phone, her face outlined with piped rosettes. For a 2009 installation,  "Life is Beautiful," ​Moshiri stuck colorful knives into a gallery wall, spelling out the title in curling cursive letters.
The artist's embroideries are inspired by the wall hangings that adorn many Iranian homes, according to Azimi. But Moshiri eschewed traditional bucolic scenes for images of a television set, a control room and a child on a flying carpet. "I'm sure my subjects come from some childhood hang-ups that I might not have worked through," he tells Azimi. "A psychologist could explain this better than me."
Moshiri's art is often polarizing. Azimi reports that a fellow artist once wrote to Moshiri, imploring him to "stop producing art" because he had "amputated his Iranian heart and replaced it with a cash register." More favorable criticism has compared Moshiri's work to that of Jeff Koons and Andy Warhol—according to Harris of the Art Newspaper, Moshiri is, in fact, "often dubbed the Middle East version of Andy Warhol."
But José Carlos Diaz, chief curator at the Andy Warhol Musuem, tells Harris that Moshiri's work defies easy categorization.
"The artist has actually cited a variety of artists, styles and movements that have influenced him," Diaz says. "I have found that the strongest similarity between Warhol and Moshiri is their ability to remain unrestrained by a single source of inspiration or medium."
Those keen to experience Moshiri's work in person need not wait long. "Farhad Moshiri: Go West" will be on display at the Andy Warhol Museum between October 13, 2017 and January 14 of next year.