Iran Releases Taraneh Alidoosti, the Famous Actress Arrested for Supporting Protests
Alidoosti had criticized Iran's brutal crackdown on protests following the death of Mahsa Amini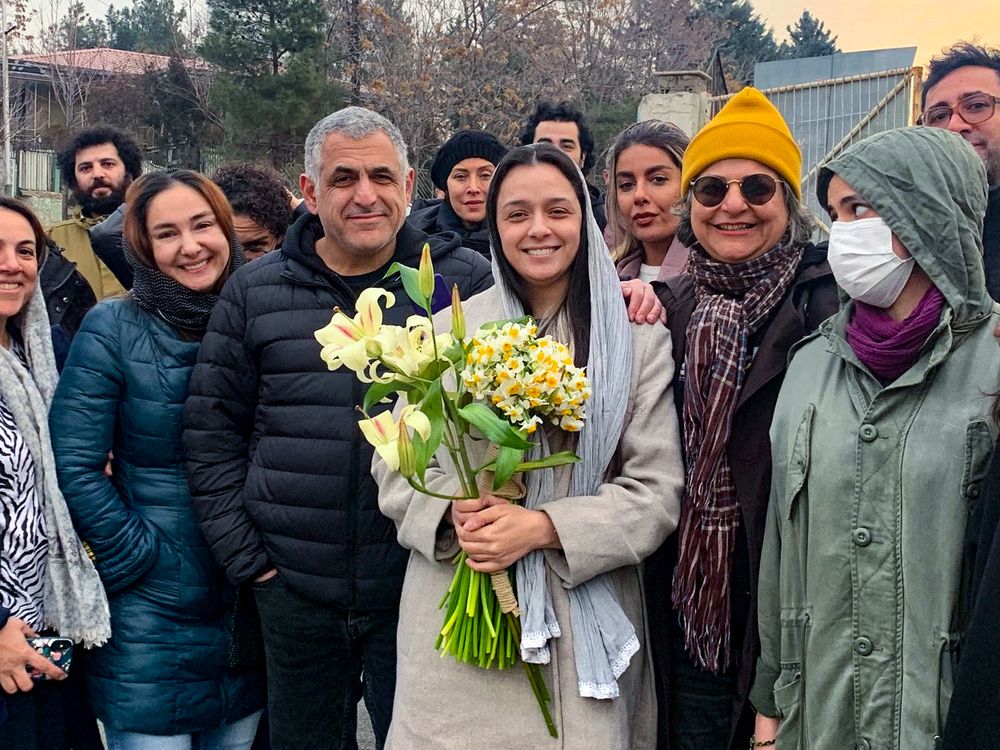 After nearly three weeks in prison, famed Iranian actress Taraneh Alidoosti has been released on bail, state media announced, per the Associated Press. Iranian authorities had arrested and jailed the actress, 38, after she criticized Iran's crackdown on ongoing anti-government protests. 
Alidoosti, best known for starring in the Academy Award-winning picture The Salesman (2016), had used her Instagram account to criticize the hanging of Mohsen Shekari, Iran's first execution connected to the protests. 
"Your silence means supporting tyranny and tyrants," wrote Alidoosti in December, according to CNN's Heather Chen, Lindsay Isaac and Jennifer Hauser, adding that "every international organization who is watching this bloodshed and not taking action is a disgrace to humanity."
In November, Alidoosti had also uploaded a photo of herself to Instagram with no hijab. Hair exposed, she held a handwritten sign with the words that have become the Iranian protests' rallying cry: "Women, Life, Freedom."
Her social media accounts have since been deactivated.
The actress was released from Tehran's notorious Evin Prison on Wednesday. Following her release, she was photographed on the street holding flowers alongside supporters.
She was initially arrested for "unsubstantiated comments about recent events" and "the publication of provocative material in support of previous street riots," according to the state-operated Islamic Republic News Agency. The agency's reports on Alidoosti's release did not specify whether she has been officially charged with anything, nor if she will stand trial.
Alidoosti isn't the only public figure to face such scrutiny. Two other Iranian actresses, Hengameh Ghaziani and Katayoun Riahi, were arrested in November after using social media to expose their hair and voice support for the protests. Soccer star Voria Ghafouri, a frequent critic of the Iranian government, was also arrested in November for expressing solidarity with protesters. All three have been released.
In December, over 500 actors, directors, writers and other celebrities signed an open letter demanding Alidoosti's release. "The Iranian authorities have strategically chosen to arrest Taraneh before Christmas to ensure her international peers would be distracted," the letter states. "But we are not distracted. We are outraged."
Among those who signed the letter are actors Penélope Cruz, Kristen Stewart, Mark Ruffalo and Kate Winslet, as well as filmmakers Pedro Almodóvar, Alfonso Cuaron and Steve McQueen.
Alidoosti is a frequent activist and outspoken critic of Iran. In 2017, when The Salesman took home the Academy Award for Best Foreign Language Film, Alidoosti did not attend the ceremony—she skipped it in protest of former President Donald Trump's travel bans on people from predominantly Muslim countries.
The actress has been a leading figure in Iran's ongoing #MeToo movement. In 2020, she was prosecuted over Twitter posts that criticized the police for assaulting an Iranian woman who had taken off her head scarf.
Iran's women-led protests began in September following the death of Mahsa Amini, a 22-year-old woman who was in the custody of Iran's "morality police." The Iranian government has responded to the protests with brutal force. According to the nonprofit Iran Human Rights, at least 476 people have been killed by security forces, and at least 100 are at risk of death sentences.