The Only Eyewitness Painting of Lincoln's Assassination Is Finally Being Restored
How a forgotten portrait of the president's dying hours was saved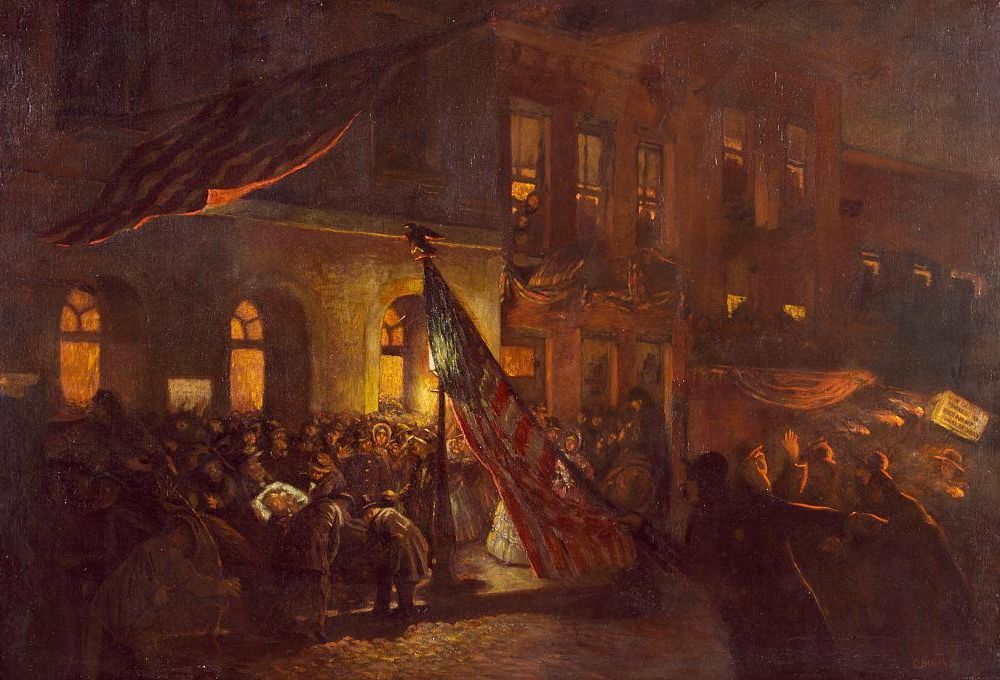 Most presidential portraits emphasize health and vigor, showcasing a president at his most powerful. A very different kind of portrait — the only known image of Abraham Lincoln's assassination painted by an eyewitness — is now being restored by conservators, reports Michael E. Ruane for The Washington Post.
The oil painting, which Ruane describes as encrusted in "decades of old paint, dirt and varnish," has been held by the National Park Service since 1978. Entitled "Lincoln Borne By Loving Hands," the painting was produced by Carl Bersch, a German immigrant who lived near Ford's Theatre. Bersch was sketching a Civil War victory parade on the night of April 14, 1865 — but the celebration was shattered by the sight of a bandaged, dying Lincoln being carried across the street. Moments earlier, he was shot by John Wilkes Booth. Bersch quickly went to work, painting the entire solemn, overwhelmed scene. He later recounted the tragedy to his family:
I had a clear view of the scene, above the heads of the crowd. I recognized the lengthy form of the President by the flickering light of the torches, and one large gas lamp post on the sidewalk. The tarrying at the curb and the slow, careful manner in which he was carried across the street, gave me ample time to make an accurate sketch of that particular scene […] Altogether it was the most tragic and impressive scene I have ever witnessed.
As conservators work to clean the painting, Ruane writes, a fragile and faint image of Lincoln has emerged. More striking, though, are the dark, brooding facial expressions of bystanders; Bersch seized on the idea that a nation's victory has been forever tainted. The public will be able to see for itself soon enough — once "Lincoln Borne By Loving Hands" is completely restored, the National Park Service plans to exhibit it in Ford's Theatre.