Explore Animated Models, Digitized Sketches and More in Leonardo da Vinci's Largest-Ever Online Retrospective
The new Google Arts & Culture hub features high-resolution scans, 3D renderings and artificial intelligence experiments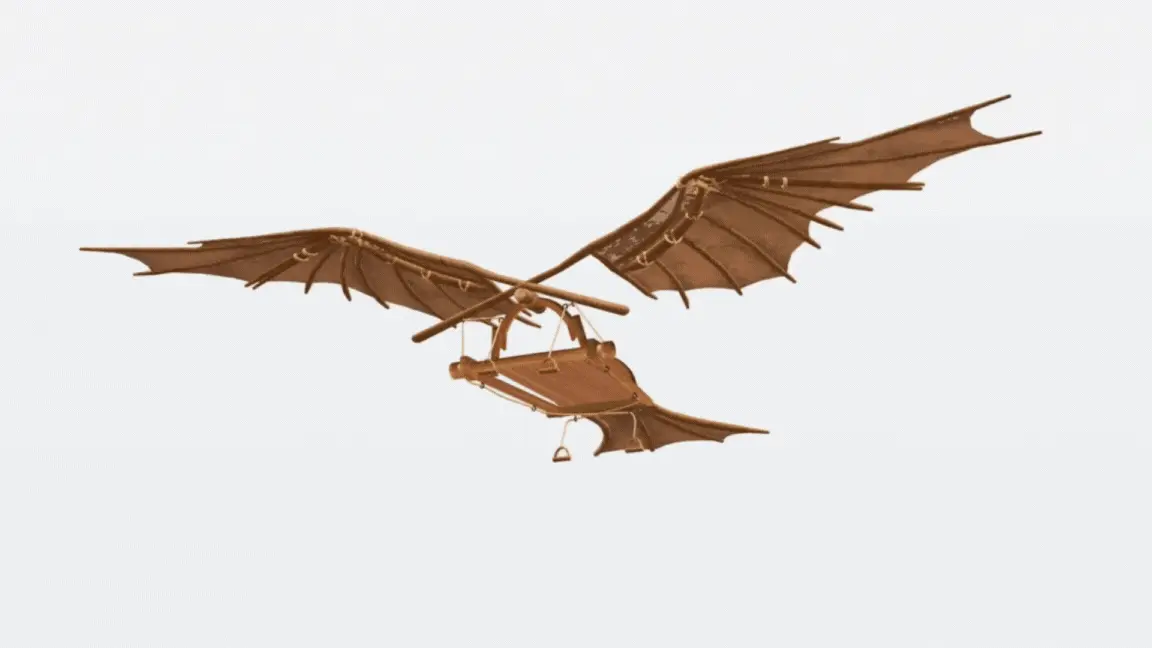 Leonardo da Vinci is best known for creating iconic artworks like the Mona Lisa and The Last Supper. But the Renaissance polymath's oeuvre stretches far beyond paintings (and art in the conventional sense). He produced thousands of sketches and writings during his lifetime, from blueprints for fantastical inventions to anatomical studies. Now, more than 1,300 pages in Leonardo's hand, collected in volumes called codices, are available online for the first time through Google Arts & Culture's newest virtual hub, "Inside a Genius Mind."
Per a statement, a team led by Amit Sood, director and founder of Google Arts & Culture, collaborated with 28 cultural institutions around the world to gather materials for the hub. The group also recruited Martin Kemp, an art historian at the University of Oxford and a leading Leonardo expert, to help curate the portal.
In addition to viewing the high-resolution scans, users can read about Leonardo's life, examine his paintings in minute detail, explore his codices through an interactive module that employs artificial intelligence (A.I.), and experiment with animations and interactive models.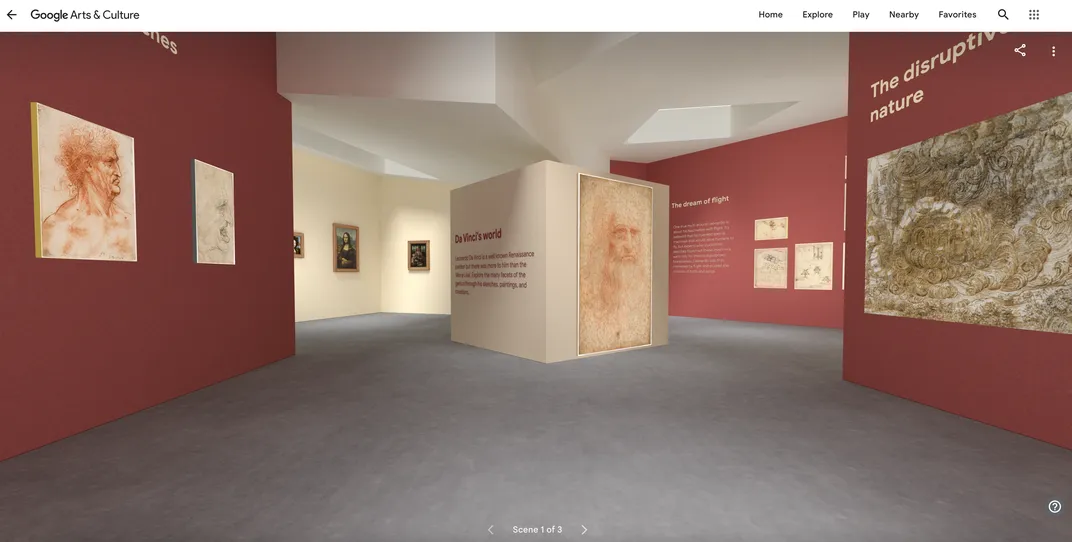 "The animation is very much in keeping with his spirit and his sense of the dynamics of the world," Kemp tells Smithsonian magazine. "His drawings, many of them machine drawings or drawings from nature, all have a sense of imminent movement. … There's a sense for me that he's looking at the drawing and saying, 'Come on, move!'"
By displaying moving models of Leonardo's sketches, Kemp says the portal essentially scratches "an itch [the artist] couldn't scratch."
The new hub extracts 3,000 drawings from six volumes of Leonardo's codices, many of which are digitized here for the first time, said Sood at a June 29 press conference. Users can explore the sketches in several ways. One tool allows people to input two sticky notes ("stickies"), each adorned with a different sketch from the codices, into an A.I. generator that creates an image inspired by the paired selections.
"We've realized that audiences want different ways to interact with culture," Sood told reporters. "Our objective is to use play as an idea to learn more about things." For those who may be intimidated by the volume and weight of Leonardo's work, Sood said his team used artificial intelligence "to create something that was a little bit more inspirational," bringing "Leonardo's work into the current conversation, into the current zeitgeist."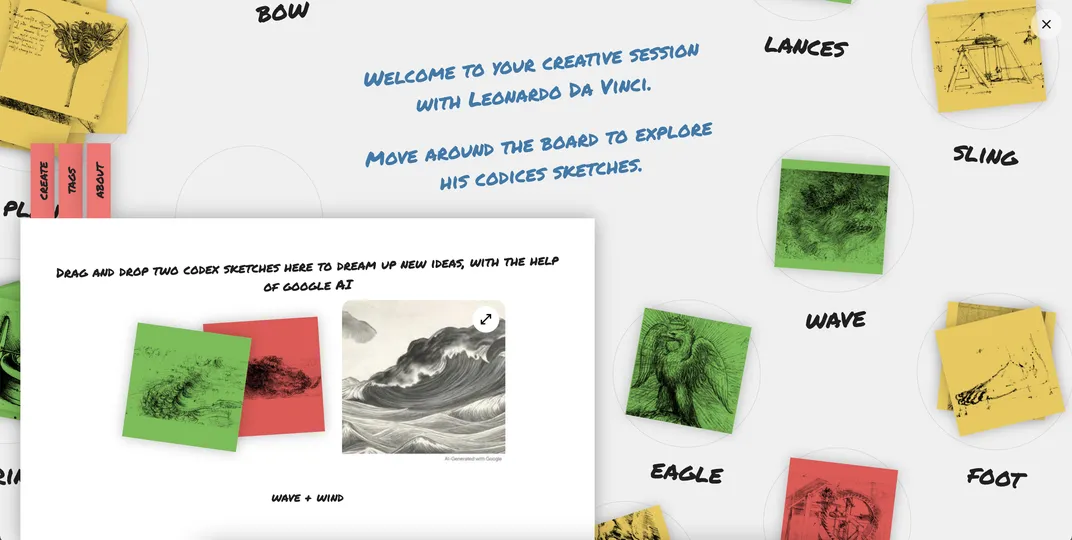 The other codice-focused module allows users to either plunge into a white space of unsorted, floating sketches or enter via organized tags and themes. The team behind the tool used A.I. to tag drawings with keywords. Users select a keyword like "horse" to navigate to a collage of codex pages depicting horses, each of which can be expanded and examined. Curators also grouped the codices' pages into five "curated stories": Secrets of Flight, Spirals, Earth as a Body, Perpetual Motion and Destruction. Selecting a story takes the user through an ordered selection of pages related to that theme, finishing with an animated model of a Leonardo "invention"—one of the many machines the artist conceived but never realized.
While serving as a consultant in the project's early stages, Kemp suggested organizing the codices thematically. This process assists viewers in navigating Leonardo's free-flowing thought process. His notebook pages often covered multiple topics, as his mind rarely stayed on one subject for long. Kemp senses frustration in the original codices, observing that Leonardo wrote quickly and "intensively," frequently switching gears.
"He's a lateral thinker to a kind of pathological degree," Kemp says. "For example, he's doing a wig for Leda [and the Swan], the lost painting, with all its knots and its spouts of hair, and he suddenly starts thinking about turbulent water. If he thinks about turbulent water, he begins to think about water in the body of the human being and … about heart valves, which operate with the turbulence of water. So he goes from, say, the curling of hairs to heart valves."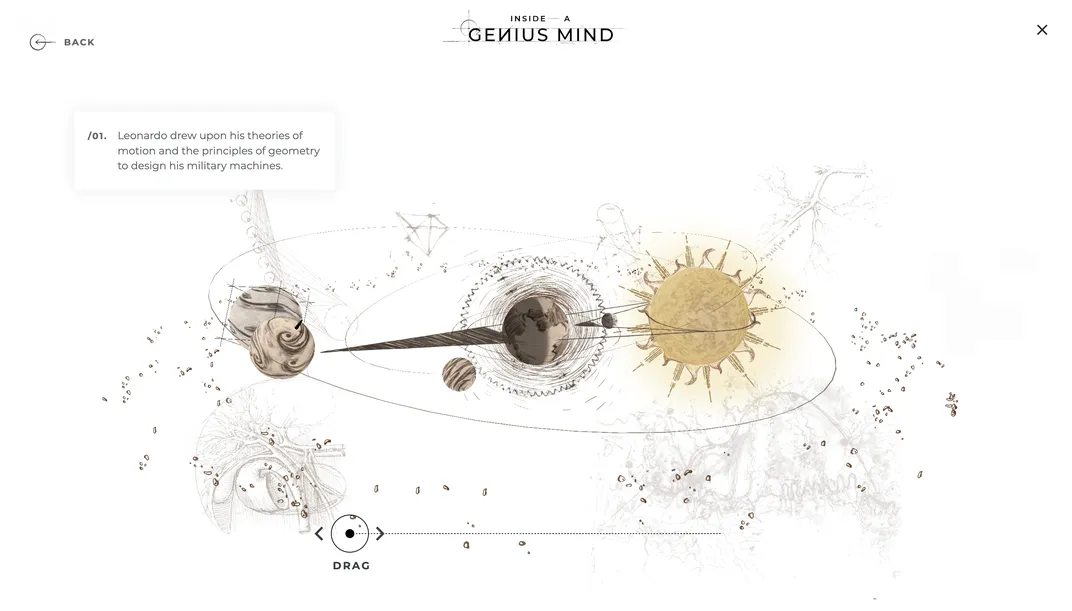 That's not a journey most would expect to make, Kemp adds, but it's one that's very characteristic of Leonardo's creative process.
"It's both absolutely thrilling and quite frustrating," Kemp says. "Occasionally, you feel you want to say, 'Come on, Leonardo, that's terrific. Get it down, finish that bit and then go on to the next.' But he just keeps moving."
This sense of urgency led Leonardo to produce more than 7,000 surviving codex pages, along with some of the world's most famous paintings and enduringly influential ideas in engineering and science. Through "Inside a Genius Mind," anyone with an internet connection can now explore an expansive body of work by the ultimate Renaissance man.