David Hockney Show Opens in London—and Features a New Portrait of Harry Styles
"David Hockney: Drawing from Life" returns to the National Portrait Gallery after the pandemic shut it down three years ago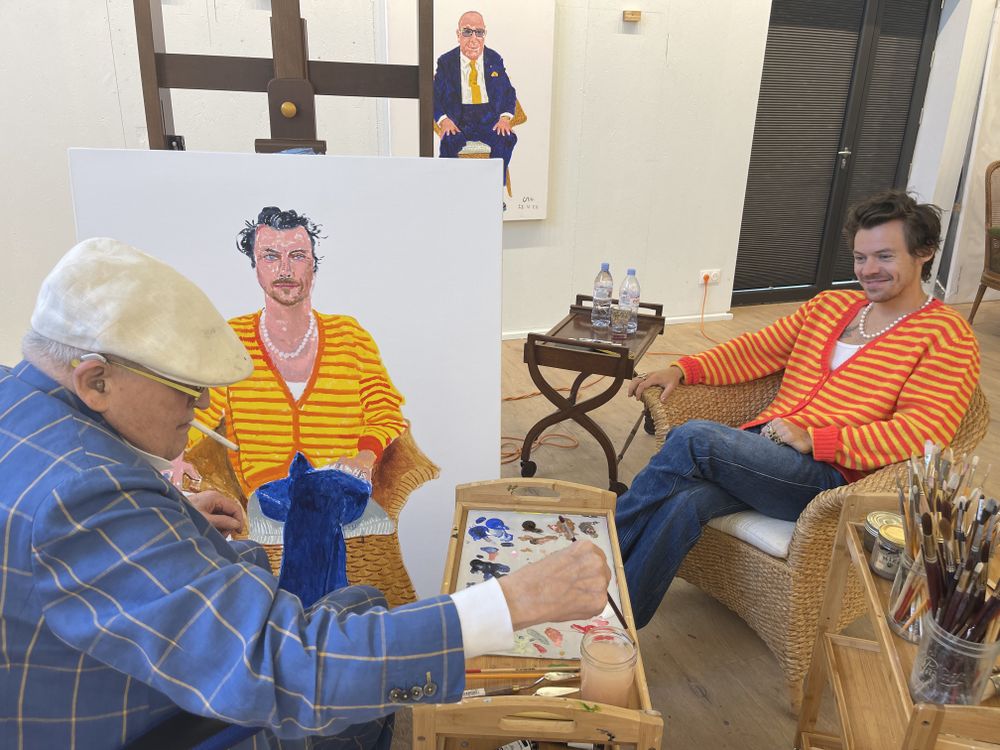 David Hockney's last show at the National Portrait Gallery in London was open for just 20 days before the Covid-19 pandemic forced the museum to shut down in March 2020. It remained closed for three years, undergoing its biggest transformation in over a century.
Now, an expanded version of Hockney's exhibition is making a triumphant return to the gallery.
"The whole world shut down, and the exhibition was still sitting there, in the dark," Sarah Howgate, the gallery's senior curator of contemporary collections, who oversaw the exhibition in both phases, tells Vogue's Liam Hess. "So it's nice to know it will have another life."
"David Hockney: Drawing from Life" features roughly 160 works by the artist in pencil, pastel, ink and watercolor, using traditional tools such as a 35-millimeter camera and various digital apps. In addition to the works displayed in its previous iteration, the show also includes 33 new acrylic portraits Hockney created between 2021 and 2022, one of which is a recently unveiled painting of the singer Harry Styles.
"I am delighted to be restaging this major exhibition for David Hockney at the new National Portrait Gallery, which makes good on a pledge I made to David in March 2020 that we would return to his wonderful exhibition in better days," says Nicholas Cullinan, the director of the gallery, in a statement. "Hockney is one of the most internationally respected and renowned artists today, and to see his new portraits, made over the last couple of years and which demonstrate his constant and continuing ingenuity and creative force, is life-affirming."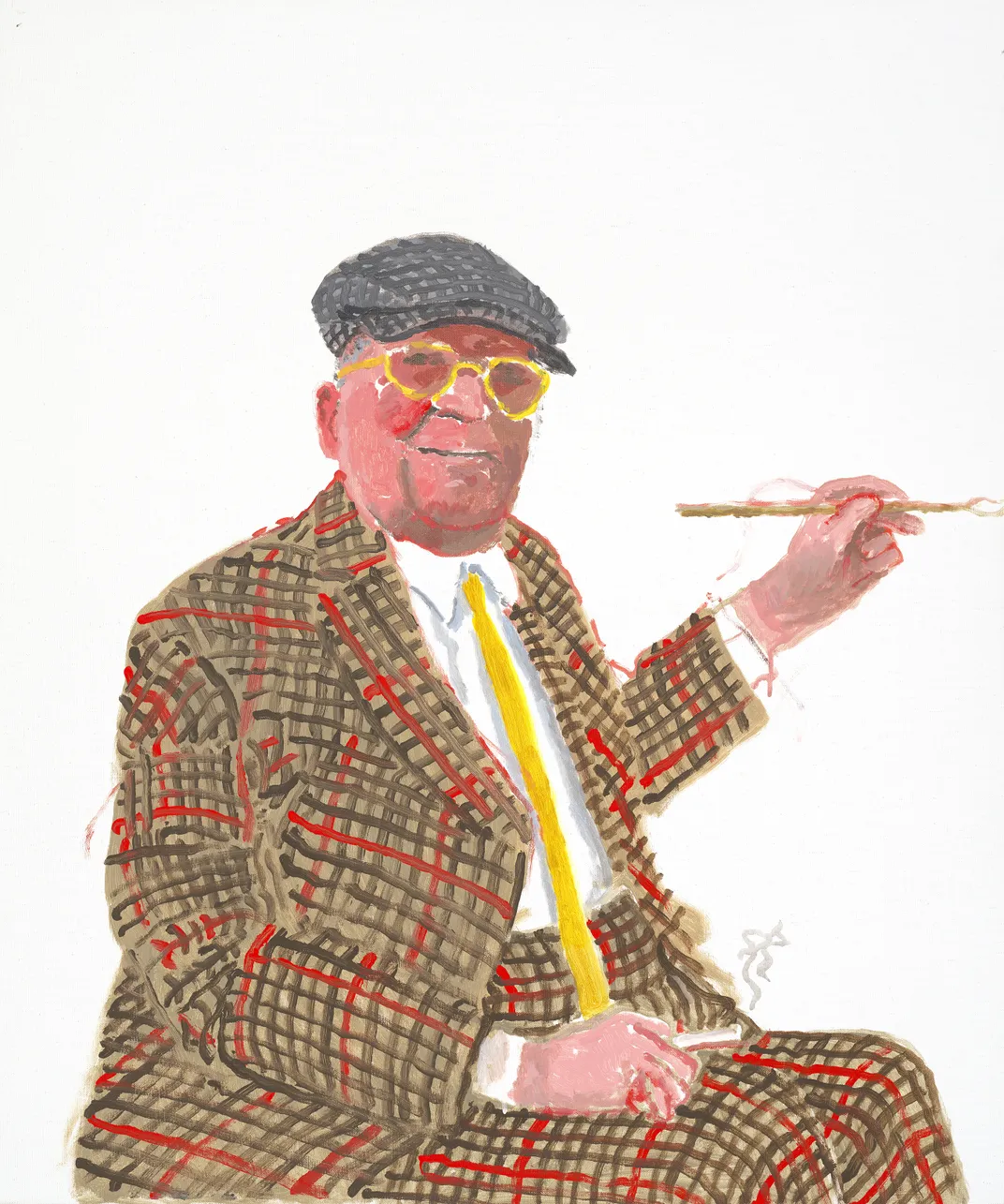 The new works depict a variety of subjects—from big names like Styles and record executive Clive Davis to Hockney's gardener, Vincent Bocage, seated on his tractor, per the Independent's Roisin O'Connor. To create them, Hockney painted directly onto the canvas without any underdrawing, completing each one in two to three sittings, according to the gallery.
Hockney visited the exhibition four times during its installation, Howgate tells Euronews' Theo Farrant. "This is the first time that these paintings have been exhibited, and he was very excited to see them," says Howgate. "He came in and spent time with the portraits and enjoyed quietly looking at his work in this room."
Beyond Hockney's recent works, the exhibition features portraits of five sitters: Hockney's friend Celia Birtwell, his mother Laura Hockney, former partner and curator Gregory Evans, master printer Maurice Payne and Hockney himself. These portraits, created over many decades, illustrate how Hockney's style has changed over time, writes Artnet's Jo Lawson-Tancred.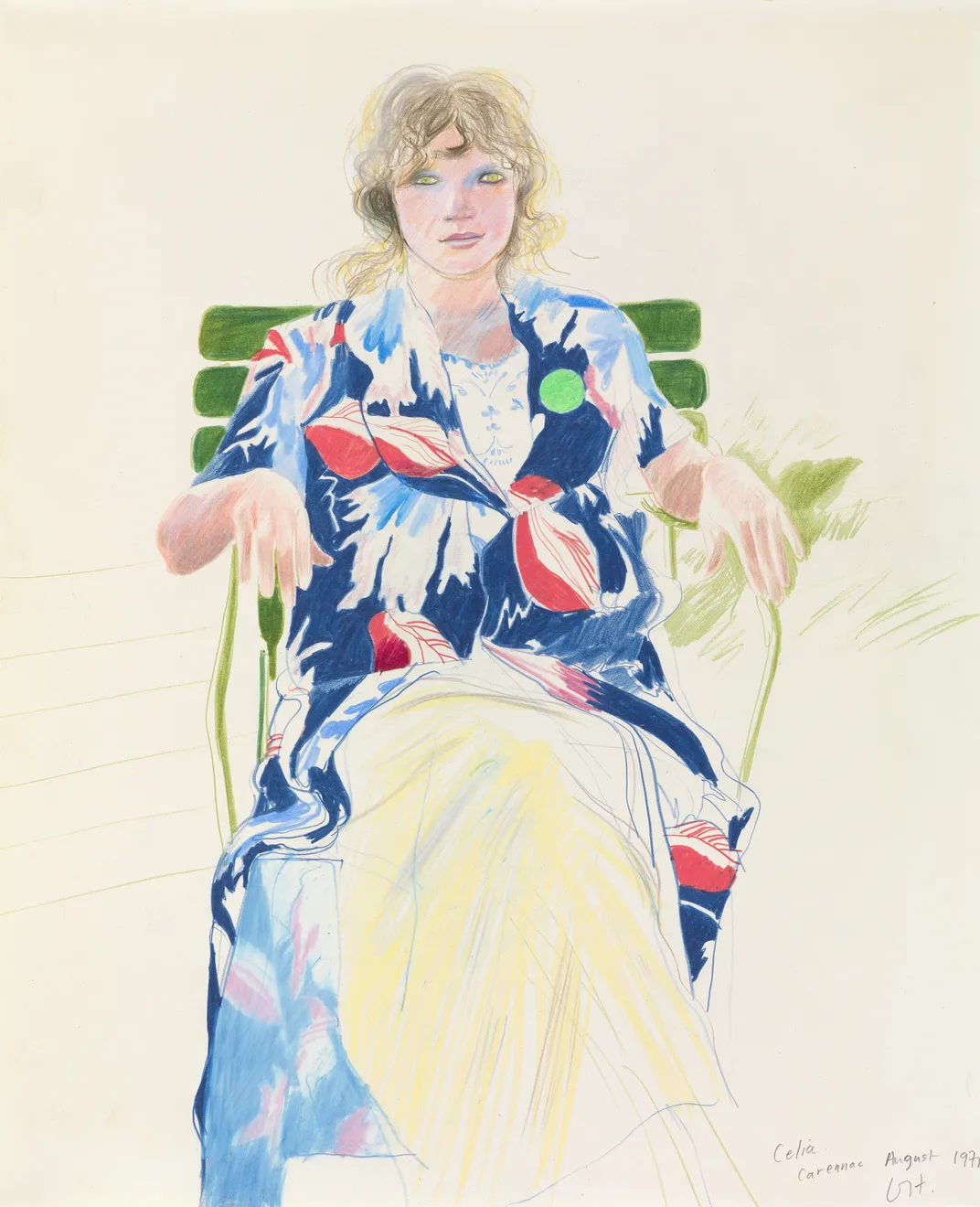 "Across all the works, Hockney plays with a mix of historical references," writes Artnet. "Some expressionistic or deconstructed elements are clearly borrowed from the moderns, of which he most reveres Picasso, but elsewhere a three-quarter profile, stately pose or Rembrandtesque brown ink reveals Hockney's admiration for old masters."
Other pieces on view include colored pencil drawings Hockney created in Paris in the early 1970s, as well as drawings from a two-month period in the 1980s, during which the artist drew a self-portrait every day. "Drawing from Life" also features rarely seen works, such as the painting My Parents and Myself and the etching suite A Rake's Progress, a retelling of the 18th-century works partly inspired by a trip Hockney made to New York City, where he explored the city's gay nightlife.
Hockney's portraits, especially his most recent works, celebrate life and love, writes the Guardian's Jonathan Jones. "This exhibition reveals what he truly is: a lover of beauty, who sees no need to apologize for finding it."
Styles also lauds the artist's eye. "David Hockney has been reinventing the way we look at the world for decades," the singer tells Vogue. "It was a complete privilege to be painted by him."
"David Hockney: Drawing from Life" is on view at the National Portrait Gallery in London through January 21, 2024.