Exhibit Reveals Rings From Freud's "Secret Committee"
The founder of psychoanalysis handed out the rings to students, colleagues and friends who supported and spread his theories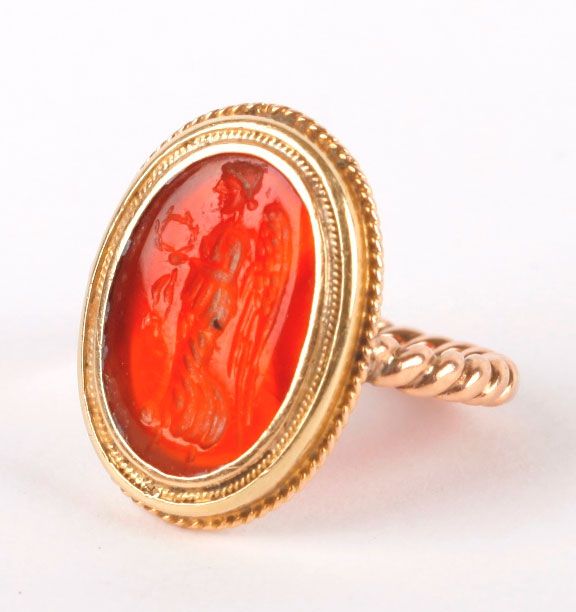 In between smoking cigars and founding psychoanalysis, Sigmund Freud was an avid collector of antiquities, amassing thousands of artworks and curios from ancient Greece, Rome, Egypt, India and beyond. In 1912, the emerging field of psychoanalysis and his hobby merged in a weird way. That's when Freud began handing out signet rings, usually ancient carvings reset in modern bands, to his inner circle of students, friends and colleagues, which he called a "Secret Committee." Now, the AFP reports, for the first time the Israel Museum has brought together six of those rings in an exhibition called "Freud of the Rings."
In her book The Secret Ring: Freud's Inner Circle and the Politics of Psychoanalysis, Phyllis Grosskurth explains that around 1912, Freud's primary disciple and intellectual heir, Carl Jung, split with his mentor and began outlining his own theories which deviated from Freud's work. Freud, hoping to keep a grip on the emerging field of study, brought together six prominent students and created a "Secret Committee" to propagate and defend his work against Jungian psychoanalysis. To seal the deal, Freud gifted each committee member a signet ring with a Greek or Roman god from antiquity taken from his collection. He later gifted other rings to friends and students, in total handing out about 20 of the signets during his life.
The exhibit of the rings at the Israel Museum is the brainchild of assistant curator Morag Wilhelm. AFP reports she found in the museum's collections a small box with the words "Freud Nike" on it. Inside was a ring with an inset stone depicting the goddess of triumph. It had been gifted to Eva Rosenfeld, one of Freud's patients and a psychoanalyst who collaborated with his daughter Anna Freud. Wilhelm decided to investigate more, leading to the exhibit which includes six rings, including Rosenfeld's ring, one given to Anna Freud as well as those owned by Hungarian disciple Sandor Ferenczi, German psychoanalyst Ernst Simmel, a ring given to an anonymous psychoanalyst and a ring owned by Freud himself. Several of Freud's ancient statues as well as one of his cigar boxes are on display in the exhibit. The curators hope that the exhibit will raise awareness of the rings and might help other rings to come to light.
According to the AFP, Freud was interested in making connections between different cultural fields. This exhibit embodies that idea, bringing together archaeology, art, history and psychoanalysis. It also fits the spirit of Freud's work, which delved into a person's past to understand their current ailments says Ido Bruno, director of the Israel Museum. "We look at the past but constantly see the present and fantasize, or seek sources of inspiration, for our future."
Freud's Secret Committee lasted until 1927, though its membership fluctuated in its last years. It was disbanded after Freudian psychoanalysis had won the day over its rivals to become a global phenomenon, according to Grosskurth, though book reviewer Stuart Schneiderman suggests that, after two decades of competing with and analyzing one another, revealing their deepest secrets and sins, the Secret Committee just couldn't stand being around each other any more.