Ex-NASA Engineer Builds World's Largest Super Soaker
More than a mere toy, this water gun can slice through glass and watermelons
A NASA engineer turned YouTube star has built the world's largest Super Soaker—but this gadget is definitely not a toy for the kids.
The gigantic water gun is powered by nitrogen gas, and can shoot out water at speeds of 243 miles per hour, reports Nina Golgowski for the Huffington Post. With a force of up to 2,400 pounds per square inch, or eight times the force of an average fire hose, the Super Soaker is able to slice easily through a watermelon and shatter glass. Creator Mark Rober has formally applied to Guinness World Records to have his Super Soaker judged as the world's largest, Golgowski reports.
"When the Super Soaker was first invented, it was an absolute game-changer in my neighborhood," Rober says in his YouTube video about his device. "So now, that I'm a dad and know how to engineer, I decided to once again level up my water-fighting capabilities."
Despite its outlandish size, the massive Super Soaker is based on the same principles as the original, reports Chaim Gartenberg for The Verge. Air is pumped under pressure into a tank of water, and pulling a trigger shoots that pressurized water out of the gun. The main difference is that Rober's design uses tanks of pressurized nitrogen gas to get supersized results that wouldn't be possible with mere hand pumping.​
In the video, Rober talks with Lonnie Johnson, the creator of the Super Soaker and a fellow NASA engineer turned inventor. Johnson is a lifetime inventor and won a science fair in high school in 1968 by building a functioning robot. The prototype of the Super Soaker came about while Johnson was tinkering in his bathroom with a refrigeration system that would use water instead of harmful chemicals.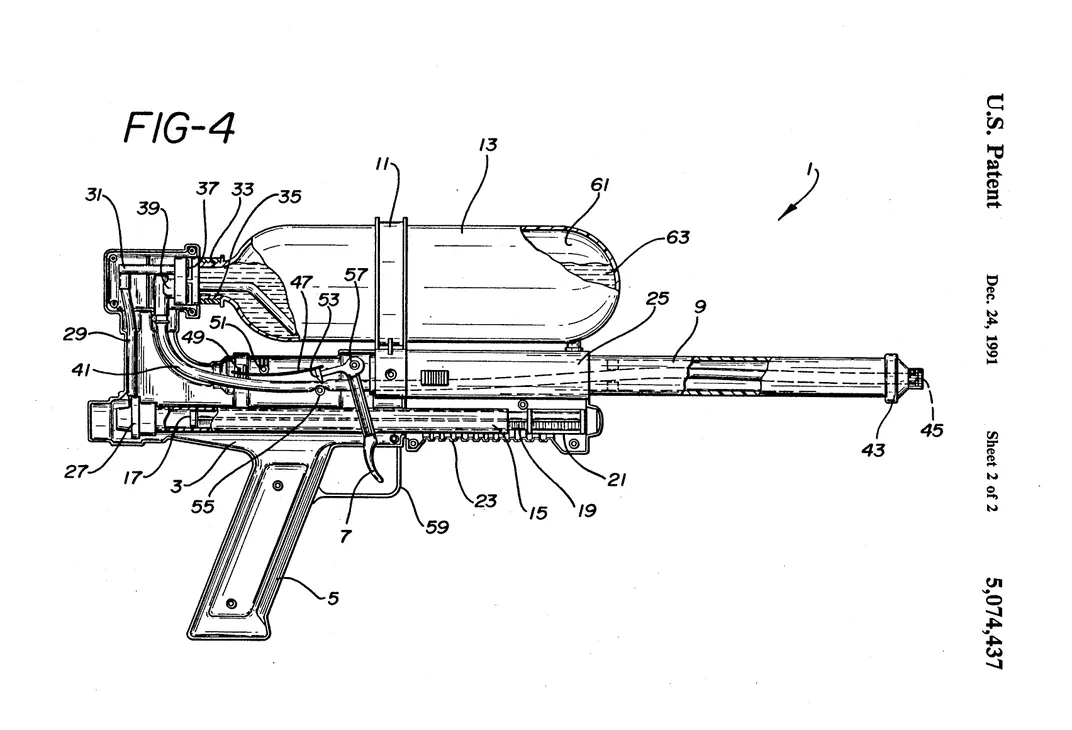 "One evening, I machined a nozzle and hooked it up to the bathroom sink, where I was performing some experiments," Johnson told William Kremer of BBC News Magazine last year. "It shot a powerful stream of water across the bathroom sink. That's when I got the idea that a powerful water gun would be fun!"
After refining his invention, Johnson spent most of the 80s unsuccessfully trying to find a manufacturer to get his water gun into the hands of children. But he caught a break and in 1990, the "Power Drencher" was released. Later rebranded as the Super Soaker, 20 million of the water guns were sold the following summer, according to the BBC.
"I remember just staring at my royalties check in disbelief," Johnson told Kremer.
It's unlikely Rober's massive iteration will ever make it to toy store shelves. But don't despair, ambitious fans can check out Rober's list of parts and computer-aided design files to try it for them selves.