Emotional Support Peacock Barred From Flying on United Airlines
The incident comes as airlines have implementing stricter rules for emotional support animals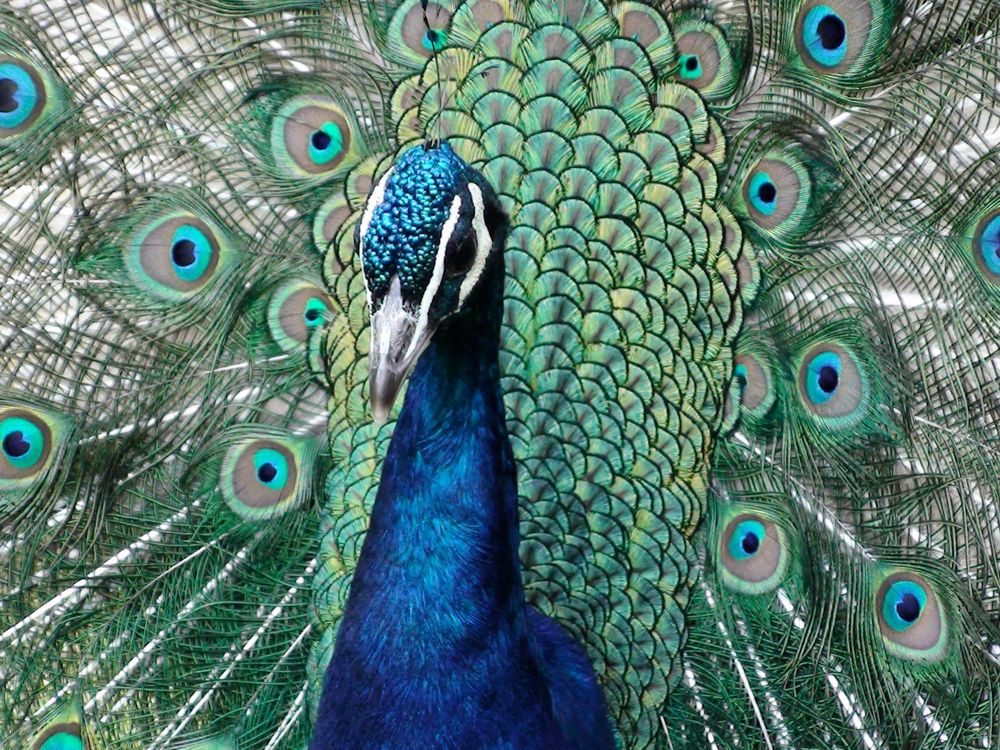 Over the weekend, a United Airlines passenger named Dexter was getting ready to board a flight from Newark to Los Angeles. He had his ticket ready. He was, incidentally, looking pretty great. But Dexter was not allowed to board the plane. Dexter, you see, is a peacock.
According to Daniella Silva of NBC News, the peacock, which is reportedly an emotional support animal, and his human were turned away from their flight at the Newark Liberty International Airport on Sunday. United Airlines told Silva in a statement that the bird "did not meet guidelines for a number of reasons, including its weight and size."
The Jet Set, a travel blog, was first to report the incident, posting photos from the scene on its Facebook page. In the pictures, Dexter can be seen perching on a luggage cart. A video, also posted by The Jet Set, shows a woman ushering the peacock through the doors of the airport and onto her shoulder.
Morgan Sung of Mashable later reported that the jet-setting bird was none other than Dexter, who is something of a local celebrity in his New York neighborhood of Bushwick. According to his Instagram page, Dexter lives with the artist Ventiko, and can occasionally be spotted strolling the streets of New York. They have been profiled in the New York magazine vertical Bedford+Bowery, which revealed that Ventiko bought Dexter and his mate Etta for an art installation in Miami. She left the pair with a friend in Florida, but Etta disappeared soon afterwards.  
"Dexter didn't take that sudden loss of his homey happiness all too well and turned prickly," Kasper Van Laarhoven of Bedford+Bowery writes. "The bird and his new owner grew apart and when Ventiko heard that Dexter was spending his days locked up in a garage, she flew down to save him." It is not clear how Dexter made it from Florida to New York, but Ventiko's attempt to get her peacock onto a United Airlines plane last weekend certainly did not fly.
The incident at Newark Liberty came as a number of airlines have been implementing stricter rules for emotional support animals. As Karin Bruillard of The Washington Post explains, the Air Carrier Access Act of 1986 permits free travel for any animal that is trained to provide assistance to a person with a disability or emotional disorder. Some airlines require passengers to present a letter from a doctor or mental health professional, but such letters can be obtained online without much scrutiny.
Human passengers have tried to bring a menagerie of emotional support animals onto planes—not just dogs, but also pigs and ducks. And while true support animals are trained to behave on flights, unruly ones have caused significant disruptions.
Last year, an emotional support dog attacked a passenger. In 2014, a flight was forced to make an emergency landing after a dog pooped in the aisle.
In an effort to crack down, Delta announced this month that travelers with emotional support animals would have to provide proof of the animal's training and a letter signed by a doctor or other health professional, certifying that the animal will comport itself well on the flight. "Customers have attempted to fly with comfort turkeys, gliding possums known as sugar gliders, snakes, spiders and more," the airline said in a statement. "Ignoring the true intent of existing rules governing the transport of service and support animals can be a disservice to customers who have real and documented needs." 
United Airlines said that in the wake of the peacock passenger incident, it would be reviewing its existing policy, according to Silva of NBC News.
And in case you were wondering, Dexter and Ventiko still plan to head to Los Angeles. They will, however, be driving.