Elvis Died 35 Years Ago and the Fans Still Can't Help Falling in Love With Him
The King is dead. Long live the King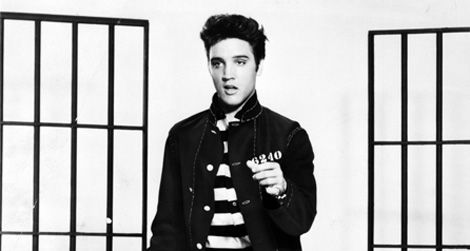 Thirty five years ago today, Elvis Presley, the king of rock 'n' roll, died of a heart attack at Graceland, his mansion in Memphis, Tennessee. He was just 42 years old.
In an interview aired on the Today Show this morning, Priscilla, Presley's wife, and Lisa Marie, his daughter, shared their memories of the tragic day. Priscilla, not at Graceland at the time, told Natalie Morales, "I will never forget that day. I walked outside and I said, my God, something is not right. Lisa was in Memphis at the time and I first thought about her. I wasn't able to function for awhile without him. Because in my head, I just thought what would I do without him? He was always there for me."
Lisa Marie was just 9 years old. "I knew something was wrong. I was in my room, which was right next to his bathroom," she said in the segment. Ginger Alden, Presley's then fiancée, found the musician unconscious on the bathroom floor. "I knew something was very wrong, all the commotion and everything. I was a wreck," recalled Lisa Marie.
Every year to mark the anniversary of the legend's death, tens of thousands of Elvis fans gather at Graceland for a candlelight vigil. Last night and into the early hours of the morning, some 75,000 people were in attendance. For the very first time, together, so too were Priscilla and Lisa Marie. "It just seems like it is the right time," said Priscilla, on the Today Show.
The gates of Graceland opened at 8:30 p.m. yesterday evening, and fans proceeded up the grand driveway to Elvis' gravesite, where they placed flowers, photographs and other mementos.
Tonight, the FedExForum in downtown Memphis will play host to a 35th Anniversary Concert. There will be live performances by several musicians who knew and collaborated with the King, as well as video of Elvis himself projected on a large screen.
In regards to the outpouring of love from Elvis fans, Priscilla said, "That's the force of Elvis."
Smithsonian.com has paid its respect to Elvis in its coverage over the years as well. Here is a roundup:
Echoes of Elvis – Fans strap on their blue suede shoes and join the celebration of Elvis Presley's 75th birthday at the National Portrait Gallery in 2010.
How Photographer Alfred Wertheimer Captured Elvis Presley's Kiss - "Elvis at 21," a traveling Smithsonian exhibition including 56 photographs by Alfred Wertheimer, is at the Pink Palace Museum in Memphis, through October 14, 2012. Check out this Q&A with Wertheimer.
When Elvis Met Nixon – Forty-two years ago, an Oval Office photograph captured the bizarre encounter between the king of rock and roll and the president.