Eco-Celebrity Crane Inspires Wetland Protection in Taiwan
An endangered Siberian crane that has made Taiwan home is inspiring locals to protect the wetlands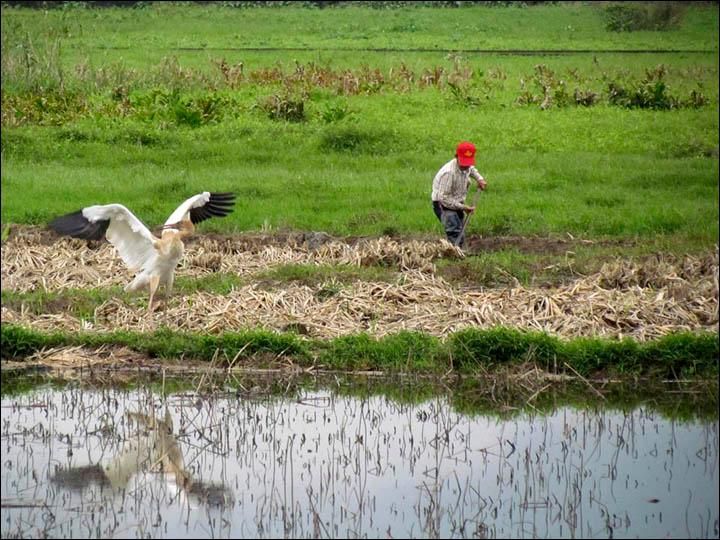 Last December, an endangered Siberian crane, Grus leucogeranus, was found poking around the Shongshan metro station in Taipei, Taiwan. After closer inspection, officials realized that the creature was the same infamous creature that has spent well over a year living in Taiwan. During its stay, the bird has earned its own Facebook page, led to two books and spawned its own brand of rice. But more importantly, it's become a sort of eco-celebrity that is forcing the Taiwanese to consider the local wetlands.
One of only 4,000 wild Siberian cranes remaining in the world, the bird most likely got lost during its annual migration from Siberia to China. It set up shop during December 2014 in the rice fields of Jinshan district, a rural area north of New Tapei City, and shows a particular affinity for the lotus and rice fields of farmer Huang Cheng-chun.
"I didn't expect the crane to stay. I thought it would fly away very soon," Cheng-chun, tells the Agence France-Presse. "When I work, the crane follows me around. It's like a friend to me. It's been helpful by eating a lot of apple snails [a pest] in the field."
Cheng-chun's farm is now nicknamed "little crane base" and has become something of a tourist attraction. According to The Tapei Times, the government has hired a security guard and put up fences and signs to keep photographers and bird watchers at bay.
Still, several photographers have broken into the rice paddy and tourists were caught trying to attract the crane with a slipper. The crane has also been chased by hawks and dogs. To protect the bird, authorities even canceled a crane photo contest. 
The crane is also inspiring positive behaviors, too. Because of the birds's presence, Cheng-chun began farming his rice without pesticides or using rat poison. Nearby farmers signed on to the eco-friendly practices and began selling their rice under the brand name Jin-Ho, a combination of the district's name, Jinshan, with the Chinese word for crane. The rice was reportedly sold out before harvest and has stimulated more demand for the eco-grain. The land devoted to this eco-farming has increased from roughly 8.5 to 25 acres, and it may grow even bigger if the crane-craze continues.
Already, there have been changes in the eco-fields, with bird watchers reporting increases in migratory birds in the area including a stopover by a black kite, a rarity for Jinshan.
It's a small start, but it's a much needed change in Taiwan where development and poor agriculture practices are devastating wetlands. According to the China Post, conservationists hope the government will begin managing the Jinshan district for migratory birds and will implement a plan to leave some land fallow to attract more wetland species.
"It's inevitable that the bird will leave," Liao Jen-hui, director of the Taiwan Ecological Engineering Development Foundation tells the Agence France-Presse. "We hope that by the time it's gone, eco-friendly farming and the Jin Ho rice brand will be well established."