This Eccentric 19th-Century Transportation Magnate May Have Inspired Jules Verne
George Francis Train traveled around the world three times in his increasingly weird life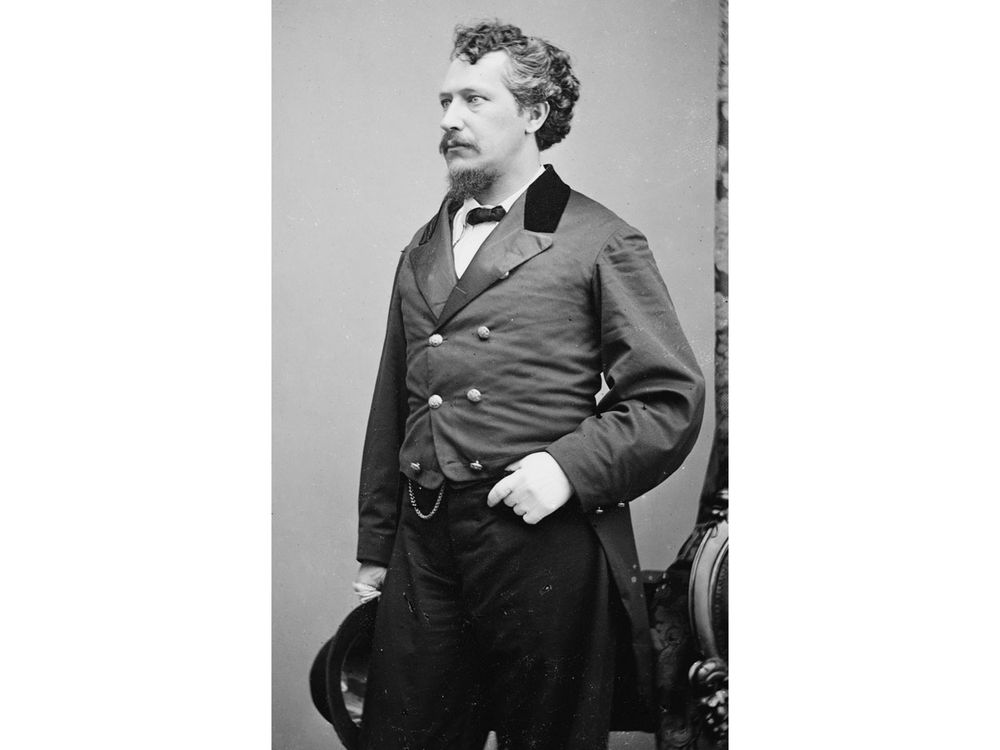 "With modesty, I may say that the whole story could not be told in a single volume," George Francis Train wrote in the preface to My Life in Many States and in Foreign Lands, his autobiography.
My Life was written when he was 74. By that time, Train had (among other exploits): run for president; been jailed 15 times; participated in or supported several revolutions; supported the women's suffrage movement in America, built a failed railroad for Continental royalty (Queen Maria Cristina of Spain); built the Union Pacific Railroad; travelled around the world three times and gotten very angry at Jules Verne, author of Around the World in 80 Days. So maybe he was right.
Train was born on this day in 1829 in Boston. He was "emotional and impulsive, an attention-seeking scatterbrain," writes the New England Historical Society. These tendencies led him to join up with causes like civil unrest in France and Ireland, as well as the American suffrage movement. Convinced of his own importance, Train—who was technically in the transportation business, entering his cousin's shipping company at the age of 16—both made and lost fortunes for himself and others. But in terms of his personality, perhaps the most illuminating story about him is the one about his trips around the world.
In the middle of his campaign for president, running as an independent, in 1871 Train "suddenly decided to take his trip around the world," the historical society writes. Although this first trip was in turn interrupted when he hared off to France to participate in the 1871 revolution, he maintained that in actual travelling time the trip took 80 days (no one checked).
The links between eccentric character Phileas Fogg and the well-known Train are many, writes Gary Dexer for the Independent. The timing of Verne's story is particularly significant, he writes: Train was making headlines in France (where Verne was) in late 1870 and early 1871, while Verne was looking around for a new idea. "He quickly finished the tale of Phileas Fogg and Passepartout and sold the idea as a serial to Les Temps, who published it in daily installments from 1872," Dexer writes. Although Verne added a few anecdotes, the thrust of the story seems to have been inspired by Train.
Verne never publically said that Fogg was Train. But Train seems to have embraced the link, once telling a British journalist "Remember Jules Verne's Around the World in Eighty Days? He stole my thunder. I'm Phileas Fogg."
But, Train concluded, "I have beaten Fogg out of sight." What he meant was that he took three further journeys around the world, finally narrowing his time to 60 days. He was prompted to take the later trips after journalist Nellie Bly of the New York World managed to travel the world in 72 days. "Train was furious," writes the historical society. He persuaded the Tacoma Evening Ledger to write about his second trip, which the took the 61-year-old just over 67 days. His last trip, in 1892, took only 60.
Not surprisingly, Train's eccentricities and his skills didn't balance out in the world of business, and he spent his old age impoverished, at one point even almost being incarcerated in an asylum. He lived until 1904, dying in New York.