Don't Believe the Guy Who Claims He's Descended From Vikings
You can probably claim Viking or whatever other heritage of choice you prefer and have a good chance of hitting the mark—without forking over $200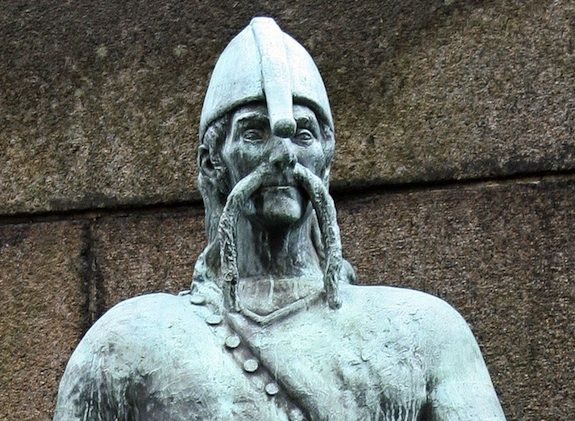 Most of us lead pretty humdrum daily lives, and $200 might seem like a small price to pay for the pleasure of imagining you descend from a long line of sword-wielding warriors or adventuring longboat captains. But before paying to have your DNA analyzed for Viking heritage or a connection to Napoleon Bonaparte, know that there is very little scientific substance to most of these tests. In fact, as evolutionary geneticist Mark Thomas wrote for the Guardian, these tests have so little rigor that "they are better thought of as genetic astrology."
This news may be disappointing, but with the numbers involved, it shouldn't be surprising. The number of ancestors we have doubles with each generation, and within a few iterations, the number of ancestors you have outnumbers the number of heritable sections of DNA in your body. Some of these many ancestors just can't contribute to your genetic blueprint.
Plus, if you look far enough back, we all have the same ancestors. Thomas explains:
Added to this, humans have an undeniable fondness for moving and mating – in spite of ethnic, religious or national boundaries – so looking back through time your many ancestors will be spread out over an increasingly wide area. This means we don't have to look back much more than around 3,500 years before somebody lived who is the common ancestor of everybody alive today.

And perhaps most surprisingly, it has been reasonably estimated that around 5,000 years ago everybody who was alive was either the common ancestor of everybody alive today, or of nobody alive today; at this point in history we all share exactly the same set of ancestors.
We're not all the unique genetic snowflakes we'd like to believe we are. The good news is that you can probably claim Viking or whatever other heritage of choice you prefer and have a good chance of hitting the mark—without forking over $200.
More from Smithsonian.com:
Genetics Lab or Art Studio?
The Genetics of Taste