Who's a Good Archaeologist? Dog Digs Up Trove of Bronze Age Relics
While on a walk outside a small Czech village, Monty the dog and his owner found nearly two dozen 3,000-year-old artifacts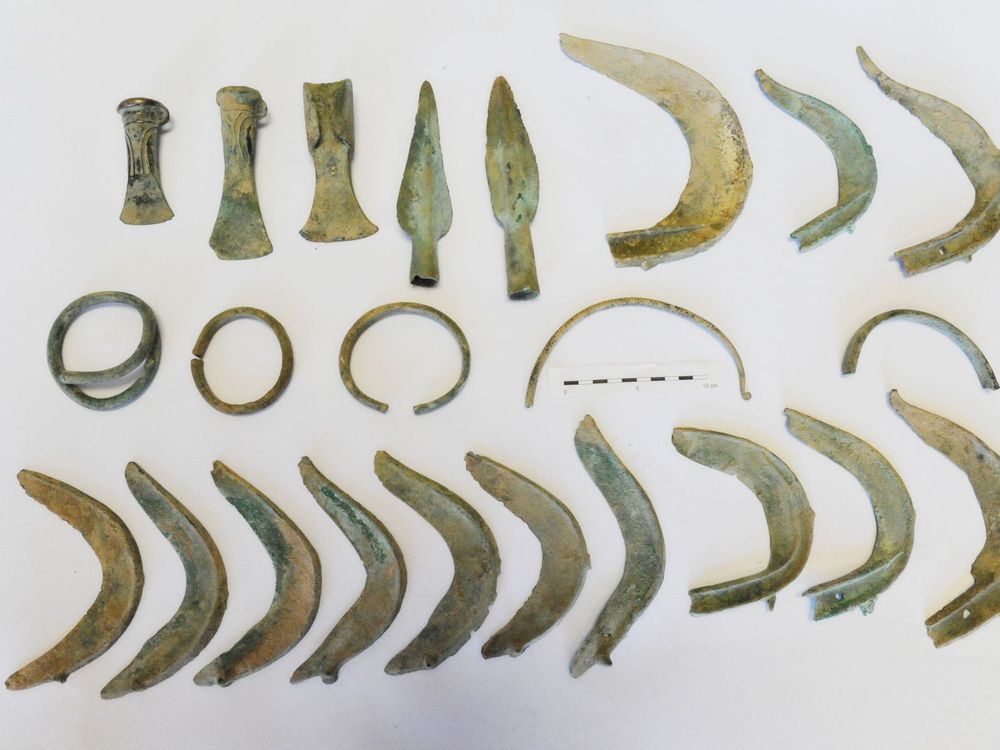 Some archaeologists carry tools and painstakingly chip away at historic sites. Others might have fluffy bodies, keen senses of smell and an affinity for digging stuff up.
As Tom McEnchroe reports for Radio Praha, a very good dog named Monty recently unearthed a rare trove of Bronze Age artifacts near the Czech village of Kostelecké Horky. Monty was walking with his human, identified as "Mr. Frankota," in a field when he began pawing frenetically at the ground. Soon, thanks to Monty's hard work, metallic objects began to emerge in the soil.
The cache of relics includes 13 sickles, two spear points, three axes and several bracelets. The objects have been dated to the Urnfield period around 3,000 years ago. This late European Bronze Age culture is marked by the transition from inhumation burials to cremations; the remains of the dead were interred in urns, giving the era its name. According to Encyclopaedia Britannica, Urnfield culture first appeared in east-central Europe and northern Italy, but eventually spread "to Ukraine, Sicily, Scandinavia, and across France to the Iberian peninsula."
It is rare to find a cluster of intact Urnfield objects, according to a press release. "The culture that lived here at the time normally just buried fragments, often melted as well," Martina Beková, an archaeologist at the Museum and Gallery of Orlické who studied the artifacts after they were discovered by Monty, tells McEnchroe. So she suspects that the relics had were tied to a ritual—"most likely a sacrifice of some sorts," Beková says.
Additional evidence could help pin down the function of the objects, and according to Michelle Starr of Science Alert, local archaeologists have been searching the area in the hopes of finding more relics. They haven't uncovered anything yet, but Sylvie Velčovská, a spokeswoman for the region, tells McEnchroe that there have been, "considerable changes to the surrounding terrain over the centuries, so it is possible that the deeper layers are still hiding some secrets."
The newly uncovered objects will be on display at the Museum and Gallery of Orlické Mountains in the town of Rychnov until October 21, after which point they will undergo conservation and be moved to a permanent exhibition in the village of Kostelec.
Frankota, Monty's owner, was awarded 7860 Czech Koruna (around $360) for his role in alerting archaeologists to the ancient treasures. One can only hope that Monty was given many treats and pets for his superb fieldwork