Doctors 'Grow' Ear for Transplant in Patient's Forearm
The procedure is rare, but could potentially help many more patients who experience similar bodily damage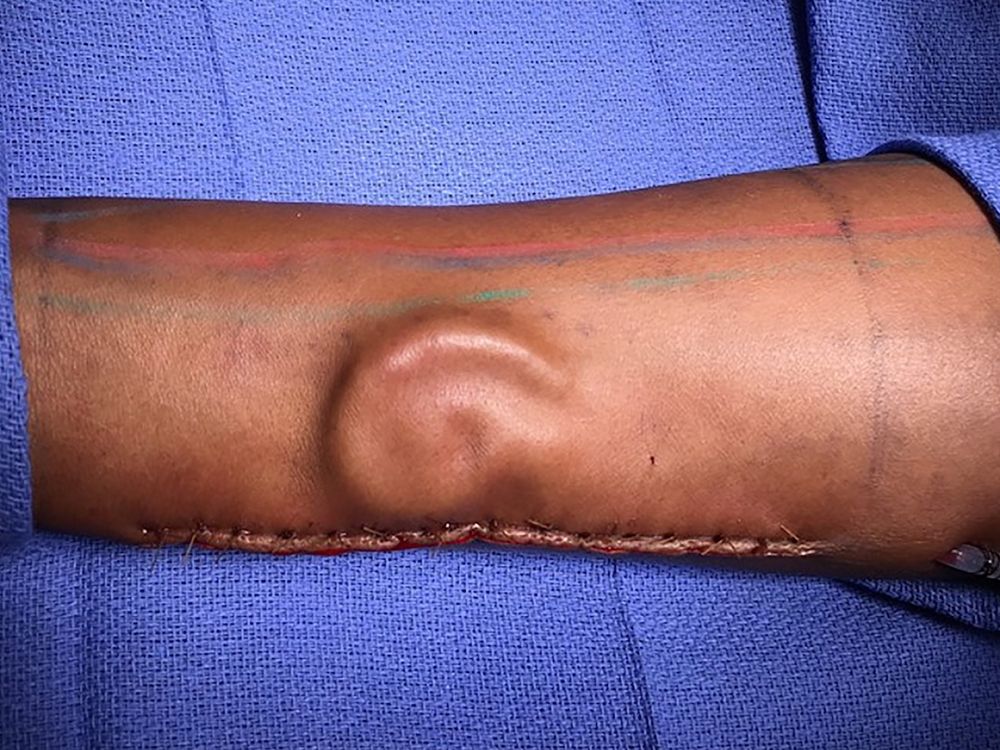 To successfully reconstruct a patient's lost ear, Doctors at William Beaumont Army Medical Center in El Paso, Texas sculpted a new one from rib cartilage and implanted it under the tissues of the patient's forearm to foster blood vessel growth.
The patient is Army private Shamika Burrage, who lost her ear in a car accident two years ago, reports Neel V. Patel for Popular Science. Burrage was returning from leave when her car's front tire blew, sending the vehicle flipping across the road and ejecting her from her seat.
Burrage, now 21, spent several months in rehabilitation after the accident but sought counseling when she continued to suffer from insecurities about her appearance. "I didn't feel comfortable with the way I looked so the provider referred me to plastic surgery," Burrage says.
During the reconstruction process, surgeons reopened Burrage's hearing canal to restore her hearing and implanted the vascularized ear in its rightful place. She will require two more surgeries to complete the process, but is currently faring well, according to a U.S. Army statement on the procedure.
"The whole goal is that by the time she's done with all this, it looks good, it's sensate, and in five years if somebody doesn't know her they won't notice," says Lt. Col. Owen Johnson III, the chief of plastic and reconstructive surgery at the facility, in the statement.
Though a first for Army plastic surgeons, the procedure has long roots in medical practices, Patel reports. Since the early 20th century, doctors have reconstructed parts of ears in people suffering from congenital deformities using a technique that involves harvesting rib cartilage from the chest, sculpting it into the shape of and implanting it under the skin where the ear is normally placed.
As Patel writes, the second stage of the latest ear transplant, known as microvascular free tissue transfer, only became popular in the late 1990s. By stitching the implanted tissue to blood vessels, doctors can help it develop into "healthy, functioning tissue in a new area," Patrick Byrne, the director of the Division of Facial Plastic and Reconstructive Surgery at Johns Hopkins University School of Medicine who pioneered this method, tells Patel.
But such blood vessel development isn't possible everywhere in the body—including the normal position of ears, Patel reports. In Burrage's case, doctors encouraged this vascularization by initially implanting the ear on her forearm, where there is an artery and vein to support growth. "[The ear] will have fresh arteries, fresh veins and even a fresh nerve so she'll be able to feel it," Johnson says in the statement.
As Buzzfeed's Caroline Kee reports, doctors have used other places to regrow body parts for reconstruction surgery. For example, in 2013, surgeons grew a man's nose on his forehead after he had lost his to an infection.
Doctors have previously performed similar procedures to the latest ear transplant. In one such case in 2012, the surgeons grew an ear in the forearm of a woman who had lost the appendage to cancer, ABC reported at the time.
While this procedure is rare, Byrne tells Patel that more patients who experience severe damage to the structures of the ear could probably benefit from it.