Divers Discover 102-Year-Old Shipwreck in Lake Huron
The Hydrus and her crew were lost during the Great Storm of 1913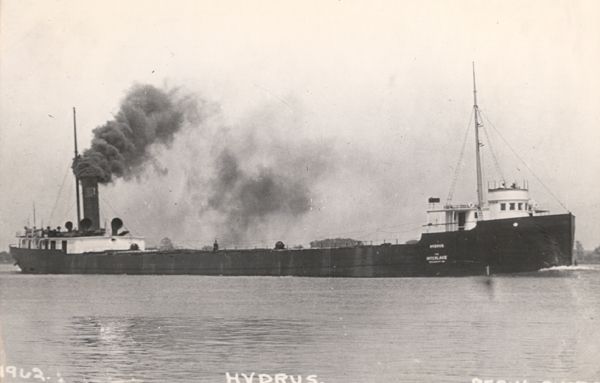 The Great Lakes hold more than 6,000 shipwrecks dating back to the 17th century. On unusually clear days, some wrecks in the shallows can be spotted from the air, but many have sunk deep into the chilly depths, lost to everyone but divers—including David Trotter, a shipwreck hunter who had spent 30 years searching for a century-old ship.
Last July, Jim Schaefer reports for Detroit Free Press, Trotter and a team of divers finally located the missing vessel: a 436-foot steamship named Hydrus, which sunk during the Great Storm of 1913.
The ship, carrying a load of iron ore, was headed for the shelter of the St. Clair River off of Lake Huron when a terrible blizzard struck the region. During the storm, which struck in early November, more than 19 ships were lost and 250 sailors died, reports Garret Ellison for The Grand Rapids Press. Gusts reaches 90 miles per hour and the waves rose to 35 feet high. When the Hydrus overturned, 22 crewmen were killed. The remaining five froze to death while trying to make it to shore in a lifeboat. 
It was the deadliest disaster to ever hit the Great Lakes. Even "the most seasoned captain" would have been caught by surprise, the National Oceanic and Atmospheric Administration suggested during the storm's centennial. The blizzard developed as two low pressure systems suddenly merged over the lakes, causing whiteout conditions, which ripped away any captain's ability to navigate.
Shipwreck hunters have found many ships lost during that storm, but the Hydrus eluded searchers for decades. Trotter has "found scores of other ships and even a few airplanes as he scours Lake Huron's bottom every year," Schaefer writes. This July, he finally found the Hydrus. Though he hasn't released details of the ship's location to the public—he wants to explore the wreck with his crew first—Schaefer reports that it is located roughly 32 miles away from shore and rests in more than 160 feet of water.
The wreck bears plenty of evidence that it is the Hydrus: it seems to be the right size, has the correct number of hatches and still contains iron ore. Here's the clincher: The dive crew found a sign covered in zebra mussels in the engine room that reads "Hydrus." The cool waters of Lake Huron are excellent at preserving wrecks, so experts may also be able to glean information about 19th-century shipping commerce from Trotter's discovery. The ship is even intact enough that divers can swim through it—a rare quality for wrecks of the Great Storm.
Schaefer writes that the Hydrus is "a divers' dream." Russ Green, deputy superintendent of the Thunder Bay National Marine Sanctuary, an organization devoted to protecting the Great Lakes' history, seems to agree. He tells Schaefer: "To see something big on the lake bottom, it sort of rekindles that connection we have with the past."