Disneyland's Terrible First Day Didn't Stop the Crowds From Coming
Nothing was ready. But by the end of the first week, more than 100,000 people had visited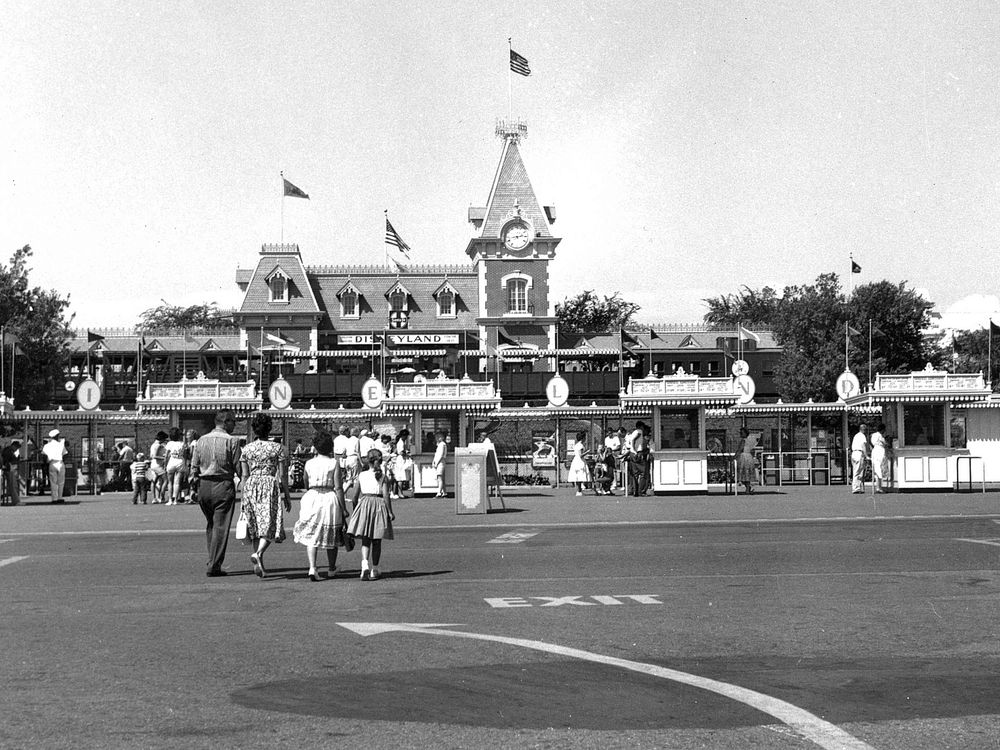 Park employees called it "Black Sunday."
When Disneyland opened on this day in 1955, writes Christopher Klein for History.com, the brand-new theme park just wasn't ready. Workers were hammering and painting right up until the moment that the ABC television network aired the opening. "Like many Disney productions, the live broadcast was fantasy, not reality," he writes. 
ABC's ambitious live broadcast showed an opening ceremony that included both patriotism and a blessing by a minister, followed by a tour of Disneyland's kingdoms. It was cohosted by "Ronny" Reagan, future President of the United States of America, and featured appearances by a number of celebrities.
"Disneyland is your land," Walt Disney said in his opening remarks. "Here age relives fond memories of the past, and here youth may savor the challenge and promise of the future." 
On the ground, though, a number of the rides were still under development, disappointing children. The asphalt on Main Street melted, ensnaring women's heeled shoes. And due to counterfeiting, the park was over capacity by almost 15,000 people–twice the number it had been expecting."Even by southern California standards, the seven-mile backup to Disneyland on the Santa Ana Freeway was epic. Passengers baked in their cars, and kids were forced to take bathroom breaks on the side of the freeway and even in the Disneyland parking lot," Klein writes. "Unprepared for the throng, Disneyland's refreshment stands and three restaurants ran out of food, and sweating parents and thirsty kids abandoned many of the long lines."
A week before the opening, Gladwin Hill reported for The New York Times that the carefully planned park was planned to be "a child's world of fantasy come true." "For it the appellation 'amusement park' is inadequate, for it has no such banalities as roller-coasters, Ferris wheels and dodge-'ems in a milieu of honky-tonk," Hill wrote. The park was predicted to have five million visitors a year, he wrote–and it did, despite its horrible start. To date, Disneyland reports that the amusement park had been visited by more than 750 million people, an average of 12 million for each year it has been open.
In the first week, reported Hill on July 31, two weeks after the opening, more than 160,000 people attended Disneyland. To support tourist traffic, he reported, at least one local developer was "hurriedly completing one of the world's most elaborate hotel-motel developments, with swimming pools and a golf course." A local bus service was running special transport from Los Angeles, he wrote.
Disneyland was Walt Disney's first venture outside his already extremely successful cartoons. "It may take a month before everything's going smoothly," Disney said to reporters on opening day, and it did take a bit. But in the end, the vision that Disney bet everything on worked out.
And although the first day might have been terrible, photos from it still have that Disney magic. From Walt Disney himself grinning in front of Sleeping Beauty's castle to crowds of children and adults riding the teacups, it's there in sepia-toned nostalgia in a gallery of images produced by Buzzfeed's Gabriel H. Sanchez.  
In creating a child-sized world of wonder, Disney hit on a winning formula: he created a place where children felt at home and adults could indulge in nostalgia. "Surely 'Disneyland' will be loved by children–and will take years from the shoulders of countless grownups, too," the Times wrote less than a week after the park opened.