Devastating Colorado Wildfires Most Recent in Decades-Long Surge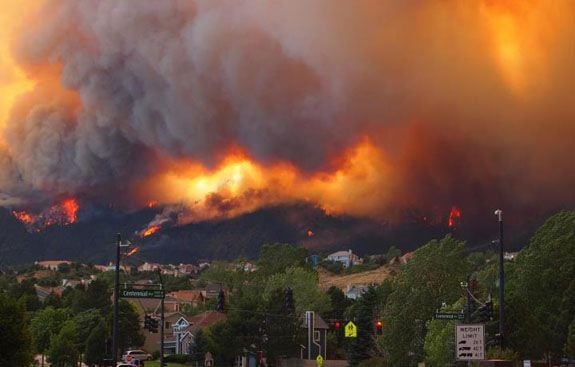 Colorado crews are currently battling six separate fires, prompting tens of thousands of people to flee in late-night evacuations. Residents have so far been able to stay safe from the fires, but strong winds compounding record high temperatures, a dry winter, and possibly a recent pine beetle infestation have made this year's fire season one of the most destructive in at least four decades.
Wind gusts of 65 mph and the hottest day on record for Colorado Springs — the high hit 101 degrees — proved to be an explosive combination for the Waldo Canyon fire, which until Tuesday had not touched a structure.

"I've seen a lot of fires, but I have never seen one move this quickly," Sheriff Maketa said.
The six fires have so far torched nearly 135,000 acres of land, with blazes in varying degrees of containment. According to Colorado State University, which has records through 2009, the ongoing fires are the largest since 2007. Between 1976 and 2006, 28 people were killed in Colorado by wildfires. The four largest fires of the last 40 years were all within the past decade. The most destructive individual fire, rather than fire season, was 2002′s Hayman Fire, which killed 5 people and destroyed 138,000 acres.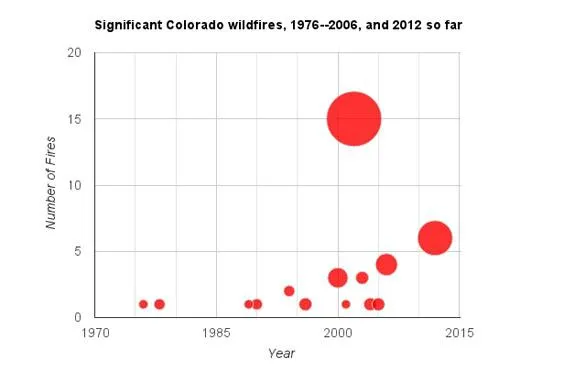 According to recent research, western US wildfires have steadily been getting worse.
n the last 15 years there was a 5-fold increase in area burned across the western U.S. due to earlier snowmelt, higher temperatures and longer fire season, and these patterns where most pronounced in the northern Rockies and in high-elevation forests.
arge wildfire activity increased suddenly and markedly in the mid-1980s, with higher large-wildfire frequency, longer wildfire durations, and longer wildfire seasons.
More from Smithsonian.com:
Climate Change Means More Wildfires in the West
The Legacy of America's Largest Forest Fire