Conservationist Are Resorting to Branding Endangered Tortoises
If the tortoises' shells are marred with numbers and letters, they'll be less appealing to poachers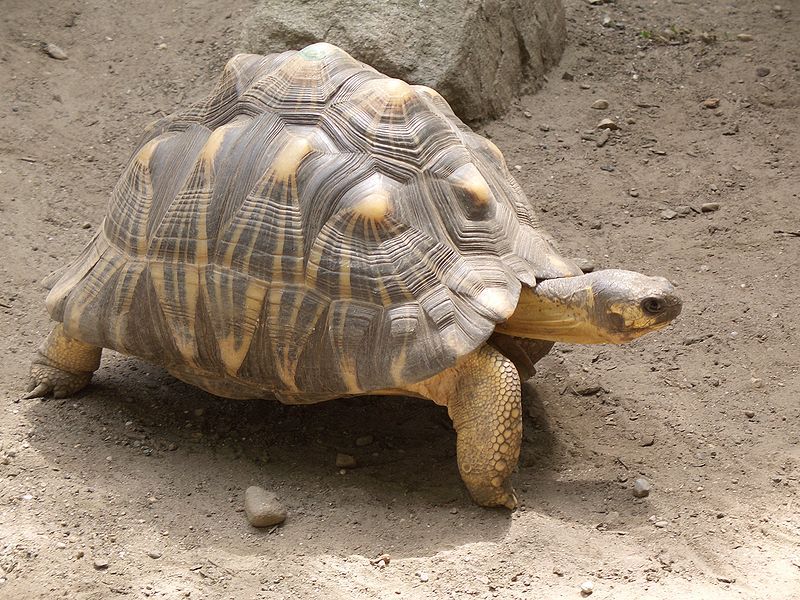 Beauty can be a curse. That's the case for the critically endangered ploughshare tortoise. This lovely little diamond-backed tortoise lives on Madagascar, and poaching—mostly for the pet trade but also for traditional Chinese medicine—has reduced its numbers to a mere 300 individuals in the wild. Annother 360 or so live in captivity. At this rate, conservationists estimate, the species will be extinct within 10 to 15 years.
So conservationists are getting more creative in their methods. Marring the tortoises' intricate shells, they figured, might decrease the chance the tortoises would be abducted. Here's the Los Angeles Times on the efforts: 
"It's heartbreaking that it's come to this, but it's the right thing to do," Paul Gibbons, managing director of the nonprofit Turtle Conservancy's Behler Chelonian Center in Ventura County, said as he gently placed a 30-pound adult female ploughshare tortoise on a small table.

With a steady hand and an electric engraving tool, he carved an identification code on the high, rounded shell as the creature with weary eyes and gleaming carapace peered calmly into the distance. The tortoise was branded for life, which in her case would be roughly 160 years.

"We've blemished her natural beauty, so she's just a number in a system now," Gibbons said. "No. 7001 MG." The 2-inch- by-1 1/2 -inch block figures were placed at the top of the turtle's back, a location chosen to avoid interfering with the expansion of the shell, which grows at the edges.
Just two turtles were branded last week, the LA Times reports. But the goal is to mark every last one of the species' surviving members, both in the wild and in captivity. Chelonian keepers are taking this approach for other species, too, in the hopes of both reducing tracking and identifying the individuals that do turn up on the black market, where rare tortoises such as ploughshares sell for anywhere from thousands to tens of thousands of dollars, according to the LA Times.