Deaths From Drug Overdoses Are Soaring
Across America, the rate of drug overdose deaths has risen by 300%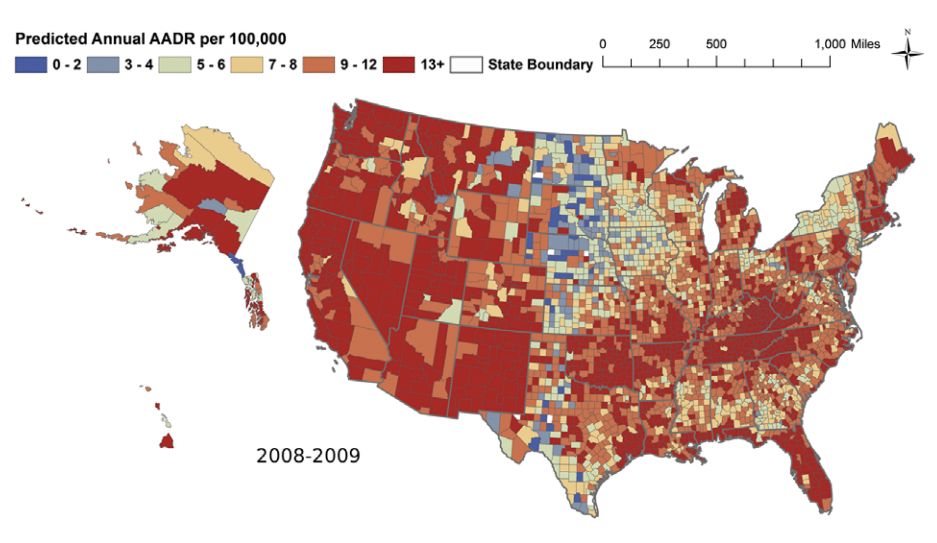 Over the past 30 years deaths to drug overdoses in America have been climbing—fast. "The death rate associated with drug poisoning has increased by roughly 300% over the past 3 decades and is now the leading cause of injury death in the U.S," says a new study by a team of researchers with the federal Centers for Disease Control and Prevention (CDC). The majority of these drug overdoses are due to prescription drugs, and the researchers called out synthetic opioids, like oxycontin, specifically. In total, the researchers say, there were at least 304,087 overdose deaths from 1999 to 2009.
The rise in overdose deaths shows a few alarming trends. Where before drug overdoses were largely concentrated in a small set of counties, with just 3 percent of counties having death rates higher than 10 per 100,000 people (as of the year 2000), that higher death rate has now spread to more than half of America's counties.
Maps of drug-poisoning mortality over time illustrated that AADRs greater than 29 per 100,000 per year were largely concentrated to Appalachian counties in 1999-2000; by 2008-2009, counties across the entire U.S. displayed AADRs of more than 29 per 100,000 per year. These high rates could be seen in Alaska, Hawaii, the entire Pacific region, New Mexico, Oklahoma, Appalachia, the southern coasts of Louisiana and Mississippi, Florida, and New England.
The average overdose death rate across America rose from 3.9 people per 100,000 in 1999 to 12 people per 100,000 in 2009. The increase in death rates was highest in rural America, with the death rate climbing by 394 percent over the study period. The death rate in cities rose by 279 percent. The difference in percentages, though, probably has more to do with the fact that there have classically been fewer overdose deaths in rural counties than urban ones, so each additional death raises the rate that much more.
H/T Popular Science and Motherboard
More from Smithsonian.com:
Sugar of Lead: A Deadly Sweetener
Doctors Warned Life Expectancy Could Go Down, And It Did