David Byrne's Disco Musical About Imelda Marcos Comes to Broadway
'Here Lies Love' is an immersive stage production about the Philippines' former first lady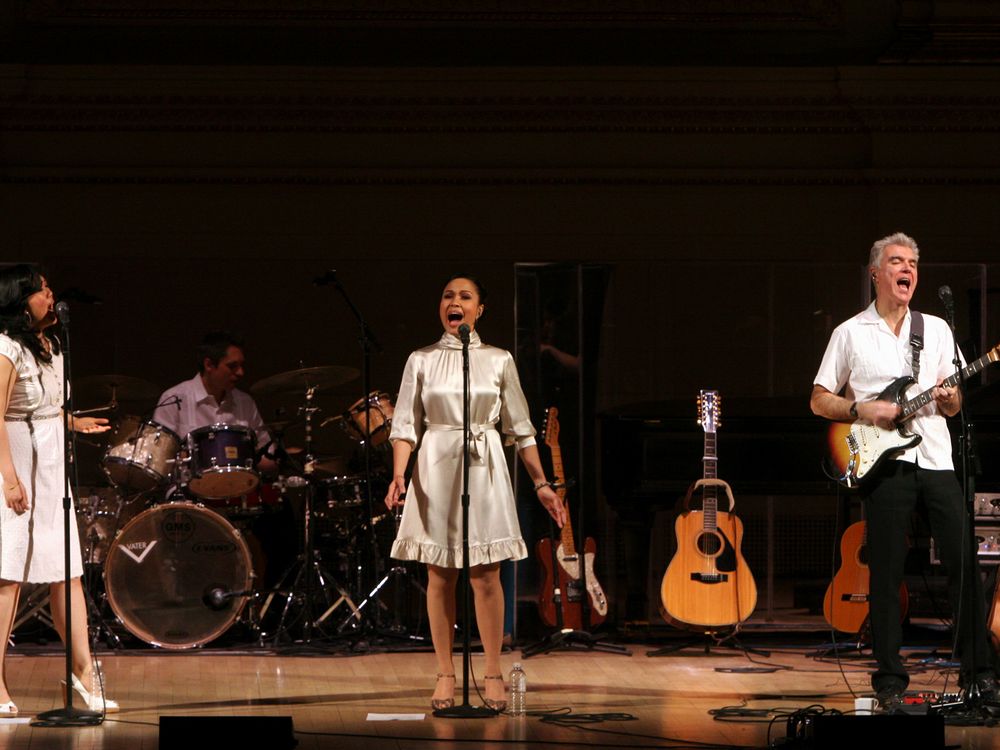 When the average person thinks of Imelda Marcos, who served as first lady of the Philippines for two decades during her husband's dictatorship, they probably don't think of a disco musical.
But the two musicians who did, David Byrne and Fatboy Slim, are anything but ordinary. Here Lies Love, an immersive disco-pop stage musical about Marcos adapted from a 2010 concept album by Byrne and Slim, is coming to Broadway.
"The history of the Philippines is inseparable from the history of the United States, and as both evolve, we cannot think of a more appropriate time to stage this show," producers say in a statement. "See you on the dance floor!"
Helmed by director Alex Timbers, who has been involved since the earliest stage adaptations, the production will open at the Broadway Theater on July 20. Casting has not yet been announced, but a number of Filipino artists are already involved with the production, including producer and costume designer Clint Ramos, producer and writer Jose Antonio Vargas, and Giselle Töngi, known as G, who will serve as the production's cultural and community liaison, according to the New York Times' Michael Paulson.
Here Lies Love follows Marcos' rise and fall, beginning with her childhood and ending with the moment she and her family were forced into exile in Hawaii in 1986, following decades of corruption and authoritarianism. It also tells the story of Estrella Cumpas, the caretaker who raised her.
In 2006 and 2007, Byrne performed early drafts of the songs at the Adelaide Festival of Arts in Australia and Carnegie Hall in New York. The concept album, released in 2010, features a star-studded array of vocalists, including Cyndi Lauper, Sia, St. Vincent and Florence Welch. 
"The story I am interested in is about asking what drives a powerful person—what makes them tick? How do they make and then remake themselves?" said Byrne, best known for fronting the band Talking Heads, in a 2010 statement. "I thought to myself, wouldn't it be great if—as this piece would be principally composed of clubby dance music—one could experience it in a club setting?"
The songs first made their way to the stage in 2012, when Here Lies Love premiered at the Massachusetts Museum of Contemporary Art. That production was followed by a 2013 run at New York's Public Theater, a 2014 stint at London's National Theatre (and another run at the Public), and a 2017 production at the Seattle Repertory Theatre.
Past productions have broken theatrical conventions, and the upcoming Broadway show will be no different. In a statement, producers say they plan to "transform the venue's traditional proscenium floor space into a dance club environment, where audiences will stand and move with the actors," while guaranteeing that "a wide variety of standing and seating options will be available."
As the Times notes, Timbers has experience overseeing nontraditional seating arrangements on Broadway. He directed a musical adaptation of Rocky in 2014 that required some audience members to be relocated in the middle of the show, and he won a Tony Award in 2020 for directing Moulin Rouge!, in which some audience members were seated at cabaret tables.
Byrne is also no stranger to Broadway or immersive theater. Last year he wrapped up his award-winning American Utopia, which premiered at Broadway's Hudson Theatre in 2019, and debuted Theater of the Mind, an immersive play set in a 15,000-square-foot Denver warehouse.