Artist Who Submitted Empty Canvases to Danish Museum Must Repay $70,000
A court ordered Jens Haaning to return the money from his "Take the Money and Run" stunt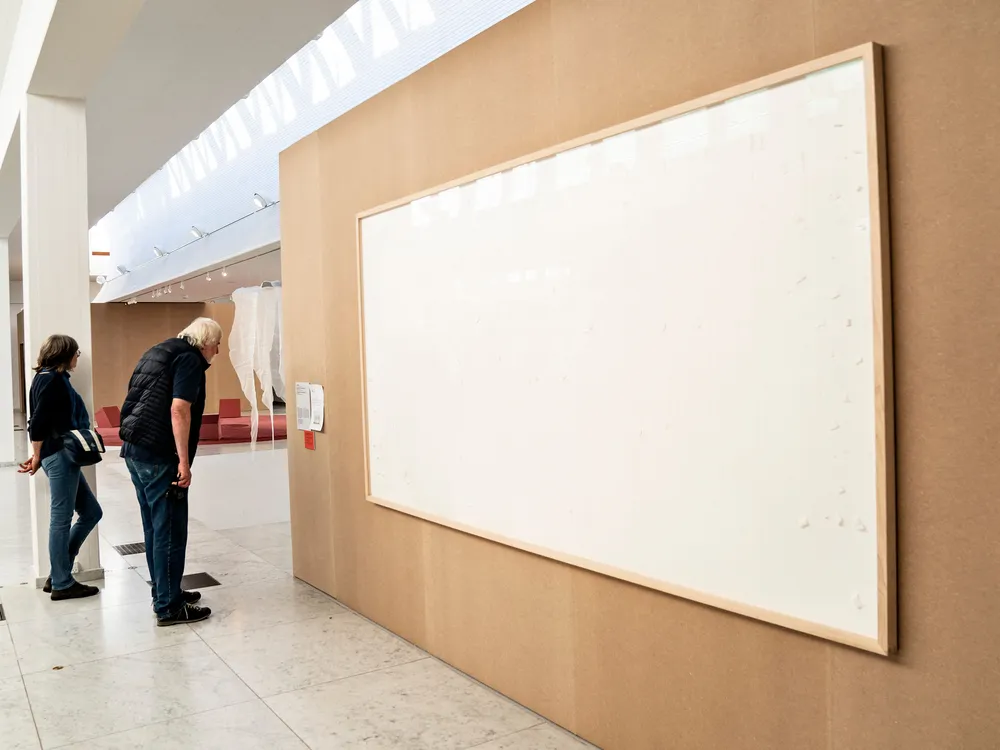 In 2021, the Kunsten Museum of Modern Art in Denmark gave artist Jens Haaning 532,549 Danish kroner (roughly $70,000), instructing him to make an artwork featuring real cash. Instead, he turned in two blank canvases.
Now, a court has ruled that he has to give the money back.
Originally, the museum had a specific vision in mind: Haaning was supposed to recreate two of his earlier works—An Average Austrian Year Income (2007) and An Average Danish Annual Income (2010)—which used euros and kroner bills to visually depict average salaries in those two countries.
When Haaning pocketed the kroner, he claimed his actions (and the empty canvases) were part of a broader performance art piece, which he called Take the Money and Run.
"I will go so far to say that the piece is that I have taken the money," he tells Marc Tracy of the New York Times. "The two empty frames [are] actually a representation of the concept. So more important than the absence of money is that I've taken the money."
Lasse Andersson, the museum's director, agreed the blank canvases were a new work of art, as he told Kirstine Dons Christensen and Bjarne Steensbeck of the Danish Broadcasting Corporation (DR) in 2021. Even so, he argued that Take the Money and Run was not what Haaning had signed a contract to supply.
That fact didn't appear to bother Haaning. "I saw, from my artistic point of view, that I could create a much better piece for them than what they could imagine," he told Jacqui Palumbo and Oscar Holland of CNN at the time. "I have created an art piece, which is maybe 10 or 100 times better than what we had planned. What is the problem?"
Haaning says he used the money he took for groceries and bills. "I didn't do anything extraordinary," he tells the Washington Post's Kelsey Ables.
The museum did ultimately display Take the Money and Run in an exhibition. But when the show ended, Haaning didn't return the money to the museum, which filed a lawsuit, per the Times. In court, representatives for the museum supplied a disbursement receipt and a copy of the contract, showing that Haaning had agreed to return the kroner after the exhibition.
Haaning said he never intended to return the money. "It's not theft. It is a breach of contract, and breach of contract is part of the work," he told DR, per Google Translate.
He now tells DR's Silas Bay Nielsen that while the verdict "shocked" him, it's also "exactly what I have imagined." The court reduced the amount that he owes by roughly $6,000 as compensation for the time the gallery displayed his work.
"We now have a ruling, [and] … we will now carefully examine it," says Andersson in a translated statement. "There is a four-week period for appeal, and as long as the case can still be appealed, we have no further comments."