Dams Removed On Washington State River
The removal of dams on the Elwha river is the largest dam removal to take place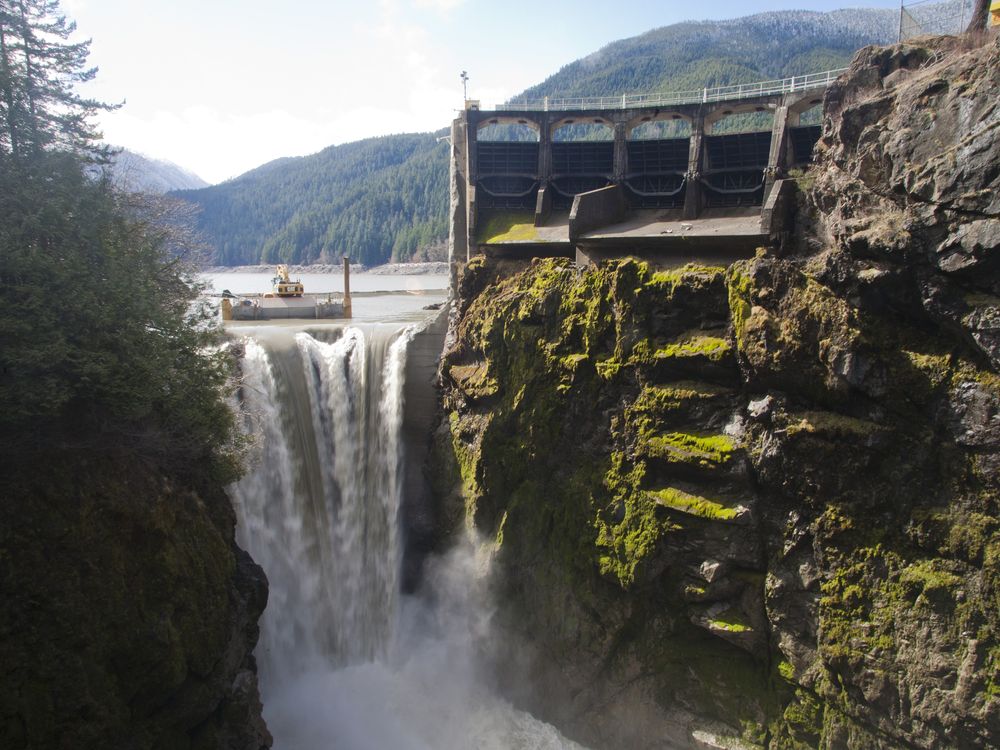 Yesterday, a huge blast took out the last remnants of the Glines Canyon Dam in Washington, leaving the Elwha river dam-free for the first time in over 100 years. 
The blast marked the end of a dam removal process that, after being discussed for years, started in earnest in 2011, removing first the smaller Elwha dam, then the 210-foot-high Glines Canyon dam. Final removal of the rubble will take another six to eight weeks, but environmentalists and local Indian tribes are already seeing improvements to the ecosystem. From National Geographic: 
Over the past three years, the sediment trapped behind the dams has washed downstream, rebuilding riverbanks and gravel bars and, in and around the river's mouth, creating some 70 acres of new beach and riverside estuary habitat for Dungeness crabs, sand lance, surf smelt, clams, and other species. On the ocean bottom just offshore, what used to be a kelp-covered expanse of cobbles is now blanketed with mud and sand, also good habitat for crabs and sand lance. "We're seeing all sorts of different creatures. It's fantastic," says U.S. Geological Survey researcher Jonathan Warrick*. The Elwha Klallam tribe hopes that eventually, its members will once again be able to harvest shellfish near the mouth of the Elwha.
And shellfish are hardly the only creature seeing the benefits. Native species of salmon are expected to repopulate the river, and the former lakebeds are being re-filled with native plant life, which scientists hope will attract the local elk.
Though removing a dam from a river can be a costly and intricate process, it's not as unusual as you might think. The non-profit group American Rivers notes that almost 850 dams have been removed in the past 20 years. 51 of those were taken down in 2013.  Last year, California began its largest dam removal process, starting work on the removal of the 106-foot-high San Clemente Dam on the Carmel river. 
*This name was later corrected by National Geographic