Exhibition Cuts Into the Fascinating History of Scissors
Fashion and Textile Museum traces scissors' role in life and death, fairy tales, crime and punk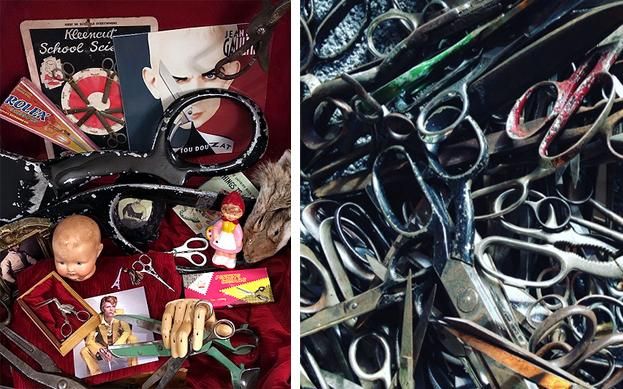 The characters of Alfred Hitchcock's world wield an array of weapons: revolvers, rope, even cameras. Yet, as the director once noted, "A murder without gleaming scissors is like asparagus without the hollandaise sauce—tasteless."
Sure, the sentiment might feel a touch dramatic, but Hitchock isn't the only one to feel that way. While the mass public may view scissors as an unassuming domestic tool, the "dark side" of scissors is one of the many little-known facets of the object highlighted in "The Secret Life of Scissors," a new exhibition at the Fashion and Textile Museum in London.
Hettie Judah of The New York Times reports that the show draws on items from curator Teresa Collennette's personal collection, including a pair of 18th-century stork scissors, heavy tailors' shears and calligraphy scissors, to showcase the tool's multifaceted nature.
"Everything about scissors is double-edged," Collennette tells Judah. "They are both creative and destructive."
According to the museum's website, "Secret Life" traces the role that scissors, as both everyday objects and more ambiguous "things" mired in superstition, have played from antiquity to modern times.
In addition to serving conventional purposes such as cutting hair (the show includes a pair of scissors, given to a novice monk or nun, that transforms into a cross shape when closed) and aiding textile work, scissors are an elemental aspect of seemingly unconnected topics ranging from life and death to fairy tales, crime and punk.
Take Collennette's stork scissors, which feature the eponymous bird resting on a turtle (a common symbol of fertility), subtly reminding users of the snipped umbilical cord that inevitably accompanied their birth. Conversely, Judah suggests, consider the mythological Greek Fate Atropos, who cut mortals' threads of life to indicate the end of their time on Earth.
In the same morbid vein, the exhibition explores scissors' role in physical violence, particularly in the context of women practicing self-defense. Just as the protagonist of Hitchcock's Dial M for Murder fends off an attacker with a pair of scissors, Collenette points out that Victorian women seeking work in unsafe neighborhoods allegedly carried dual scissor-daggers. Although there is little evidence of this practice, the Twisted Seamstress scissors, created by artisan Grace Horne in 2015, transformed the myth into reality and the tool into a weapon.
"Secret Life" also acknowledges the various artists and authors whose work was inspired by scissors: Drawing from contemporary pop culture, there's Edward Scissorhands, the young man with scissor blades for hands. Looking back to 1845, the German children's book Der Struwwelpeter features Shock-headed Peter, a young boy who refuses to use scissors and therefore has a lion's mane of hair and cartoonishly long, Wolverine-like fingernails. Joining Shock-headed Peter as a prominent figure in children's nightmares is the "great tall tailor," a bogeyman who uses giant scissors to snip the fingers of little boys who suck their thumbs.
Despite the array of zany, unexpected and even frightening roles scissors have played throughout history, Collenette tells Judah that one of their most unique characteristics is an intimate connection with previous owners.
"They're an extension of your hand," she says. "You literally see the personal touch."
"The Secret Life of Scissors" is on view at the Fashion and Textile Museum in London through May 6, 2018.