Mormon Crickets Are Creating Havoc in Nevada
In Elko, the insects have caused accidents on roads and problems in town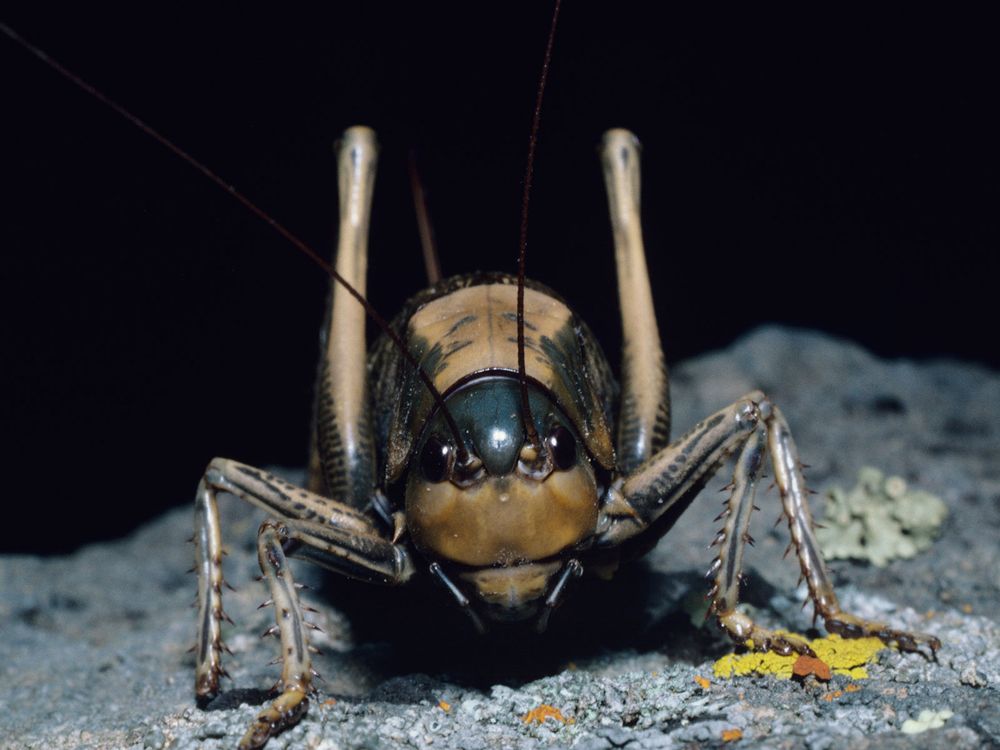 A swarm of Mormon crickets has taken over northern Nevada for the past week, causing mayhem as the insects move around the state. The red critters can cause crop damage, make roads slick after they've been crushed and leave a horrible stench after they die. "It's almost like a biblical plague," Dana Dolan of Elko, Nevada, tells Rio Yamat and Rick Bowmer of the Associated Press.
The situation is so bad in Elko that a "Cricket Patrol" was created at Northeastern Nevada Regional Hospital to assist patients and visitors into the building, as reported by Adella Harding at the Elko Daily Free Press. The patrollers used leaf blowers and brooms to clear paths for individuals.
"I went to a meeting at the hospital, and the gutters were filled with cricket juice," says Elko County Commissioner Delmo Andreozzi to the
Elko Daily Free Press
.
a plague of crickets in nevada
the end is nighpic.twitter.com/8sWhk9ErFp

— ian bremmer (@ianbremmer) June 14, 2023
Mormon crickets are technically not crickets but a type of katydid. They are named in reference to Mormon migrants around the Great Salt Lake, who experienced invasions of the crickets into their crops. This year, the insects have been spotted in large numbers in Idaho as well as Nevada.
The crickets can stay dormant for anywhere from a single year to 11 years, Nevada state entomologist Jeff Knight tells the AP. When they emerge from dormancy, they are flightless but ravenous. They collect in "bands" that can be as large as hundreds of acres, according to Knight. 
This year's crickets are not the largest number seen in the area but some of the latest to arrive. Normally, they would arrive in spring, but emerged much later due to spring rains and a snowy winter in Nevada, Knight tells the AP.
Mormon crickets negatively impact agriculture, according to The Weather Channel's Ari Sarsalari. The crickets eat their way through crops in their path, causing losses for farmers. And sometimes the crickets also end up chopped up inside hay, making the hay less valuable. Invasions of the pests have been recorded since the 1800s, though they have been increasing in frequency since the 90s.
In Nevada, road signs are now warning drivers not about ice, not about oil but about Crickets! pic.twitter.com/xOz7D3QqXC

— DW News (@dwnews) June 21, 2023
The two-inch-long bugs have created problems for travelers too. Traffic warnings for slick roads have gone up alongside highways where the pavement became slippery due to the number of crickets being crushed under tires.
The crushed crickets create something "almost like an oil slick," says Jeremiah Moore to the AP. Moore's vehicle had rounded a corner and slid off when he hit cricket goop. "I about ended up in the ditch full of water…It was pretty intense," says Moore.
As of yesterday, the cricket invasion may be letting up, at least in Nevada's Elko County. However, they will likely linger another month or two until they mate and lay eggs.