Exterior Cracks Force Indefinite Closure of the USS Arizona Memorial
Workers are currently assessing the damage to the iconic structure that straddles the sunken ship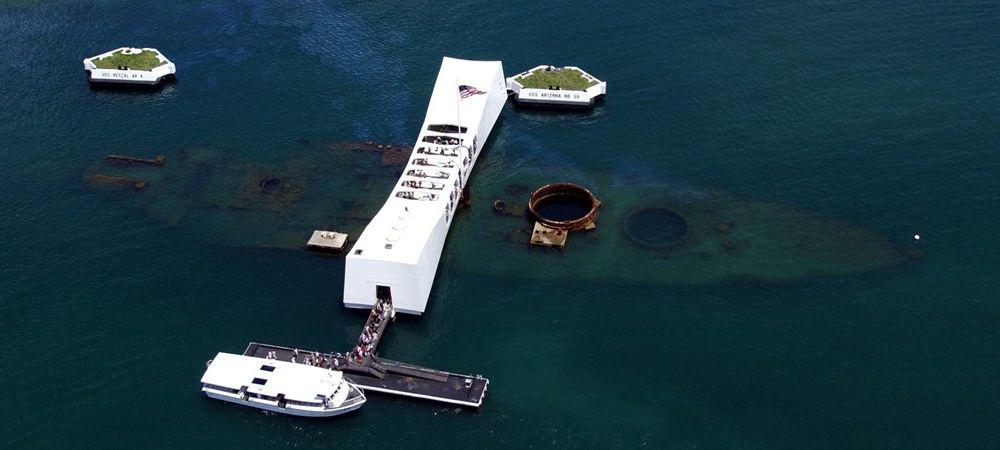 The USS Arizona Memorial draws an estimated 1.8 million visitors to Pearl Harbor each year. But anyone wishing to visit the memorial to contemplate the ship, which lies below it in 40 feet of water, and pay their respect to the sailors who died aboard will have to wait. Jenny Gathright at NPR reports that the memorial, which is part of the World War II Valor in the Pacific National Monument, is no longer structurally sound and will remain closed for repairs for "an undetermined period of time."
In a Facebook post on Friday, park rangers acknowledged the poor timing of the closure, which was announced just before Memorial Day, but said they had no choice in the matter. "We understand the unfortunate nature of the USS Arizona Memorial closure during this period and ask visitors to understand that their safety is our primary concern," the statement reads.
Lisa Kubota, who first reported the news for Hawaii News Now noted that the National Park Service first suspended the ferry that takes visitors to the memorial on May 6 after someone noticed a crack in the memorial. Repairs were made and visits resumed, only for the cracks to reappear, suggesting there were more serious issues afoot that needed to be addressed.
"There is a brow or an edge where the visitor ramp meets the memorial, and at that point, there's been some fissures located on the exterior," Jay Blount, spokesperson for the monument, tells Kubota. "After further investigation on the interior, it was determined that the structure is not supporting the loading ramp the way that we need."
The USS Arizona Memorial was designed by Honolulu architect Alfred Preis. Built in 1962, the structure straddles the wreck of the ship, which remains where it sank just off of Ford Island after it was hit with 1,760-pound armor-piercing projectiles during the first 15 minutes of the attack on December 7, 1941. When one bomb landed right by the ship's powder stores, the resulting explosion and fires killed 1,177 crewmembers onboard almost instantly. The fires raged for two-and-a-half days, cremating most of the 900 bodies that still remain onboard. Just 335 crewmembers survived the attack.
Because the ship was so severely damaged, it was considered a total loss and the Navy did not attempt a salvage effort. As the wreck's location was not a navigation hazard, the ship was allowed to remain where it sank and was declared a burial at sea. The Arizona is now considered an active American military cemetery.
All eight U.S. battleships docked at Pearl Harbor around an area known as Battleship Row sustained various degrees of damage during the attack. Four battleships in total were sunk, including the USS California and the USS West Virginia, both of which were raised and were able to return to service. The USS Oklahoma, which was also sunk, was eventually salvaged from the harbor floor. While being towed to San Francisco in 1947 to be sold for scraps, however, the hull sunk in the Pacific. The USS Utah, a decommissioned battleship used for target practice, was another casualty of the attack; it, too, remains in the harbor, where it is also considered a war grave.
Memorials to the Oklahoma and Utah are on the opposite side of Ford Island from the Arizona and are still open. The monument's visitor center also remains open, and includes a museum, documentary on the attack and harbor tours.