Conservationists Give New Life to 350-Year-Old Map of Australia
Created in 1663, the map reflects early knowledge of a mysterious continent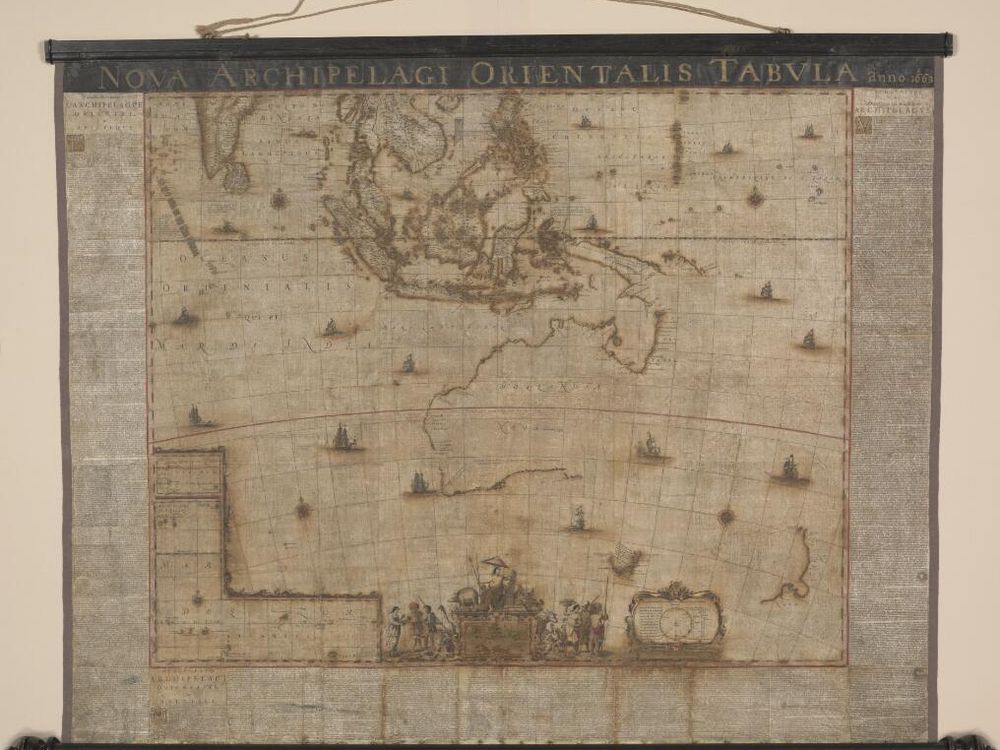 A crumbling 17th century map of Australia—sketched more than 100 years before James Cook made his famed voyage to the continent—has been restored after a painstaking conservation project. And as Karen Hardy reports for the Canberra Times, the map is now on display at the National Library of Australia in Canberra.
Dutch cartographer Joan Blaeu drew the first version of the map, titled Archipelagus Orientalis, in 1659; the one now hanging in the National Library of Australia is a copy created in 1663. For the work, Blaeu used thousands of measurements that were taken during the 12 or so Dutch voyages to Australia, and the resulting product reflects early knowledge of a mysterious territory.
Queensland is joined to New Guinea on Blaeu's map because the Torres Strait had not yet been discovered. As Megan Gannon of Live Science notes, much of Australia's eastern coastline is missing. But the map does contain one of the earliest-known depictions of Tasmania, which had been sighted by the explorer Abel Tasman in 1642, just a few years before Blaeu produced his drawing. Letter-pressed text around the outside of the map details Tasman's journey.
For about a century, up until Cook landed on the east coast of Australia in 1770, all maps of Australia were based on Blaeu's drawing. The newly restored map is one of just two surviving copies of this important cartographical relic, according to Matt Young of News.com.au. But for many years, it sat neglected in a storage facility in Sweden. It is believed that an antiquarian bookseller who owned the map packed it away when his business went under in 1950. But little is known about the map's whereabouts prior to that point.
In 2010, the item surfaced at an auction, and in 2013 the National Library of Australia purchased it. Marie-Louise Ayres, Director General of the library, tells Hardy of the Canberra Times that the map was in very poor condition. "I was leaning over it looking at it and the air from my breath was moving dust particles around, that's how fragile it was," she said.
The unrestored map was temporarily put on display in 2013. But now, after four years of hard work by conservators, it has been returned to its former glory. It will remain on display untill mid 2018.