Colombia Begins the Christmas Season With These Beautiful Light Displays
Día de las Velitas is celebrated on the day before the celebration of the Immaculate Conception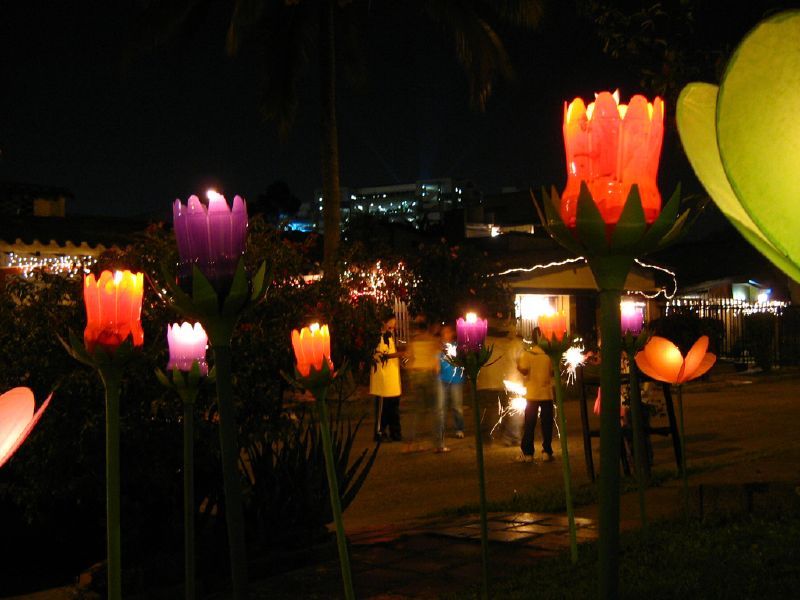 Today marks the Day of the Little Candles, or Día de las Velitas, celebrated in Colombia each year on the eve of the Immaculate Conception. This tradition marks the start of the Christmas season in Colombia, a majority Catholic country.
"Across the country landmarks, homes and even tombs [are] illuminated," writes Carolina Moreno for Huffington Post. Candles ranging from colored and white votives to thick pillars are arranged inside and out of buildings, along with paper lanterns and even some electric light displays. A wish is made for each candle lit, according to Richard Emblin writing for The City Paper.
Bogotá, the capital of Colombia, expects a turnout in the thousands for its big event in Simón Bolívar Park, according to The City Paper. That event will include a magic show and a fireworks display.
Different parts of the country celebrate this holiday in different ways, In Quimbaya, another Colombian city, neighbourhoods compete to have the most amazing lighting displays in what they call the Candles and Lanterns Festival, according to Wikipedia. In the Caribbean regions of the country, writes Paige M. Poole for Uncover Colombia, people light candles in the early morning of December 8, at 3 or 4 a.m.  "Also, the location and setting of the candles varies from region to region," Poole writes. "In and around Medellín, for example, people place the candles in the streets, often creating unique designs with the candles as they burn out, and in Barranquilla people place the candles in their windows or in plastic farolitos (luminarias) as it can be too windy for candles to burn on their own outdoors."
The Immaculate Conception, which is a public holiday in Colombia, marks the day where, according to the teachings of the Catholic Church, Mary, the mother of Jesus, was conceived. The Feast of the Conception is a traditional Christian feast day, when medieval people would have had the day off to celebrate. "The immaculate conception of the Blessed Virgin Mary has been famously depicted in paintings for centuries," writes Jahnabi Barooah for Huffington Post.  "Typically, a young woman, representing the spirit of Mary, is depicted in a heavenly realm bowing her head to God with the moon underneath her feet and a halo of 12 stars surrounding her head."
Take a look at a few of the "stars" lit in Colombia to celebrate this religious holiday each year: