Coin Once Believed to Be Fake Is a Million Dollar Find
Authenticators found a New England collector's Gold Rush-era $5 gold coin is the real McCoy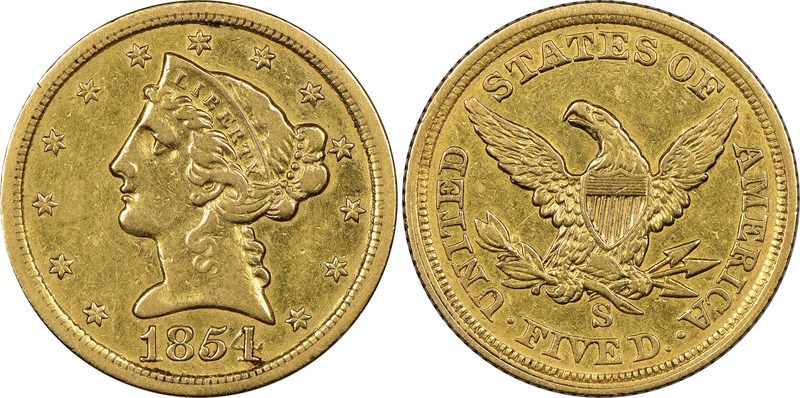 During the California Gold Rush, the city of San Francisco was flooded with 10 million ounces of the shiny yellow stuff. The problem was it was hard to cash in all that gold for legal tender—in remote California there just weren't enough gold coins in circulation. Residents were forced to use raw nuggets as currency and later coins minted by private companies. But some six years after James W. Marshall found "gold in them hills" at Sutter's Mill in 1848, the United States Mint had a branch up and running in San Fran, turning that gold into money. Now, as reports Matt Novak at Gizmodo reports, one of the mint's extremely rare original gold coins from that first year of operation has been authenticated, making its owner, who believed it was a fake, millions of dollars richer.
According to a press release from the Numismatic Guaranty Corporation, the firm that authenticated the coin, the San Francisco mint produced just 268 $5 gold coins, or Half Eagles, in 1854 and very few of the coins, which are a little smaller than a modern quarter, still exist.
The anonymous owner of the newly identified Half Eagle is a New England coin collector who believed his 1854 coin was a fake since there are many "tribute" copies of the rare coin in circulation. "He was stunned when we informed him that it is a genuine, multi-million dollar rare coin," chairman of NGC Mark Salzberg says in the release. "He had shown it to a few collectors and dealers at a recent coin show, but everybody said they thought it was a fake because until now there were only three genuine surviving 1854 San Francisco Mint $5 gold pieces known…It's like finding an original Picasso at a garage sale. It's the discovery of a lifetime."
Novak reports that authenticating the coin took a little legwork. The Smithsonian holds one of the 1854 Half Eagles as does legendary coin collector David Pogue. NGC received high-resolution images from both of those parties which they used to double check things like idiosyncrasies in the numbers in the date and other marks.
Most importantly, however, they wanted to rule out the possibility that the coin was one once owned by the heirs of the DuPont family. In 1967, masked gunmen ransacked the Coconut Grove, Florida, mansion of Willis H. DuPont, stealing 7,000 rare coins including one Half Eagle. While other coins from the heist have shown up, the 1854 gold piece is still missing.
"We wanted to make sure that this wasn't that coin, so we were able to obtain images from when it was previously auctioned in 1962," Rick Montgomery, president of NGC tells Novak.
So what is the coin worth? It's hard to say. NGC won't put an exact figure on the coin, but estimates that it would probably fetch a price in the millions at auction. A few previous sales might serve as a guideline, though. It's estimated that just 12 to 15 1854 Quarter Eagles or $2.50 gold pieces of reported mintage of 346 coins from the San Francisco Mint have survived. When one of the coins went up for auction in the last decade, it sold for more than $200,000. The Half Eagle has twice as much gold and is three times as rare. What else can we say to that, but Eureka!
Editor's note, April 26, 2018: A previous version of this story referred incorrectly to Rick Montgomery as Richard Montgomery.