Protesters at the Met Condemn 'Unjustifiably Harsh' Charges Against Two Climate Activists
Both are facing up to five years in prison for smearing paint on the glass case of a Degas sculpture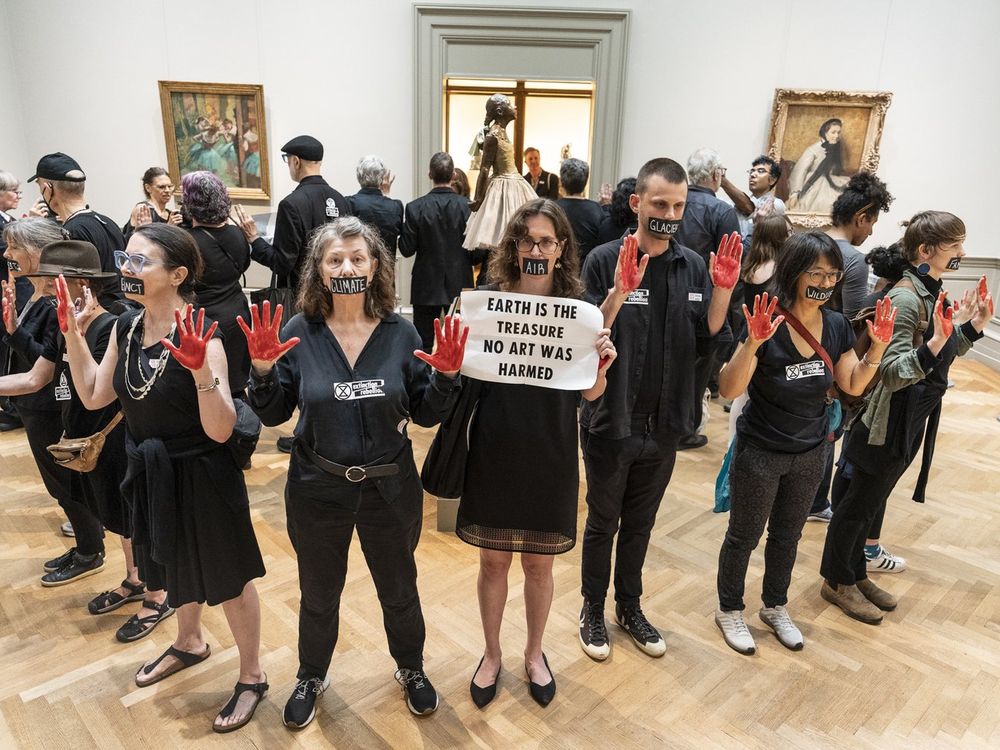 Last weekend, a group of activists gathered in Gallery 815 of New York's Metropolitan Museum of Art. They raised their hands, which were painted red and black, and circled a 1922 cast edition of Edgar Degas' sculpture The Little Fourteen-Year-Old Dancer. They had covered their mouths with strips of tape, on which they had written words such as "Earth," "glaciers" and "famine." 
For this particular group of individuals—members of the environmental activist groups Extinction Rebellion NYC and Rise and Resist—this sculpture has special significance. It's a copy of the sculpture at the National Gallery of Art in Washington, D.C. that was recently at the center of a climate demonstration: On the morning of April 27, protesters Joanna Smith and Tim Martin smeared black and red paint on the sculpture's glass case and pedestal.
Smith and Martin were ultimately charged with "conspiracy to commit an offense against the United States and injury to a National Gallery of Art exhibit." Each of those charges carries a potential penalty of five years in prison and fines of $250,000.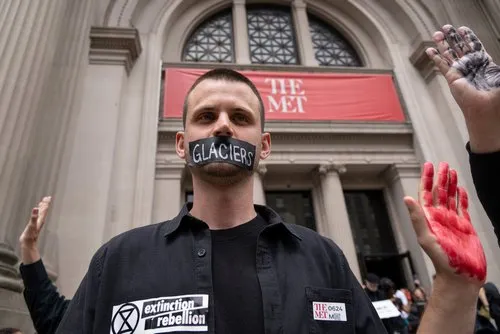 At the Met last weekend, members of climate groups protested against the charges. "The severity of these charges aligns with a recent trend of unjustifiably harsh (and possibly illegal) measures taken against climate activists," says Extinction Rebellion NYC in a statement. "It appears to be part of a deliberate strategy of intimidation targeting such groups and their supporters."
The climate activism group that Smith and Martin belong to, Declare Emergency, says in a statement, "We understand the value and importance of art in our society, and we also know that it and everything we love is at stake if we don't tackle the climate emergency with the urgency that it deserves." 
This was the same sentiment that the two protesters expressed during their demonstration in April. "This art is beautiful, and we're destroying it with climate change. We need our leaders to take serious action to tell us the truth about what's happening with the climate," said Smith, as seen in a video of the event.
Protesters smeared paint on the case and pedestal of Edgar Degas's "Little Dancer Aged Fourteen" sculpture in the National Gallery of Art in D.C. to bring attention to the climate crisis and demand that President Biden declare a climate emergency. https://t.co/FWiuFqJzId pic.twitter.com/8AQkeIWlQH

— The Washington Post (@washingtonpost) April 27, 2023
Climate activists have been staging similar stunts for over a year now. One protester threw a pastry at the Mona Lisa; others threw soup at van Gogh's Sunflowers. These acts aren't a concerted effort by any one organization but a strategy employed by climate protesters across the globe. The practice is divisive, with many harsh critics and ardent defenders.
Representatives for Smith and Martin have defended their clients' actions. "This was not trying to destroy priceless art. This was not trying to damage the property of the federal government," Phil Andonian, an attorney representing Smith, told the Washington Post last month. "It was really about getting a vital message out to the public and amplifying it."
The indictment alleges that the pair caused over $2,000 in damages to the museum. They did not, however, cause any direct damage to the sculpture itself.