Civil War Blockade Runner Found in North Carolina Waters
Sonar scan finds possible remains of a Confederate steamship used to outrun the Union Navy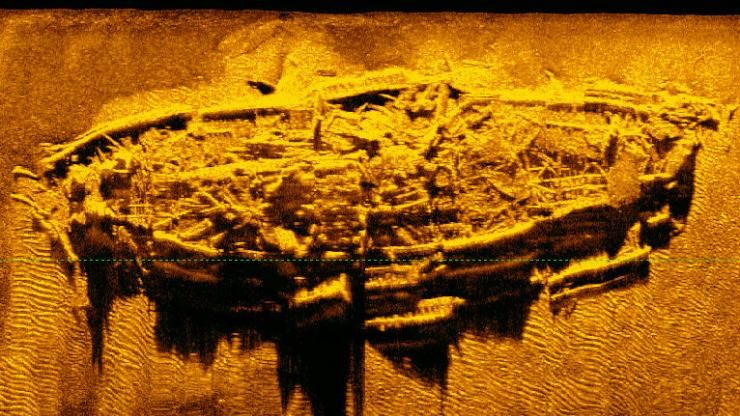 During the American Civil War, the Union Navy used hundreds of ships to cordon off Southern ports, preventing the Confederates from exporting their cotton to England and other friendly nations or receiving needed supplies from overseas. To get around the Union fleet, the South relied on its "blockade runners," fast ships that were nimble enough to attempt to evade the Union fleet.
Now, the Underwater Archaeology Branch of the North Carolina Office of State Archaeology and the Institute of International Maritime Research believes that it has found the wreck of one of these historic ships, which would make it the first new Civil War wreck found in decades. 
Researchers aboard the Atlantic Surveyor located the wreck, which includes the complete hull of the 226-foot steamer, during a sonar scan 27 miles from Wilmington, North Carolina, and close to Oak Island at the mouth of the Cape Fear River. The area is near the Cape Fear Civil War Shipwreck District, where more than 20 Civil War vessels met a watery grave. 
According to LiveScience, researchers believe the new shipwreck is one of three missing blockade runners, the Agnes E. Fry, Spunkie or Georgianna McCaw, all suspected of sinking in nearby waters during the Civil War.
North Carolina's deputy state archaeologist Billy Ray Morris emphasized the importance of the find in a press release. "A new runner is a really big deal," Morris said. "The state of preservation on this wreck is among the best we've ever had."
Though Morris has his money on the ship being the Agnes E. Fry—based on the size and shape of the hull—he cautions there's still a chance the wreck is not a blockade runner at all, as the StarNews Online reports.
Seeing as the ship was most likely covered by sand for decades, the wreck's relatively well preserved, the Associated Press reports. Its condition should be a big help in determining its identity. 
"By the time I've crawled across it with a team of archaeologists and a couple of graduate students...I'm confident I'll know which wreck it is," Morris said.
While further exploration of the vessel will continue this week, Morris is hopeful that he can add the find to the 27 other confirmed Civil War shipwrecks recorded in the area.