City Bees Are Actually More Diverse Than Country Bees
Other pollinators don't like urban areas as much as rural, but bees live in similar numbers across different landscapes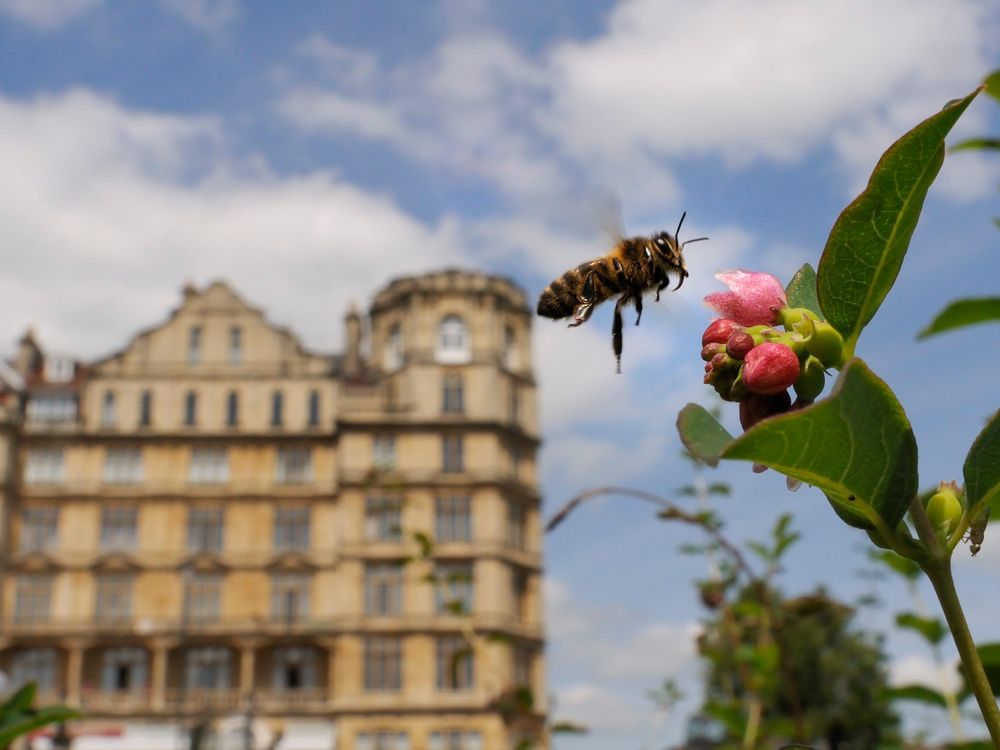 The rise of urban farming has brought more flowers, veggies, chickens and bees into the cities. Not only are bees good for cities, but the social insects are quite happy to live there, at least according to new research from the U.K. 
Katherine Baldock, of the University of Bristol, surveyed pollinator abundance across 36 different sites that spanned farmland, nature reserves and urban areas. Her team counted honey bees, bumble bees and other flying pollinators. The group found that each area had about the same amount of total pollinators. Even though urban areas might not seem like the ideal place for flower-loving bees, those landscapes held more diverse bee species, though the other pollinators were less diverse and numerous. Baldock and her colleagues published their findings in the Proceedings of the Royal Society B. 
"In urban areas pollinators foraged on a wide variety of plant species, including many non-native garden plants, but visited a smaller proportion of the available plant species than those in other landscapes," Baldock says in an article at Farmers Guardian. "This could be explained by the high diversity of plant species in urban areas."
Since urban landscapes make up about 7 percent of the U.K., finding out how to attract more pollinators and keep the bees happy is important. Conversely, work needs to be done to make farmland a better habitat for bees, Dave Goulson, of the University of Sussex, told the BBC. "This is an indictment of modern farming methods, but is also greatly encouraging for those gardeners who put in wildlife-friendly flowers and leave a little space for nature," he says. "There is huge potential to turn our suburban sprawls into giant nature reserves if we can get more and more gardeners on board."
The decline of honeybees worldwide has put scientists, farmers, gardeners and honey-lovers on alert. Since bees and wasps in Britain have been suffering declines for more than a century, any good news is welcome.