Dr. Seuss Had an Imaginary Daughter Named Chrysanthemum-Pearl
Theodor Seuss Geisel created the character with his first wife, Helen Palmer Geisel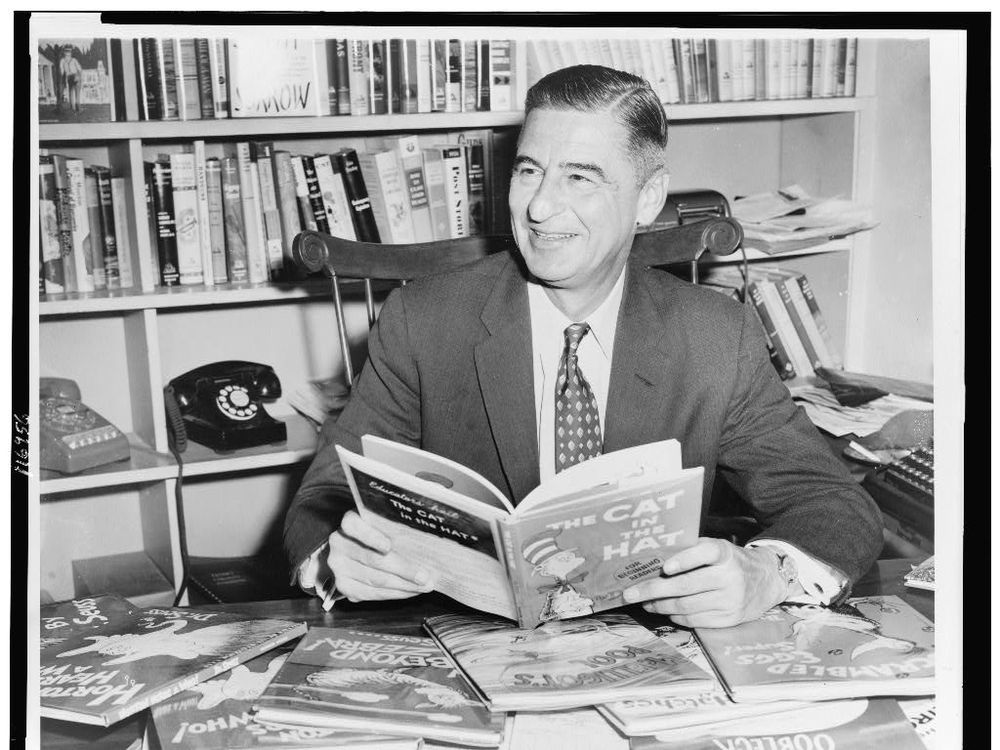 A popular myth about Dr. Seuss, born on this day in 1904, is that the children's author didn't like kids.
This might not be totally accurate. While  Theodor Seuss Geisel didn't have any children, at least one fact about his life suggests that Geisel was interested in children—his own, at least.
Even before he had become famous as an author of children's books, writes Encyclopedia.com, Geisel and his first wife Helen Palmer Geisel, also a children's author, shared custody of an outlandish imaginary child named Chrysanthemum-Pearl, who was part of their shared inner life and who "helped mask the Geisels' anguish that Helen could not have children."
"While contemporaries boasted about their children, Geisel would discuss the exploits of his own invented offspring, the uber-talented Chrysanthemum-Pearl," writes Biography.com. "Chrysanthemum-Pearl could use chocolate frosting to concoct oyster stew and possessed superhuman sewing skills. She was included on Geisel Christmas cards, and The 500 Hats of Bartholomew Cubbins (1938) contained the dedication 'To Chrysanthemum-Pearl, aged 89 months, going on 90.'"
Although Chrysanthemum-Pearl was the first imaginary child Seuss featured on a Christmas card, writes biographer Philip Nel, she was one of many featured over the years: others included Norval, Wally, Wickersham, Miggles, Boo-Boo and Thnud. One year, writes Nel, Geisel had six neighbourhood children pose with him and Helen for their annual Christmas card.
Other clues in Geisel's life and work also indicate that he thought about children and adoption during his first marriage. In 1939, writes Nel, Seuss and a business partner tried to invent an "Infantograph" that would show two people how a prospective child of theirs might look. It didn't work, but he did write ad copy for the idea: "IF YOU MARRIED THAT GAL YOU'RE WALKING WITH, WHAT WOULD YOUR CHILDREN LOOK LIKE? COME IN AND HAVE YOUR INFANTOGRAPH TAKEN!"
As Dr. Seuss, he also wrote two stories dealing with the subject of adoption during this period: a 1938 short story called "Matilda, the Elephant with a Mother Complex," and 1940's Horton Hatches the Egg, featuring the elephant who would be the central character in 1954's Horton Hears a Who!  
Whatever his personal feelings about not having children, Seuss didn't think that it stood in the way of his being a successful children's author. He went on to publish many children's books before his death in 1991 at the age of 87, wrote Eric Pace for The New York Times.  
Helen Palmer Geisel died of suicide in 1967 after a prolonged illness. Geisel remarried and became a stepfather to Audrey Stone Diamond's children, but history has not recorded what became of Chrysanthemum-Pearl.