Christopher Columbus Monument Defaced in Central Park
Vandals covered the statue's hands in red paint and wrote "Hate will not be tolerated" on its base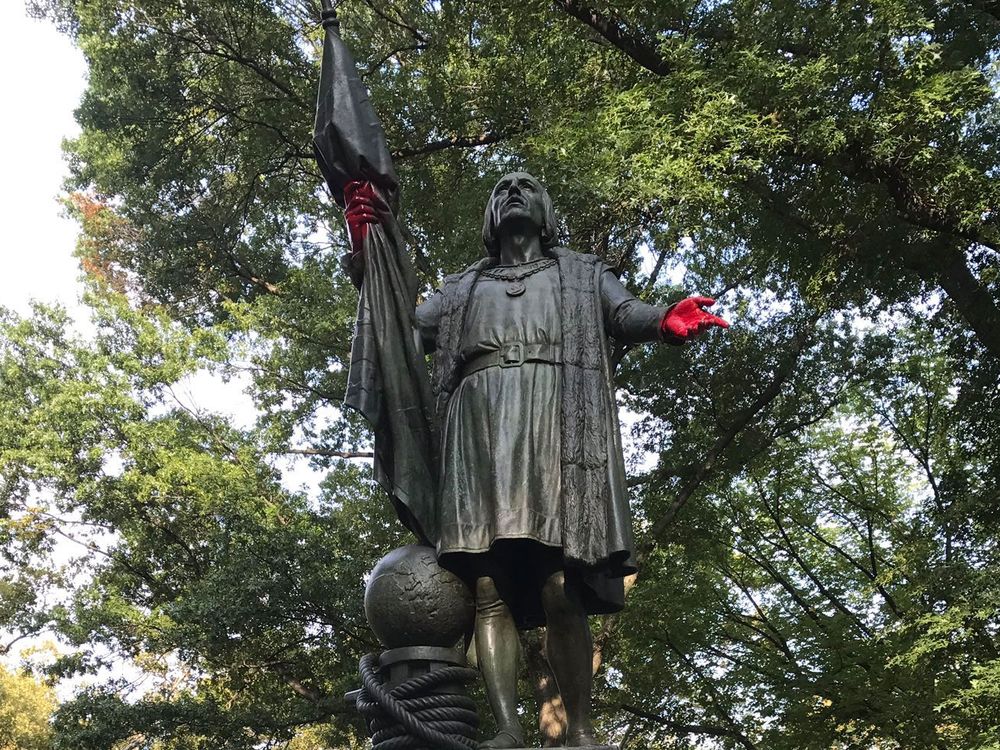 A bronze statue of Christopher Columbus, which has stood in Central Park since 1892, was found on Tuesday with a message graffitied onto its base: "Hate will not be tolerated."
As Sarah Maslin Nir and Jeffery C. Mays report for the New York Times, vandals also wrote the hashtag "#somethingscoming" onto the statue, and covered its hands with red paint.
A conservation worker was swiftly deployed to clean the monument. According to the West Side Rag, an NYPD spokesperson said that the vandalism is "still under investigation" and that no suspects have been identified at this time.
The defacement of the Columbus statue comes in the midst of an often-heated national debate over contentious historical monuments. Much of the conversation has focused on statues of Confederate heroes. In the wake of the deadly rallies in Charlottesville, Virginia, which saw white nationalists convene to protest the removal of a Robert E. Lee statue, a growing number of Confederate monuments have been taken down.
Though Columbus predates the Civil War by three centuries, he is also a hotpoint of controversy. While the explorer is renowned for his ambitious voyages to the New World, many have noted that Columbus and his men inflicted brutal and devastating treatment on the indigenous populations they encountered.
New York City Mayor Bill de Blasio has assembled an advisory commission to determine how best to deal with "monuments seen as oppressive and inconsistent with the values of New York City." But some residents have opted to take matters into their own hands. In August, the words "Don't honor genocide, take it down" were spray-painted onto a Columbus statue in Astoria, Queens. In the nearby city of Yonkers, a Columbus monument was recently beheaded.
"The mayor thinks vandalism is wrong and never the right approach to these conversations or monuments," Eric Phillips, the mayor's chief spokesman, told Nir and May of the Times. "There's an important place for public dialogue and that's why the mayor's put together a panel of experts to thoughtfully and efficiently organize that process. Vandalism isn't the answer."
In late August, elected officials called for the removal of the city's most impressive tribute to Columbus: a marble statue that stands 70 feet above ground in the bustling Columbus Circle. But Phillips, de Blasio's spokesman, has said that there is "no plan" to take the monument down.