Hong Kong Student Jailed Over Tiananmen Square Protest Banner
Zeng Yuxuan, 23, was sentenced to six months in prison on charges of sedition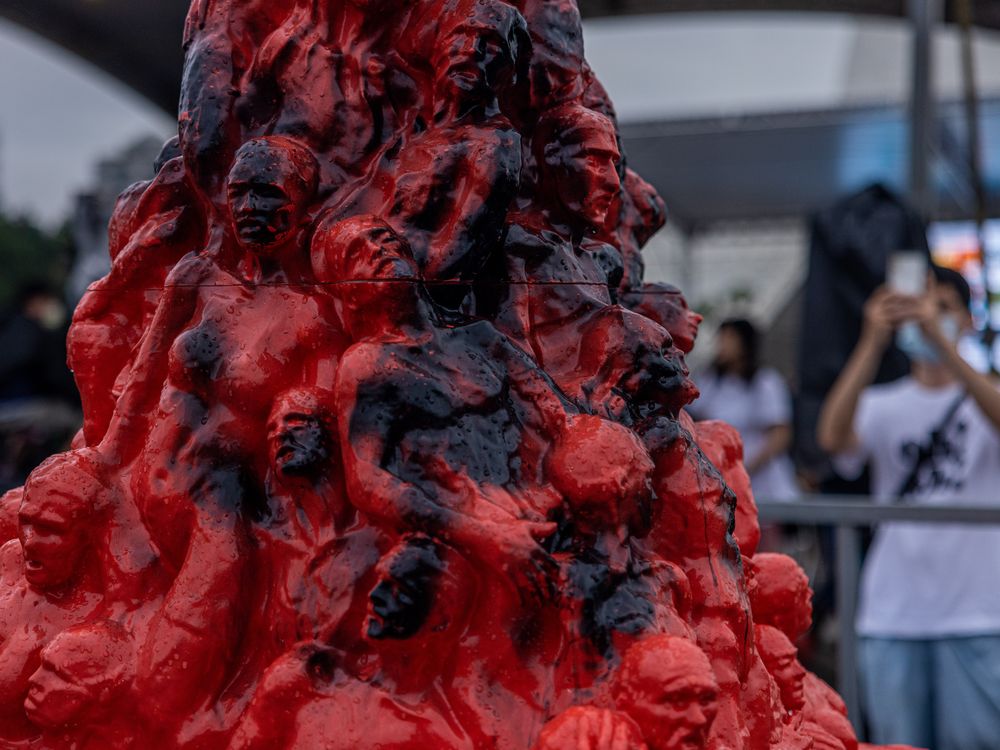 A Hong Kong student has been sentenced to prison over a banner commemorating the Tiananmen Square protests of 1989.
Zeng Yuxuan, 23, a law student at the Chinese University of Hong Kong, was arrested when she tried to pick up a package containing the banner in early June. Last week, a court sentenced her to six months in jail on charges of sedition, reports the South China Morning Post's Brian Wong.
The banner in question depicted a sculpture called Pillar of Shame, a 26-foot-tall copper tower made from human figures representing those who died in the protests. Since 1998, the monument stood on the campus of the University of Hong Kong, where students scrubbed and cleaned it each year on the anniversary of the massacre. But then, in 2021, authorities removed it under cover of darkness.
The piece was created by Danish sculptor Jens Galschiøt, who now says he's "deeply concerned about the wellbeing of Zeng Yuxuan," according to Hyperallergic's Maya Pontone. He adds, "Mourning those who died to peacefully protest should be 'celebrated' as a humane and good-hearted act, not punished."
Pillar of Shame's removal wasn't an isolated event. Since 2020, a new national security law has resulted in a widespread crackdown on political freedoms in Hong Kong by Chinese authorities. For example, around the time Pillar of Shame was dismantled, two other universities removed artworks related to Tiananmen Square, per the Washington Post's Shibani Mahtani, David Crawshaw and Theodora Yu.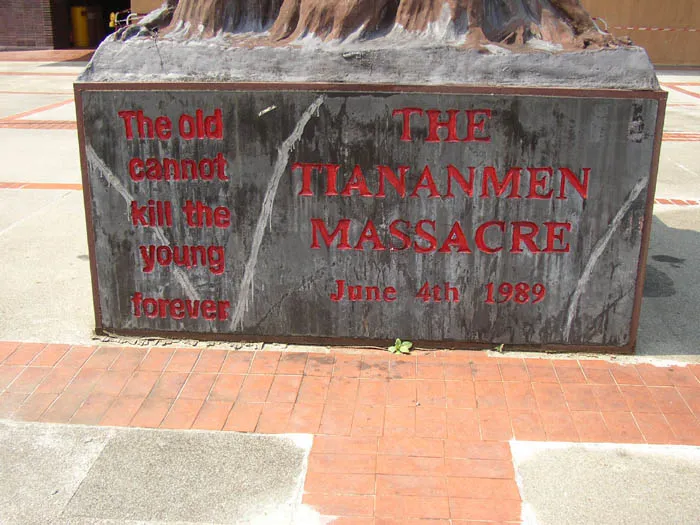 The Tiananmen Square protests were a series of student-led demonstrations that took place in the spring of 1989. While they lasted for several weeks, they are remembered for the events of early June, when the Chinese government declared martial law and violently cracked down on demonstrators. The Chinese government claims that no more than 200 civilians died as a result; many historians believe the true toll was in the thousands.
Yuxuan got the Pillar of Shame banner from Zhou Fengsuo, a former student leader during the protests who currently lives in the United States. He tells Hyperallergic that Yuxuan reached out to him when she saw him displaying the banner in New York City on social media earlier this year. Fengsuo says he had sent her "at least two or three banners," warning her that there could be legal consequences. He adds, "She is very committed to the memory of Tiananmen."
Fengsuo suspects that one of the journalists Yuxuan tipped off about her plans to display the banners leaked those plans to the police.
Yuxuan was just one of a number of activists arrested for trying to commemorate Tiananmen Square this year, as Kanis Leung of the Associated Press reported in June. One of those was artist Samnu Chen, who chanted upon his arrest: "Hong Kongers, do not be afraid. Don't forget tomorrow is June 4."