China's Per Capita Carbon Emissions Nearly On Par with Europe's
China's per capita CO2 emissions have almost caught up with Europe's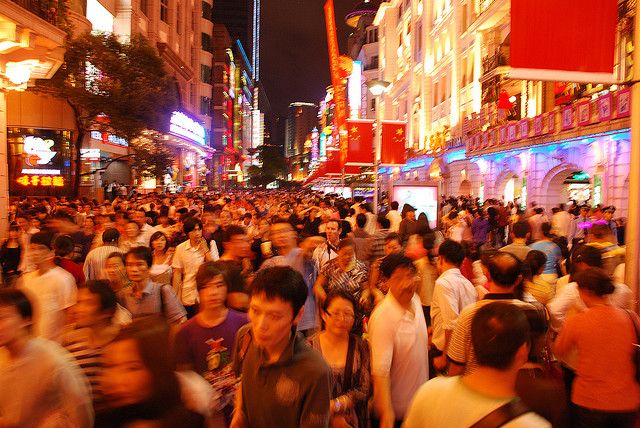 In 2006, China became the largest national emitter of carbon dioxide, even though its emissions per person were much lower than that of Europeans or Americans. Soon, that statistic will no longer hold true: A new report reveals that per capita emissions in China increased last year, boosting the average Chinese person's emissions to 7.2 tons per year — close to that of Europeans, who average 7.5 tons of emissions.
The Guardian puts this development into perspective:
The figure for the US is still much higher – at 17.3 tonnes – though total Chinese CO2 emissions are now around 80% higher than those of America. This widening gap reflects a 9% increase in total emissions in China in 2011, driven mainly by rising coal use, compared with a 2% decline in the US.

Total emissions in Europe and Japan also fell last year, by 3% and 2% respectively. But emissions rose across much of the developing world, including India, which saw a 6% increase. As a result, OECD nations now account for only around a third of the global total.
The report admits a few holes in the data: international air travel, thought to contribute about 3 percent of global CO2 levels, was not included. Neither were non-CO2 gases that are nonetheless harmful to the atmosphere, like methane and nitrous oxide. And European nations and the US have contributed the lion's share of historic emissions that will linger in the atmosphere for decades or centuries.
Regardless of who's to blame for what, the fact remains that we will all have to live with global warming, and that the situation does not seem to be improving.
The report ends on an appropriate downer:
Owing to factors such as these, precise national emissions figures will remain the subject of debate. Globally, however, the picture is clear. Total emissions from fossil fuels and cement increased by 3%, leaving global emissions at a record 34bn tonnes of CO2. That is less than the rise in 2010, when emissions shot up by 5% as the world economy bounced back from recession, but higher than the average annual increase for the past decade, which stands at 2.7%. This suggests that efforts to curb global emissions have so far failed to make any impact.
More from Smithsonian.com:
Climate Change in Your Backyard
Air Pollution As Seen From the Skies