Check Out a Medical Pop-Up Book From the 17th Century
Early movable books were geared towards informing adults not entertaining children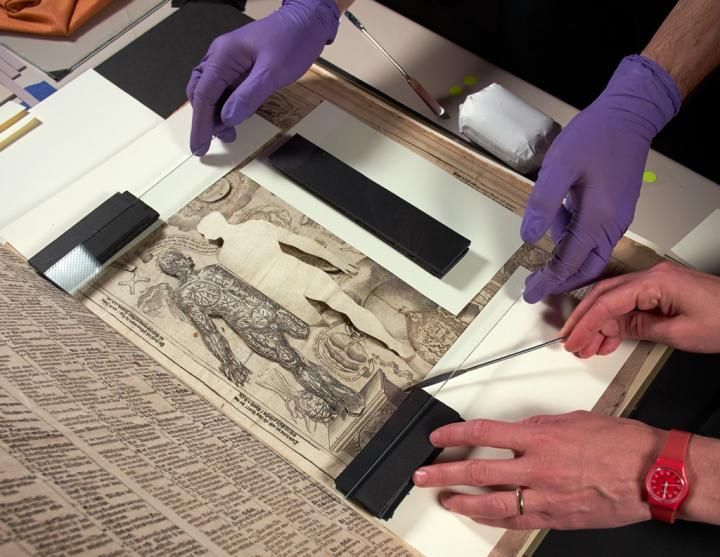 Pop-up books might only seem like a fun, modern way to jazz up a children's book, but they actually date back to the 11th century. Also, those early intricate books weren't for children, rendering complex and detailed topics like astronomy and technology in three dimensions. This 17th-century medical book is a perfect example, chock full of intricate images that detail the layers of the human body.
But readers don't have to travel to the archives of Columbia University's Augustus C. Long Health Sciences Library to enjoy this piece from the past. Librarians have painstakingly scanned and digitized all 120 flaps in the book, a university press release reports. Now this German translation of Johann Remmelin's 1613 work Captoptrum Microcosmicum, is available online.
Remmelin's work wasn't intended as an exhaustive anatomical reference book, but rather an informative tome for the interested layperson. The pop-up portions feature a male and female figure each get a series of overlapping flaps that represent different layers of the body.
To preserve the images, the conservators and librarians used small piece of glass to hold up the flaps during the scan. "[I]maging staff used special tools such as spatulas and fine tipped brushes to gently lift the flaps and then place the glass over the section," the press release notes. The glass rested on small supports to keep the flap from flattening as the image was snapped. 
The Columbia University Libraries' online public catalog carries the digital copy, as does the Medical Heritage Library, and Archive.org has a direct link.
Science has proven to be fertile ground for informative pop-up books of the past. Astronomy, geometry, theology and technology have all been the subject of early pop-up books, writes Jacqueline Sheppard for Smithsonian.com. Though now coined pop-up books, they were once called mechanical books, for the moving flaps and revolving parts they featured, writes Ann Montanaro at Rutgers University Libraries.
Contrary to modern sensibilities, mechanical books were almost exclusively used in scholarly works until the 18th century, though that delay may be because few of these early tomes were aimed at children. The first examples of moveable books for children were Paper Doll Books produced beginning in 1810 and William Grimaldi's lift-the-flap The Toilet, which aimed to teach hygiene through humor, published in the 1820s, Montanaro writes.
Recent movable or pop-up books have become truly ingenious. Yet, though more simple, these older versions give a delightful peek into knowledge from years past.