Charleston, South Carolina, Formally Apologizes for Its Role in the Slave Trade
Some 40 percent of enslaved Africans entered the country through Charleston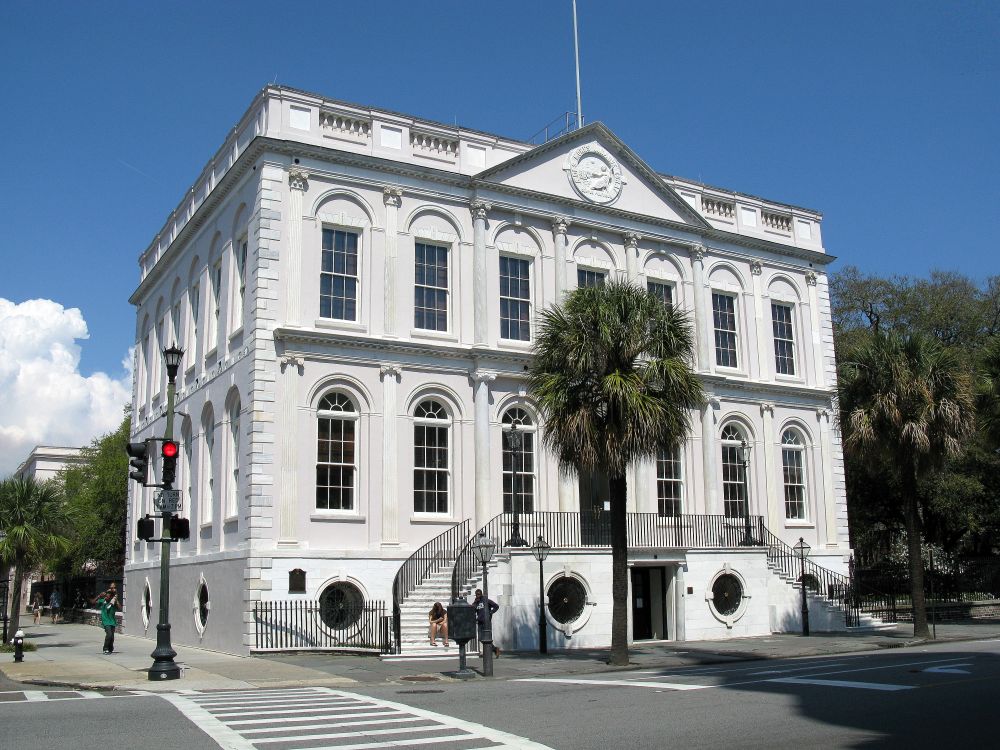 After a long and emotional council meeting, the city of Charleston, South Carolina, has formally apologized for its role in the slave trade. On Tuesday, according to Hanna Alani of the Post and Courier, city council members voted 7-5 in favor of a resolution that denounces slavery, acknowledges that Charleston profited greatly from slave labor and extends an apology on behalf of the city.
Around 40 percent of enslaved Africans that were brought to the United States during the Transatlantic Slave Trade entered the country through Charleston, a port city. Many of these enslaved people remained in South Carolina and Charleston "thrived under a slave economy" for nearly 200 years, writes Brian Hicks in a 2011 article for the Post and Courier. Charleston's City Hall, where Tuesday's vote was held, was built with slave labor in the early 19th century.
The vote took place on Juneteenth, which marks the day, more than two years after the Emancipation Proclamation was signed, that enslaved people in Texas learned that the Civil War had ended and they were free. (No one in Texas "was in a rush to inform them," as Stacy Conradt writes for Mental Floss.) The vote also fell two days after the third anniversary of the mass murder at a church in Charleston, when nine black parishioners were shot and killed by a self-described white supremacist.
Melissa Gomez of the New York Times reports that the new resolution "was approved by voice vote and was met with loud cheers" by people who had gathered to watch the vote.
The two-page resolution states that "fundamental to the economy of colonial and antebellum Charleston was slave labor, Charleston prospering as it did due to the expertise, ingenuity and hard labor of enslaved Africans who were forced to endure inhumane working conditions that produced wealth for many, but which was denied to them," according to Gomez.
The resolution lays out a number of actionable goals, like creating an office of racial conciliation to help heal longstanding tensions. The document also pledges to memorialize unmarked graves of African slaves, and implement policies that will encourage businesses to strive for racial equality.
But some council members questioned whether the resolution goes far enough, noting that the city's African American community has urgent needs not fully addressed by the document, like affordable housing.
"Without economic empowerment—as a descendant of slaves—I cannot support this resolution," Keith Waring, an African American councilman, said during the meeting, according to Alani of the Post and Courier.
Councilman Harry Griffin said that many of his constituents did not want the city to apologize for something that its living residents did not do, and posited that a more serious apology "would be the city moving to address flooding issues on Huger Street, where African-Americans live," Alani writes.
Charleston mayor John Tecklenburg, however, supported the resolution, noting in the meeting that the city had been "enamored and intertwined" with slavery, reports Gomez of the Times.
"Do we have a reason to be sorry, to apologize?'' he said. "We do."
Charleston now joins a list of cities and states that have apologized for their participation in the slave trade, including Virginia, North Carolina, Alabama, Florida, New Jersey, and Annapolis, Maryland. Many cities and institutions are reckoning with their ties to slavery in other ways. Across the country, Confederate memorials are being taken down. New Orleans is erecting markers on sites where people were bought and sold. Last September, Harvard unveiled a plaque honoring the unnamed people enslaved by one of the school's early benefactors. In 2015, Georgetown University changed the names of two buildings that honored university presidents who had been involved in the sale of 272 enslaved people.
During the debate over Charleston's resolution, Alex Sanders, a former judge, delivered a speech in favor of the apology, reports Bill Chappell of NPR. Sanders noted that while the apology was coming from the city, its residents "all enjoy the benefits every day of what enslaved people were compelled to produce when they built so much of the city of Charleston."
"At the very least," he added, "we can say we're sorry."