Muggles Are Selling the Chair in Which 'Harry Potter' Was Created
The decorated dining room chair J.K. Rowling used to write her iconic novels is going on sale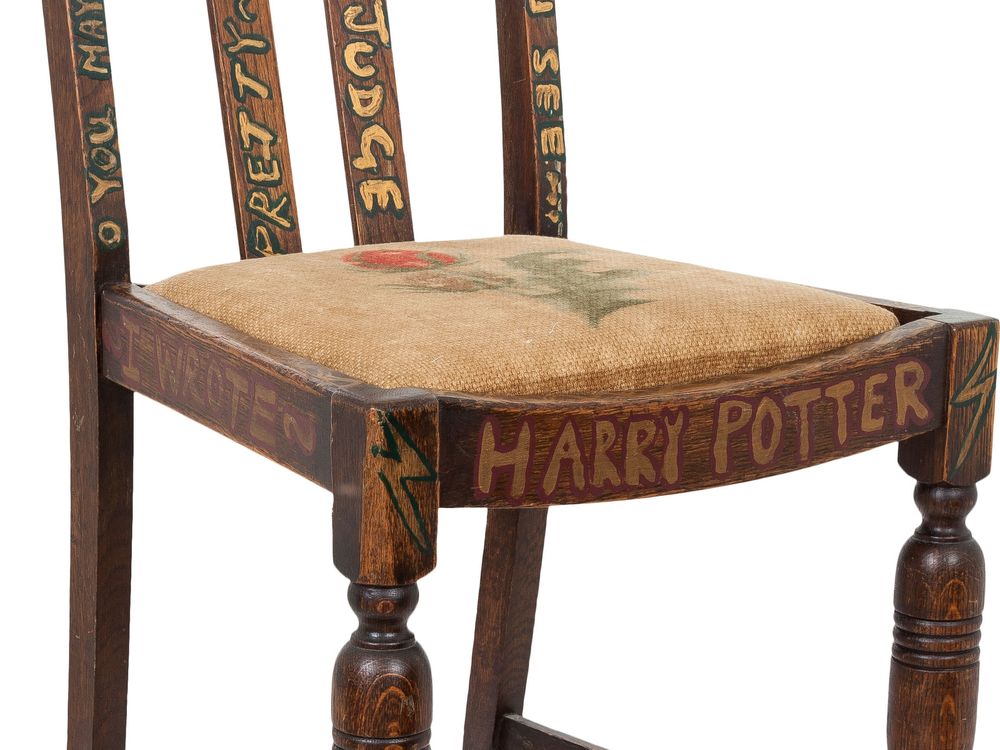 The Harry Potter universe is full of magic—the sorting hat, the Deluminator, some might even say Hagrid's remarkable beard. But one of the most enchanted objects of the series exists outside of J.K. Rowling's pages, the chair that the acclaimed British novelist and humanitarian sat on in her Edinburgh flat while composing the first two installments of the series, Harry Potter and the Sorcerer's Stone and Harry Potter and the Chamber of Secrets. On Friday, Potterheads with a few Galleons to burn can join the online bidding war for the magical seat before Heritage Auctions in New York puts it up for live auction on April 6.
The minimum bid is set at $45,000, but James Gannon, director of rare books at Heritage, tells the Guardian that he believes the chair could easily sell for $75,000 and might even top $100,000.
The chair originally went on the block in 2002 after Rowling donated it to a charity auction for the UK's National Society for the Prevention of Cruelty to Children. Before delivering it, she decorated the chair by painting gold, rose and green lighting bolts, as well as scrawling, You may not find me pretty/but don't judge/on what you see, and I wrote/Harry Potter/while sitting/on this chair, along the back and sides.
She also included a handwritten note on "Owl Post" stationary, which reads:
Dear new-owner-of-my-chair,

I was given four mismatched dining room chairs in 1995 and this was the comfiest one, which is why it ended up stationed permanently in front of my typewriter, supporting me while I typed out Harry Potter and the Philosopher's Stone and Harry Potter and the Chamber of Secrets. My nostalgic side is quite sad to see it go, but my back isn't.
At that first auction, the chair sold for $23,475. Then, in 2009, it was sold again, this time on eBay for $29,117. Now, the chair is back up on auction, reports the Associated Press.
"It's a chair you'd pay a tenner for in a junk shop but, historically, it's the most important chair in Muggledom, and probably one of the most exceptional and rare pieces of Harry Potter memorabilia ever likely to be offered for sale," art dealer Matthew Ford said, after facilitating the 2009 sale.
Or, as Gannon puts it to the Guardian, "For me, what's important about the chair is that [Rowling] basically created a unique artwork that's self-reflexive. It's all about her creation." 
For those who can't afford to purchase the chair, they can get a chance to see it before it finds its new home: The chair is currently on display in the front window of Heritage Auctions at 445 Park Avenue in New York City.