Celebrate 262 Years of Bog Bodies on International Bog Day
Thanks to their cool, oxygen-poor conditions, bogs are a hostile environment for microbes—and a great environment for inadvertently embalming bodies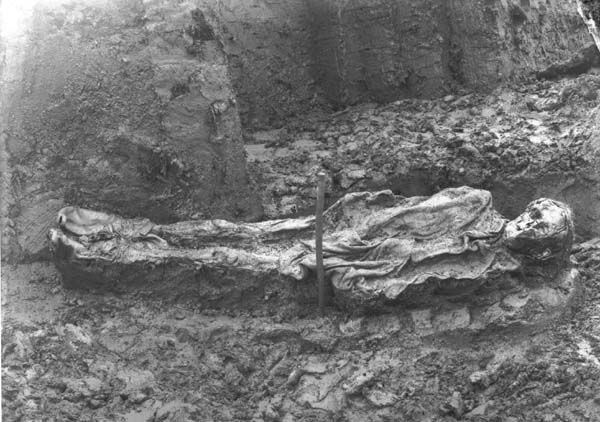 In case you missed it, yesterday was International Bog Day. Since 1991, when it was created in Scotland, Bog Day gives bog fans throughout Europe, Canada and the U.S. a moment to consider the rich and sometimes downright eerie history bogs so often preserve.
Thanks to their cool, oxygen-poor conditions, bogs are a hostile environment for microbes—and a great environment for inadvertently embalming bodies. The first bog body was discovered in 1747 in Lincolnshire. (Unfortunately, it was lost somewhere in history.) But there have been ample chances for researchers to study such remains: around 1,000 bodies have been discovered in bogs, Time reports, and some of those well-preserved remains date back to the Iron Age. Here are some of our favorite bog bodies discovered throughout the years:
Bernuthsfeld Man: Found in Saxony by peat workers in 1907, this man really loved his favorite shirt. His tunic was built from 45 different patches composed of 20 different fabrics demonstrating 9 different weaving patterns. He lived around 730 C.E.
Datgen Man: This man's final moments were not pleasant. Around 260 C.E., he was stabbed, beaten, mutilated and decapitated. His head was found 10 feet away from the rest of his remains. Unlike many other bog bodies, he probably wasn't sacrificed but instead killed to prevent him from becoming a wiederganger ("again walker"), the German version of a zombie.
Lindow Woman: This bog bod turned up in Cheshire in 1983. The police thought the body belonged to a recently disappeared woman. Upon hearing this, the woman's husband confessed to murdering his wife. The bog body turned out to be from 250 C.E., but it was too late for the murdering husband, Peter Reyn-Bardt, to take back his confession. He was convicted.
Of course, bogs provide other services besides preserving old bodies. A number of unique plant species live there, and, historically, they provided peat for fire fuel and housing material.
More from Smithsonian.com:
Noxious Bogs and Amorous Elephants
In Scotland, Two Mix-and-Match Mummies Contain Parts of Six Corpses