CDC Includes Covid-19 Shots in Routine Immunization Schedule
The federal health agency updated its vaccination guidance for children and adults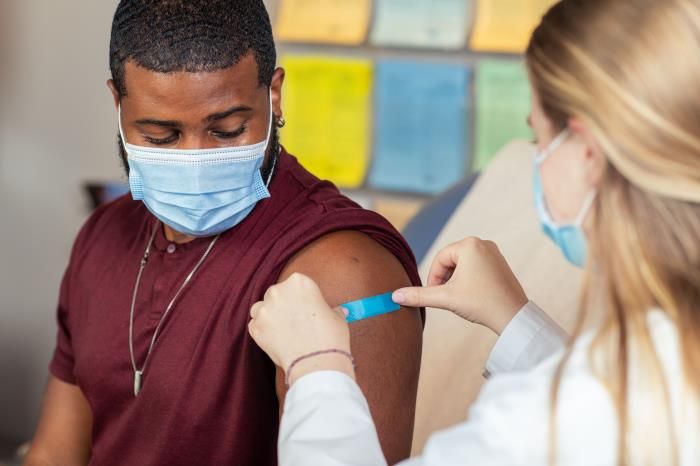 For the first time, the Centers for Disease Control and Prevention (CDC) has included Covid-19 vaccines in its recommended immunization schedule for children and adults.
The CDC's schedule helps doctors determine when to administer various vaccines to their patients. As Nathaniel Weixel writes for the Hill, the new recommendations are not mandatory, as the CDC does not have the authority to require vaccination for schools or workplaces.
The CDC published the updated schedule in its Morbidity and Mortality Weekly Report last week. The CDC's Advisory Committee on Immunization Practices, or ACIP, suggested the changes, with consultation from nurses, doctors, pharmacists and other experts.
The change adds Covid-19 vaccines to a long list of immunizations the CDC recommends, including measles, mumps, rubella, influenza and tetanus.
"This means Covid-19 vaccine is now presented as any other routinely recommended vaccine and is no longer presented in a special 'call out' box as in previous years," say Neil Murthy and A. Patricia Wodi, physicians who helped recommend the new immunization schedule, in a statement, as reported by CNN's Janelle Chavez. "This, in a sense, helps 'normalize' this vaccine and sends a powerful message to both healthcare providers and the general public that everyone ages 6 months and older should stay up to date with recommended Covid-19 vaccines (including a booster, when eligible), just as they would with any other routinely recommended vaccine."
According to the latest CDC figures, 69.2 percent of the U.S. population has completed the primary series of Covid-19 vaccinations. However, just 15.8 percent have received the bivalent booster dose, which also helps protect against the Omicron variant.
Doctors recommend the booster because "antibodies wane over time and you need to maintain protection, and as new variants emerge, you maintain coverage against these," says John Christenson, an infectious disease specialist at the Riley Hospital for Children in Indianapolis, to Healthline's David Rossiaky. The CDC says individuals who receive the bivalent shot are three times less likely to die than those who received only the original vaccines and 14 times less likely to die than those who received no vaccine at all.
An estimated 1.1 million individuals in the U.S. have died as a result of Covid-19 since the virus first arrived in the country in January 2020, per the CDC. More than 22,000 individuals in the U.S. are currently hospitalized because of Covid-19.
The CDC's new schedule also includes updated recommendations for influenza, pneumococcal, measles, mumps, rubella and hepatitis B vaccines. In the event of a mumps outbreak—like the recent situation involving 85 children in central Ohio, for example—the CDC now recommends an additional booster. The CDC also recommends administering an additional poliovirus vaccine for situations in which patients are at increased risk of contracting the disease, such as the reemergence of polio in New York City last year.
Among children, vaccine rates for preventable diseases like diphtheria, polio and measles are declining, per the CDC. During the 2021-22 school year, 93 percent of kindergarten students had received state-required immunizations.
Public health experts say the pandemic disrupted routine health care for kids and made it more difficult for school administrators to stay on top of immunizations. Lower confidence in vaccines overall may also have contributed to the decline, per the
Associated Press
' Mike Stobbe.