Cardboard Cockroach Is the Fastest, Creepiest Robot in the World
The cardboard cockroach can sprint up to 7 miles per hour on its spindly little legs, using them much as an actual cockroach does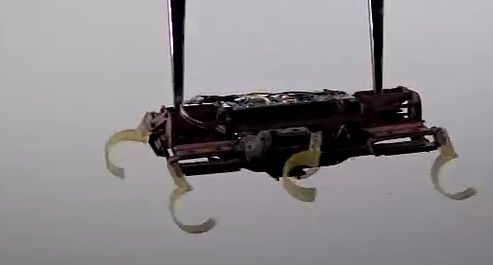 The VELOCIRoACH is a small cardboard cockroach. It is fast. Very fast. For its size, it is the fastest robot yet created. In a single second, it scurries 26 times the length of its body. It can sprint up to 7 miles per hour on those spindly little legs, Popular Science writes, using them much as an actual cockroach does.
The secret to VELOCIRoACH's speed is its thin, C-shaped legs.

To maximise the robot's speed, Haldane and colleagues studied the anatomy of a cockroach, which can run at 1.5 m/s, and scaled its body plan up to a workable size.
The legs act like springs are they hit the ground 15 times per second. Usually, three legs are touching the ground at any given moment, giving the robot a solid tripod of stability. The roach can pull itself over obstacles by bouncing its front half up and pulling the rest of its body over.
More from Smithsonian.com:
Robots Inspired By Biology
A Real, Working Transformer Robot