Caravaggio May Have Died of Infected Sword Wound, Not Syphilis
The Italian Old Master had a notoriously mercurial temperament and was forced to flee Rome in 1606 after killing his rival in a duel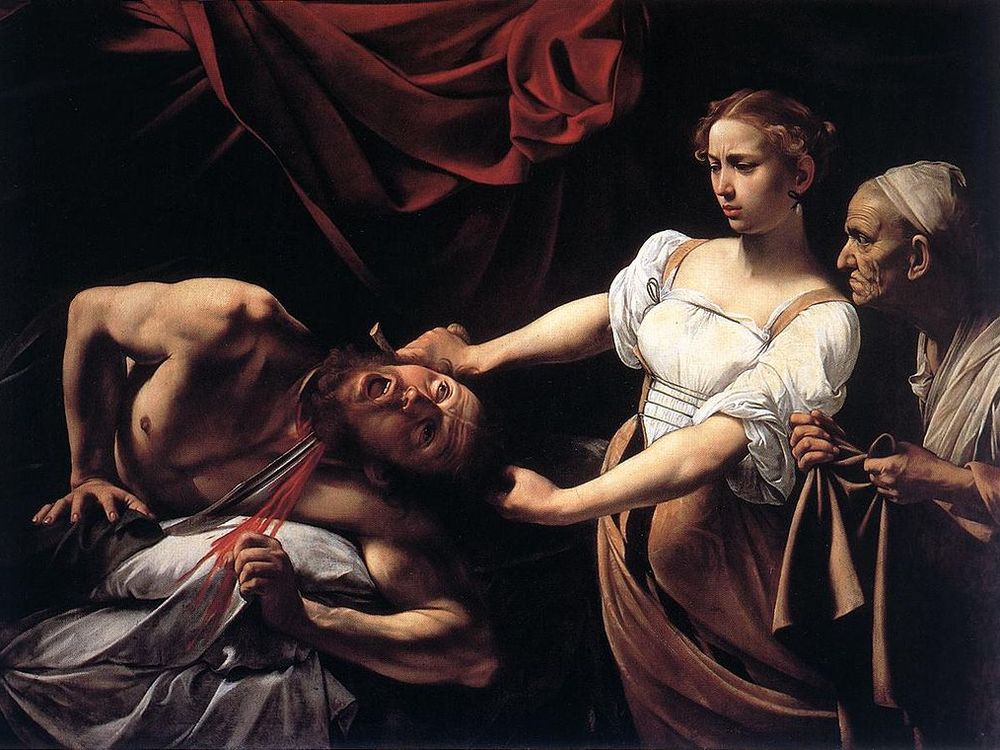 Historical records suggest Caravaggio had a mercurial temper, to say the least—BBC News' David Willey writes that the Italian painter, born Michelangelo Merisi in 1571, once threw a plate at a waiter who declined to point out which of the artichokes he was serving were fried in butter rather than oil.
But as Alex Vicente reports for Spanish newspaper El País, researchers have long believed Caravaggio's untimely death at the age of 38 was precipitated by relatively mundane health problems—namely sunstroke contracted while weakened by syphilis. New research published in Lancet Infectious Diseases, however, offers a different take on the Italian painter's demise, suggesting he fell victim to a staph infection incurred during a swordfight.
Daniela Filipe of Portuguese newspaper Público reports that a team of seven French and Italian scientists affiliated with the Mediterranean University Hospital of Marseille (IHU) analyzed the blood vessel-filled dental pulp of Caravaggio's molars through a combination of DNA detection and protein sampling. The researchers looked for signs of syphilis, malaria or brucellosis—three infections commonly cited as potential culprits behind the artist's death—but found none. Instead, as Alex Berezow explains for the American Council on Science and Health, the team concluded that Caravaggio died of sepsis, or blood infection, triggered by golden staph.
In 1606, Caravaggio's violent behavior culminated in a duel with romantic rival Ranuccio Tomassoni. The artist pierced his opponent's femoral artery, according to Encyclopedia Brittanica, and Tomassoni died shortly thereafter. Convicted of murder in absentia, Caravaggio fled Rome, splitting his time between Naples, Malta and Sicily as he produced groundbreaking chiaroscuro paintings—which contrast light and shade for dramatic effect—attempted to outsmart authorities and, unsurprisingly, continued to find himself embroiled in conflict.
The details surrounding Caravaggio's final days are fittingly sparse for a man who led such a turbulent life, but most scholars agree that the painter died in Tuscany during July 1610.
As Nick Squires writes for the Telegraph, exactly 400 years later, researchers excavating a cemetery in the Tuscan town of Porto Ercole announced the discovery of a set of bones said to belong to Caravaggio. Drawing on carbon dating and DNA analysis, the team stated they were 85 percent certain of their findings.
In the years since Caravaggio's rediscovery, scholars have proposed an array of explanations for his death at age 38: Soon after the 2010 announcement, the Guardian's Tom Kington reported that the painter was likely driven mad by lead-leaching paints, which worked in conjunction with infected wounds and sunstroke to finish him off. In 2012, the Telegraph's Squires detailed a new theory that posited Caravaggio was murdered by the Knights of Malta after attacking one of the group's members.
The latest study brings yet another hypothesis to the mix, building on Caravaggio's notoriously violent temperament—and a series of telling genetic clues—to attribute the artist's death to an injury inflicted during one of his many street brawls. This fight, which triggered a staph infection, sepsis and, finally, death, reportedly occurred between one month and 15 days before the first signs of a fatal fever emerged.
Still, some scholars remain unconvinced. As Jacquemart-André Museum curator Pierre Curie tells El País' Vicente, "There will be other [investigations] in the future because we do not know much about his life. Caravaggio is a character that escapes us. And maybe it's better that way, because that allows us to project what we want in the work of this great painter."