Canoe Churned up by Irma May Date to the 1600s
Radiocarbon dating shows the dugout canoe found in Cocoa, Florida, has a 50 percent chance of being from 1640 to 1680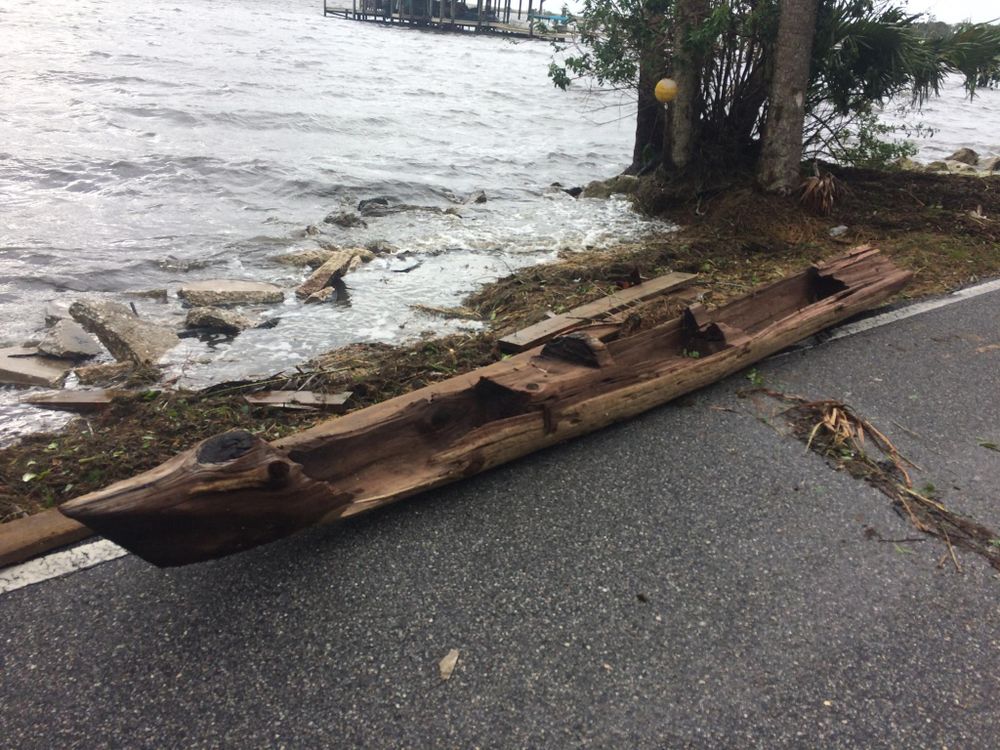 New radiocarbon dating of a dugout canoe that was found in Florida in the wake of Hurricane Irma shows it may be much older than previously thought.  While researchers originally believed it was built during the 20th century, as Yelena Dzhanova at NBC News reports, the results of the analysis show there is a 50 percent chance the 15-foot, 700-pound canoe was made between 1640 and 1680, a 37.2 percent chance it's from between 1760 and 1818 and only an 8.6 percent chance it was made after 1930.
Rick Neale at Florida Today reports that the canoe was originally found on September 11, 2017, along the shore of Indian River Lagoon near Cocoa, a city in Brevard County. Fine art photographer Randy "Shots" Lathrop was out bicycling and taking photos of the hurricane damage when he came across the craft, which had washed up along the road. After he and a friend moved it out of harms way, they called the Florida Division of Historical Resources to come analyze and preserved the canoe.
There are several scenarios for where the vessel came from. It's possible the canoe was crafted in the 1800s or 1900s from a very old log. Or, it could have been produced in the 1600s or 1700s and been used for hundreds of years, eventually receiving some 20th-century modifications (the canoe had some wire nails in it and traces of paint, which led researchers initially to believe it had more modern origins). Then, of course, there's a small chance it is actually from the 20th century. "This canoe is unique in that the radiocarbon dating indicates the wood is very old, but it has features that indicate it is more modern — so it is a bit of a mystery," Sarah Revell, spokeswoman for the DHR, tells Neale.
This is by no means the first dugout canoe to surface in Florida. According to the DHR at least 400 canoes have been found at 200 sites around the state since researchers began documenting the canoes in the 1970s. Sarah Laskow at Atlas Obscura reports that three quarters of the canoes date before Ponce de Leon first explored Florida in 1513; the oldest discovered is close to 7,000 years old. 
The mucky Florida soil is actually a haven for finds like these, as the low-oxygen conditions preserve the artifacts from decay. During droughts or strong hurricanes, the boats are sometimes released from the muck. The most stunning example happened at Newnans Lake near Gainesville in 2000, reports Laskow. During an epic drought, 101 dugouts were revealed along the shores of the lake, some 5,000 years old. Researchers believe Newnans Lake was a transition point between watersheds and may have been an area where traders and travelers stashed their canoes.
After Lathrop located it, the "Cocoa Canoe," as it's being called, was placed in a freshwater pond to help preserve it, and researchers from the University of South Florida scanned the craft to create a 3D model. Last week, reports Neale, the canoe was transported to a conservation lab in Tallahassee where it will undergo a preservation process. First, it will be desalinized and any algae will be removed from the boat. Then it will sit in a bath of polyethylene glycol for a year, which will preserve the wood and prevent it from expanding or contracting. Eventually it may go in display somewhere in Brevard County.