Can Peacock Vasectomies Save This Florida Town?
Residents of Pinecrest don't want to kill the colorful birds, but they do want to keep their growing population in check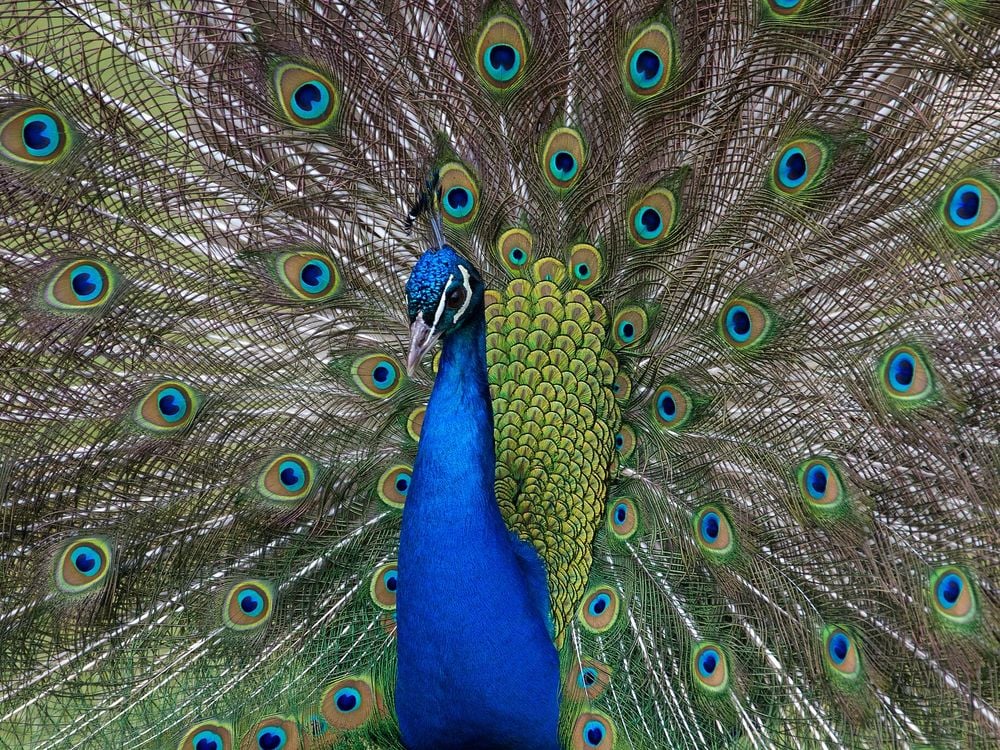 Loud and flashy peafowl have taken over a suburb of Miami. But with the birds' population growing, residents have been looking for a way to humanely keep their numbers in check. Now, the town is pursuing a clever solution: It has hired a veterinarian to perform peacock vasectomies.
The town in question is Pinecrest, an affluent area with around 18,000 residents, located south of Miami. Residents suspect the nonnative birds began flocking to the suburb after their habitat shrank in nearby Coconut Grove, a Miami neighborhood where developers have been cutting down trees to make room for large houses. In Pinecrest, meanwhile, the birds can still find plenty of places to roost, per the New York Times' Patricia Mazzei.
Pinecrest locals are conflicted about the birds. They love their colorful feathers and their regal behavior, but at the same time, they don't love that the peafowl poop everywhere, peck at vehicles and scratch on the roofs of houses. Their loud calls are also a nuisance to residents.
"They're vocal—very vocal—at sunset and sunrise, so they can be a disturbance," says Don J. Harris, the veterinarian who will perform the peacock vasectomies, to NBC6's Jamie Guirola. "They poop in people's driveways, sidewalks—and people have complained about slip and fall accidents."
Still, many Pinecrest residents do not want to kill the birds. Rather, they hope to be able to co-exist with them in peace, which is where the peacock vasectomies come in. The community submitted its peafowl mitigation plan to the Miami-Dade County Commission, which approved it in July.
Pinecrest plans to spend $7,500 a month on peacock vasectomies, while the county commissioner that oversees the town will chip in another $15,000 for medical gear.
The tricky part will be safely and humanely trapping the birds for surgery, since they have dangerous talons and beaks. But if all goes to plan, snipping the vas deferens of even just one male peacock should help keep the entire Pinecrest population at a more manageable level.
That's because the birds are "bona fide polygamists," as Harris tells the New York Times.
"We're going to catch one peacock and probably stop seven females from reproducing," he says to the publication. "It's going to have an exponential benefit."
Residents and local officials hope the peacock sterilization will be a win-win for the birds and for humans. Dominant male birds will get to keep their established pecking order and will continue walking around town with their gorgeous plumage. Females will continue laying eggs. After the vasectomies, however, the males simply won't be able to fertilize those eggs, keeping the birds' numbers down.
"Most people see one peacock and they're like, 'Oh that's nice'—we're talking about large numbers of birds that take up a lot of space and get very aggressive and protective of their nest," says Raquel Regalado, the county commissioner whose district includes Pinecrest, to NBC6.
If the vasectomy pilot program proves successful in Pinecrest, it will likely serve as a model for other nearby communities, since the peafowl problem is not isolated to just one suburb.
Elsewhere in the nation, communities plagued by peacocks have taken other approaches. In South Pasadena, California, for example, officials have decided to remove and relocate the birds to open spaces, farms and ranches throughout the state.
"We get complaints about peacocks every week—it's non-stop," says Regalado to the Miami Herald's Douglas Hanks. "During mating season, it's our number one issue."