Can Humans and Lions Truly Be Friends?
They've certainly tried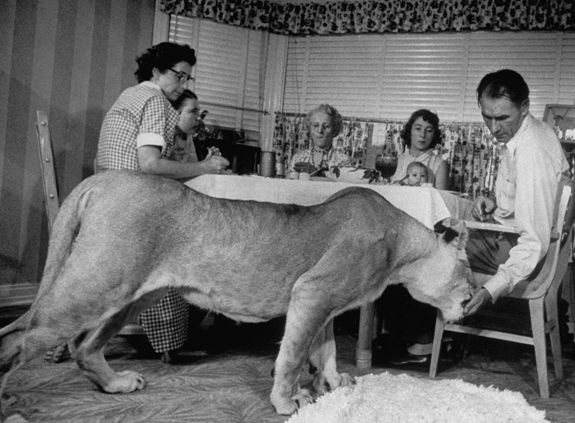 An employee at the Cat Haven Wildlife Sanctuary in Northern California was mauled to death by an animal she had described to friends as "her favorite lion," CNN reports:
The victim's grieving father said the lion, Cous Cous (who once appeared on Ellen DeGeneres' television show when he was about three months old), was one of her favorites.

The sanctuary did not release details of why Hanson was in the lion's cage, but said it would investigate whether safety protocols were followed.

The Fresno County Sheriff's Office said that when the lion attacked, another employee at the sanctuary tried to distract him away from Hanson into another enclosure. "But all attempts failed," it said.
Can lions and humans ever truly be pals? They've certainly tried–a 1956 LIFE Magazine story about Blondie, the 225-pound female lion kept as a pet by a family in Graham, Texas, paints a picture of a big cat who thinks she's a small one:
Blondie is the most lovable lion in Graham, Texas-maybe the most lovable lion there is. She gets tidbits at the dinner table. She takes her baths in the family tub and lets the kids climb on her and maul her about.
Understandably nervous about her presence in the suburban community, Graham families came to trust Blondie–and to rely on her for very special forecasts:
Nowadays mothers pay no attention when their children play with the lion in the Hipps's yard. But when Blondie roars they rush out and call the children in. Not that they worry about her getting angry, but they have learned that when Blondie roars it is going to rain.
And there are stories like this one, of lion trainers who've bonded with their trainees:
Or lions who've recognized the humans who raised them:
But there are always risks to relationships with animals so strong and equipped with such sharp teeth.
More from Smithsonian.com:
The Truth About Lions
The National Zoo Diet