Can Giving Paintings Their Own DNA Stop Art Forgery?
Science is leading the charge against copycats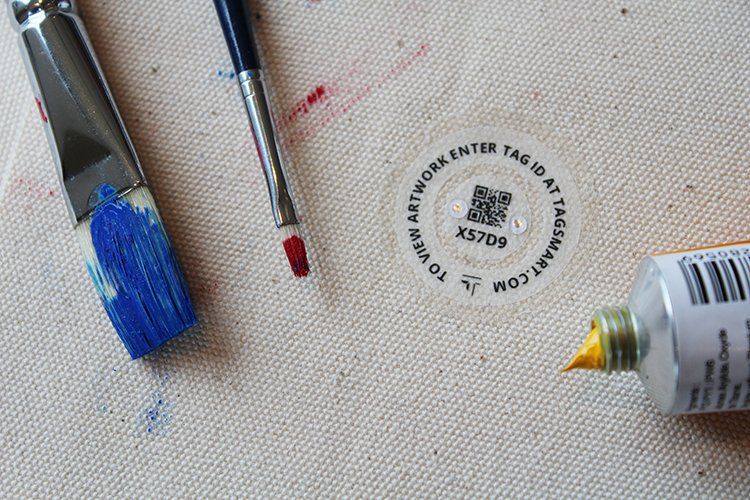 Is your favorite piece of art legitimate? If it's the work of a skilled forger, it may be impossible to tell. But copycats are now on notice, reports artnet's Henri Neuendorf, thanks to a long-term effort to figure out how to give paintings their own unique DNA.
Neuendorf reports that Tagsmart, an English startup, has released a product that gives canvas a "synthetic DNA tag." And though it's not exactly like human beings' genetic code, it's pretty dang close.
Smart Tags, as they're called, use tiny amounts of synthetic DNA known as "taggants" to watermark canvas. The synthetic DNA and other organic compounds are stuck to the canvas with an adhesive beneath a 1.5-inch-diameter tag that also includes a unique reference number. The flexible tag moves along with canvas and has a unique nanotechnology identifier that's linked to an online record that identifies the canvas and tracks its provenance. And if it's tampered with, it becomes useless. All in all, reports Neuendorf, the tags are packed with more than 20 high-tech security features.
Scientists have been searching for a way to use DNA to fight fakers for years. As The New York Times' Tom Mashberg reports, the State University of New York at Albany has also invested in trying to figure out how to bioengineer unique signatures for art. But Tagsmart is the first company to get a solution to market—and into the hands of potential users. 
It could catch on, especially since the company developed the product along with artists, galleries, estates and foundations. In a press release, Tagsmart writes that the product is "a response to the vulnerability of the unregulated global art market."
That lack of regulation has led to multiple recent scandals and scams, such as when Knoedler & Co. shut its doors after supposedly buying and selling dozens of fake paintings, including pricey "Jackson Pollocks" and "Mark Rothkos." (The gallery has since settled more than one multimillion dollar lawsuit.)
There are other ways to prove art's provenance: For example, blockchain, the technology behind cryptocurrency Bitcoin, is now being used to authenticate some pieces of digital art. And art dealers and auction houses like Sotheby's are increasingly hiring their own scientists to solve what humans simply haven't been able to.
Can science really make art harder to forge? Perhaps. But the proof will be in the pudding—and until the reward is less than the risk, it's safe to bet that would-be forgers will keep on copying.