Will California See a Wildflower Superbloom This Spring?
If the swaths of show-stopping poppies do appear, officials urge tourists to act responsibly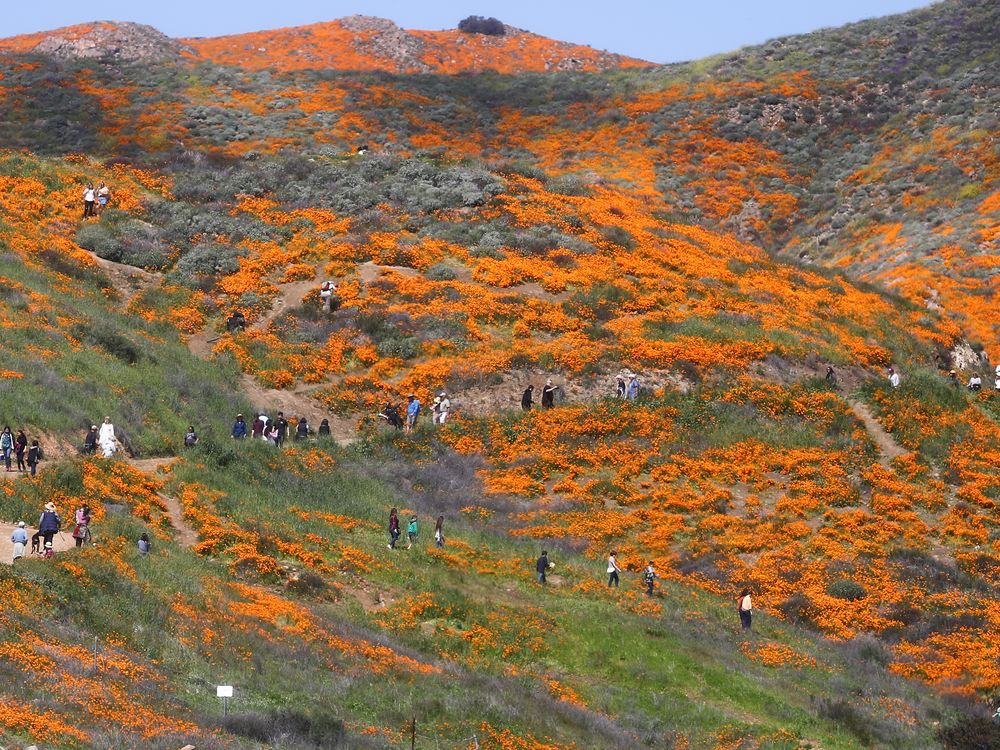 For years, the seeds of colorful wildflowers wait patiently in the parched soils of California. But every once in a while, when conditions align, these seeds germinate and bloom all at once throughout the Golden State, creating what's often called a "superbloom."
The last California superbloom took place in 2019 following a period of heavy rains. Now, after another wet winter, some experts say the state may be poised for a spring explosion of wildflowers, depending on temperature and rainfall over the next few weeks. 
"There's going to be a bloom, but the question is are there going to be tall flowers or are they going to be belly flowers?" says Richard Minnich, an Earth and planetary scientist at the University of California, Riverside, to the Los Angeles Times' Nathan Solis. "Belly flowers, meaning you get on your belly to see them, because they're so small."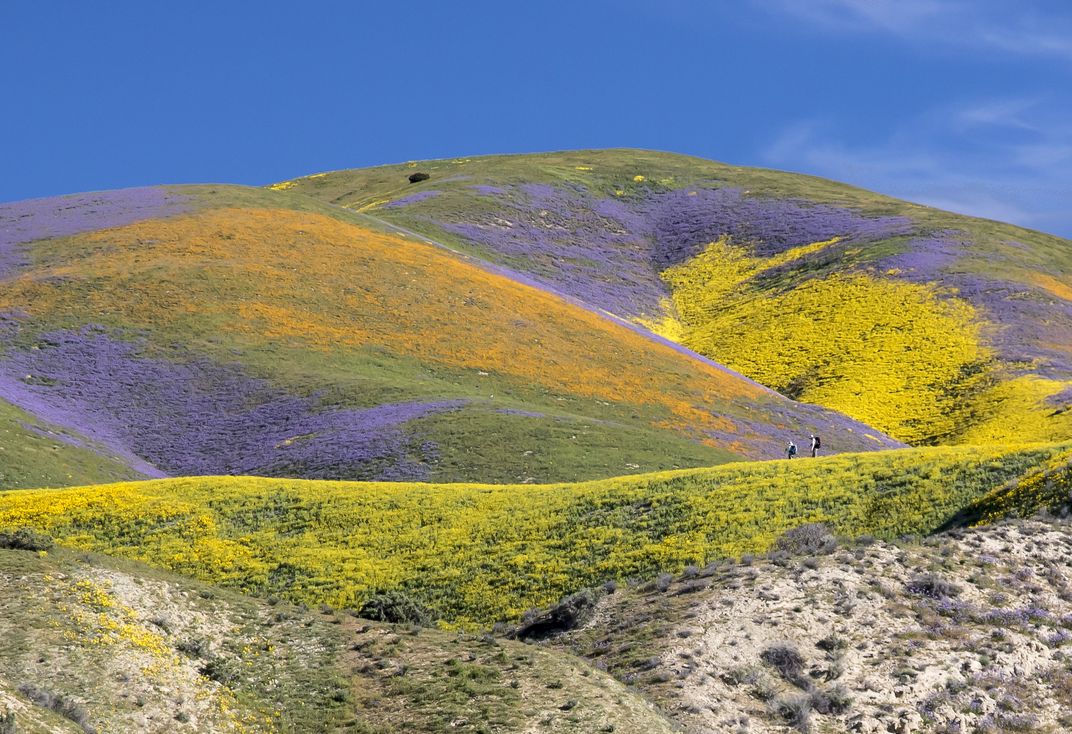 The likelihood of a superbloom varies throughout the state. Some areas may get "extensive carpets of flowers," while others may have patchier displays, says Cameron Barrows, a conservation biologist at the University of California, Riverside, to Newsweek's Robyn White. 
Wildflowers are already blooming in southern San Diego County, according to the California Department of Parks and Recreation. Some state park officials are "cautiously optimistic" about the prospect of a good or better-than-average year for wildflowers.
In 2019, as bright orange poppies blanketed some regions of California, the superbloom was so large that it could be seen from space; NASA satellites were even able to snap photos of the stunning spectacle.
In a rush to see and take photos of the poppies, tourists flocked to one spot in particular—Walker Canyon—and created headaches for the small community of Lake Elsinore. Flower-seekers snarled traffic, making the area difficult for emergency vehicles to navigate, and caused environmental damage. The situation was "unbearable" and "miserable" for residents, per a 2019 post from the city's Facebook page.
This time, officials are proactively anticipating a potential superbloom. Earlier this month, Lake Elsinore's mayor, Natasha Johnson, announced that the city had indefinitely closed Walker Canyon to all visitors. 
"Tens of thousands of people, as many as 100,000 in a weekend—people of Disneyland-sized crowds—were seeking to experience nature [in 2019]," Johnson recalled at a press conference. "They trampled the very habitat that they placed so high in regard and sought to enjoy."
Beyond poppies, other types of wildflowers—including brickellbush, lupines, ocotillos, phacelia, evening primrose, desert lilies and goldfields—are also common in California. In the past, wildflowers have created dazzling displays in Joshua Tree National Park, the Santa Monica Mountains, Diamond Valley Lake and Anza-Borrego Desert State Park, as well as near Lake Tahoe, Mount Diablo State Park and Napa County.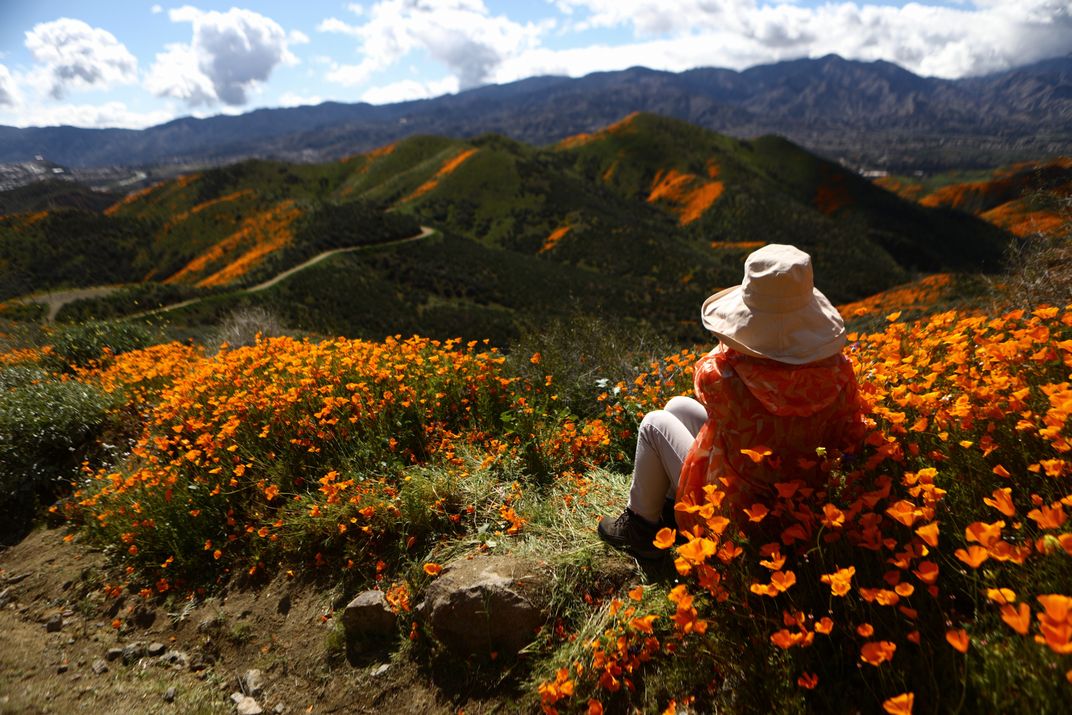 Ideal conditions for a superbloom include consistent rains over several months, cool evening temperatures and a "well-stocked seed bank," reports National Geographic's Alejandra Borunda.
"The preparation for a superbloom isn't a sprint, it's a marathon," Justen Whittall, a plant biologist at Santa Clara University, tells the publication.
Regardless of whether this year's wildflowers will reach superbloom status, botanists like Naomi Fraga, conservation program director at California Botanic Garden, are already urging visitors to be respectful as they venture out to take it all in.
In an opinion piece for the L.A. Times, Fraga advises against picking flowers or digging up entire plants, as some visitors did in 2019. Additionally, she recommends staying on designated trails—and out of fields—to avoid harming the ecosystem or trampling the flowers. Visitors can also help more directly by volunteering or donating to a park or environmental organization.
"People don't seem to realize how destructive they're being," she writes. "As I watch Californians enter a frenzy over wildflowers, I can't help but think about ways in which we can harness this tangible enthusiasm for good. Can we steer this love of the spectacle to conserve these fragile species and ecosystems for future generations?"